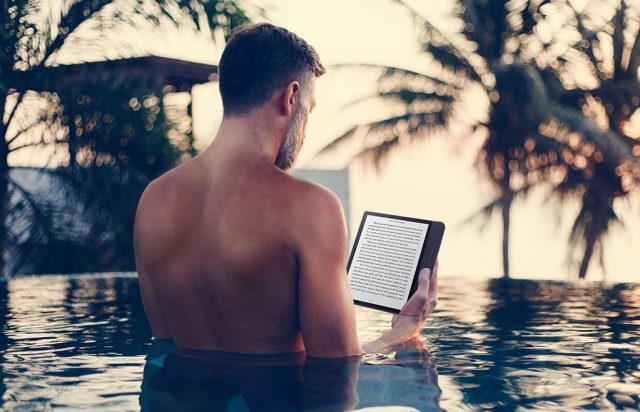 Kobo Forma.
When a book lover is planning to take a vacation, the inevitable question is: which books to take along, and which device to use for reading? Fortunately, the number of books that can be packed in a suitcase is almost irrelevant because even the cheapest ebook reader, phone or tablet can store hundreds of books. More important question is where and how you intend to read them. If it is on a beach, by a pool, in a camp site, or on a boat, you might consider a water- and dustproof e-reader device.
Here are the water- and dustproof ereaders that are available in the main markets of the world in 2019.
Kobo Aura H20
The Kobo Aura H20 features a 6.8 inch screen in waterproof body. This makes it a bit larger than your average six inch ebook reader, but the Aura H20 display is sharp (265 ppi, pixels per inch). List price starts from 180 euros.
Kobo Forma
The Kobo Forma ereader comes with a waterproof 8 inch E ink screen. The size of the screen makes it possible to read PDF documents and ebooks as well. A design choice encourages people to hold the device horizontally, or in one hand. Priced at 280 euros.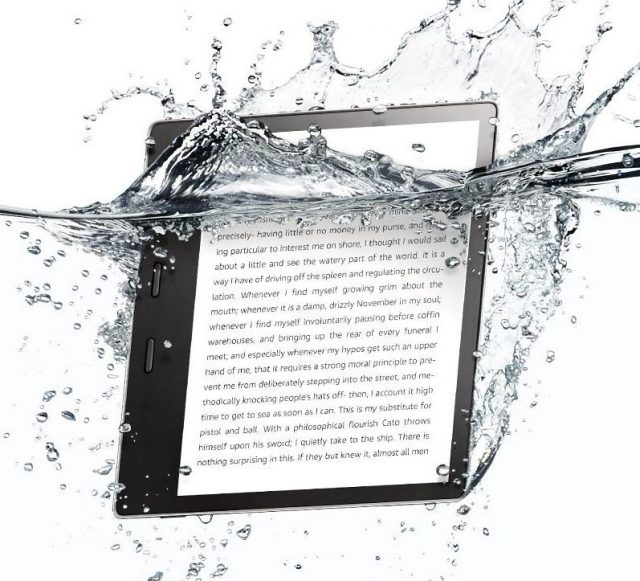 Kindle Oasis.
Amazon Kindle Paperwhite
For people who have invested in Amazon Kindle ebooks, the Kindle Paperwhite is often ranked as the favorite e-reader. Only the latest Paperwhite is waterproof, so check yours before taking it to the sea. Six inch E ink screen in high 300 ppi resolution. Prices start from 130 dollars.
Amazon Kindle Oasis
The Kindle Oasis is the flagship ebook reader product from Amazon that is also waterproof. The Oasis has a couple of differences compared to the other Kindle devices: the screen is larger – seven inches in size, and the device is not symmetrical.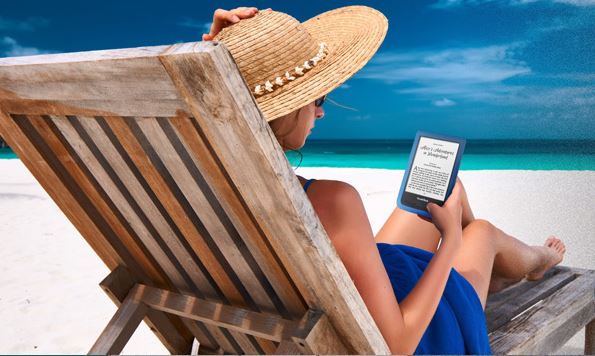 Pocketbook Aqua 2.
Here are two products that are available in select markets only.
Pocketbook Aqua 2
The Pocketbook Aqua 2 is a compact six inch ereader with basic features, but it is water-resistant. Its availability is limited, but for instance Amazon lists the product. It is also one of the most affordable water-resistant e-readers.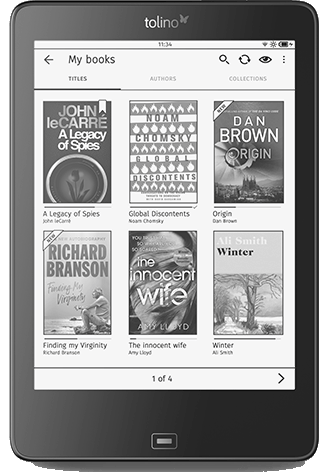 Tolino Epos
Tolino is an ebook and ereader brand that makes products primarily available in Central Europe. The Epos is waterproof e-reader with 7.8 inch screen.
Is this a rugged ereader?
The Kobo Forma may have not been designed primarily as a rugged device, but because of its design choices, it is more durable than many other large screen ereaders.
First, for an eight-inch ereader, the Forma is light. In fact, it is lighter than many smaller ereaders.
Second, plastic components have been used in the product to keep the weight down and to make it less prone to fractures. Even the screen, consisting of the E ink Mobius technology, is made of plastic.
Third, the device has a bit of flexibility. This is why the Forma can take some knocks without instantly breaking apart.
It is also possible to get a waterproof case for an ereader. Some of the cases are transparent bags that let you read with the ereader sealed in the bag. Other solutions can be found as well, like cases that protect the device from bumps.