The 2. Edition of the travel guidebook that shows you Cote d'Azur and the coast of Provence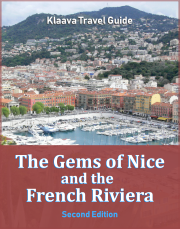 Jan Rolland
Second Edition
Published: February 2020
Publisher: Klaava
ISBN:
978-952-7074-94-7 (Amazon Kindle)
978-952-7074-93-0 (EPUB)
Nice is the capital city of the Riviera coastal region in southeast France. It is the second most visited town in France after Paris. The pleasant Mediterranean climate makes the region, also known as Cote d'Azur, a terrific destination to visit around the year. The lifestyle of Provence, the local food and wine, the Alps, the sea and the rich history mixed with ancient overseas influences create a unique atmosphere for the region.
The Gems of Nice and the French Riviera is a travel guidebook that shows you the places and sights worth visiting in this corner of the Provence-Alpes province. The book covers the Riviera from the famous Saint-Tropez to Menton, showing you the best places in charming towns like Antibes, Cannes, Grasse and Monaco.
In addition, the book unveils Riviera gems many tourists haven't discovered yet. Beautiful photographs let you view how it is really like in a destination. It is easy to quickly browse the pages when searching for information, and then find out details about a destination.
Many head to the French Riviera for the beaches, some travelers are interested in its history, others want to taste the food and wine, while the rest of the visitors look for adventures on the mountains. Riviera is not only about the sun and the sea, but it is also about spectacular landscapes and exciting activities. Nice is much more than the Promenade des Anglais – the old town, market places, galleries, restaurants and shopping streets are buzzing with locals and visitors. This travel guide points you to the right direction.
The second edition of The Gems of Nice and the French Riviera includes new destinations, updated details and links for sights, new images and maps, and an overall update of the content.
Purchase the ebook
Amazon.com
Amazon.co.uk
Amazon.de
Amazon.nl
and other Amazon Kindle stores
Apple Books: access the store in the Books app
Barnes and Noble
Google Play Books
Kobo
Tolino stores
Purchase the audiobook
Table of Contents
Introduction
Nice and the French Riviera in a Nutshell
Where Is Nice Located?
Climate
Getting Around
The Gems: Top 10 Places to Visit
More Gems to Experience
Activities
Events
Museums and Art Galleries
Accommodations
Food and drink
Shopping
Practical Information
A Brief History of Nice and the French Riviera
Facts about France


Live Webcam Image: the Beach in the City of Nice, France and Promenade d'Anglais. Via Webcams.travel.