The Key Sights, Places and Events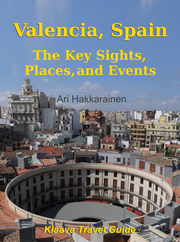 Author: Ari Hakkarainen
Published: January 2019
Publisher: Klaava
ISBN:
978-952-7074-90-9 (EPUB)
978-952-7074-91-6 (Amazon Kindle)
978-952-7074-92-3 (Apple )
Valencia, the third largest city in Spain, has been a central Mediterranean trading place since ancient times. The fascinating history is still present in the city for visitors to explore, along with recently created modern wonders. What makes Valencia a unique Spanish destination is not only the fact it is regarded as the home of paella or the host city of the Holy Grail, but it is a city of contrasts.
Temperate Mediterranean climate makes Valencia a pleasant destination to visit any time of year. A trip to the city can be planned as a dive into its culture and urban environment, as a relaxing break on the beach, as a road trip to nearby mountains and towns, or a combination of all of these elements. All these aspects are covered in the book.
A traveler can spend days exploring ancient houses and public buildings in the old city center. Only a few minutes away from the narrow alleys, the ultramodern City of Arts and Sciences easily takes the breath away from accidental visitors.
Valencianos know how to have a good time, and fortunately, they organize massive parties – fiestas – around the year so that everyone can join them. Fiestas are celebrated on the streets, bars and restaurants with the biggest event, Fallas in March, lasting for a couple of weeks. Discover tips for this Unesco Heritage fiesta along with other events in the book.
The guidebook features hundreds of images – photos and maps – that allow travelers to visually discover the sights and places they would like to visit. Readers who want specific information on the destinations in Valencia find the details in the book as well, along with the history of the city from the Roman era to modern times.
View sample pages
Take a look at pages extracted from the travel guidebook.
Purchase the book
Amazon.com
Amazon.co.uk
Amazon.nl
Apple Books
Barnes and Noble
Google Play Books
Kobo
Scribd
Contents
Introduction
Why Visit Valencia
Valencia on a Map
About the autonomous communities of Spain
Climate
Essential Tips
Getting There and Moving in the City
Top 5 of Valencia
Top 5 sights
Top 5 historical places
Top 5 trendy neighborhoods
Top 5 beaches
Top 5 parks and plazas
Top 5 walking and cycling routes
Top 5 curiosities
The Key Places and Sights
The old town (city center)
In the city, outside the old town
Towns and sights near Valencia
Fiestas and Other Major Events
Monthly listing
Public Holidays in Valencia
Accommodations
Location
Pets
Tips
Food and Drink
Meal times
Lunch
Dinner
Tapas
Paella
Shopping
Brief History
The Roman Period
The First Wall
The Muslim Period
The business of silk
The church and the kings rule
Napoleon's Influence
The Last King
From a Flooding River into an Arts Center
Practical Information
Fast Facts
Valencia
Spain