In the very early days of the Kindle ereaders, Amazon marketed a product with a tablet-size screen. It didn't live for long, although second-hand units are still readily available. Then, Amazon simply decided that six inches is the only proper size for ereaders. Now, the company has changed its mind. The Kindle Oasis with its seven-inch E ink display enters Amazon into competition with ereaders that come with 7.8 and 8–inch screens. As we recently wrote, this screen size has quickly become a new attractive product category in ereaders.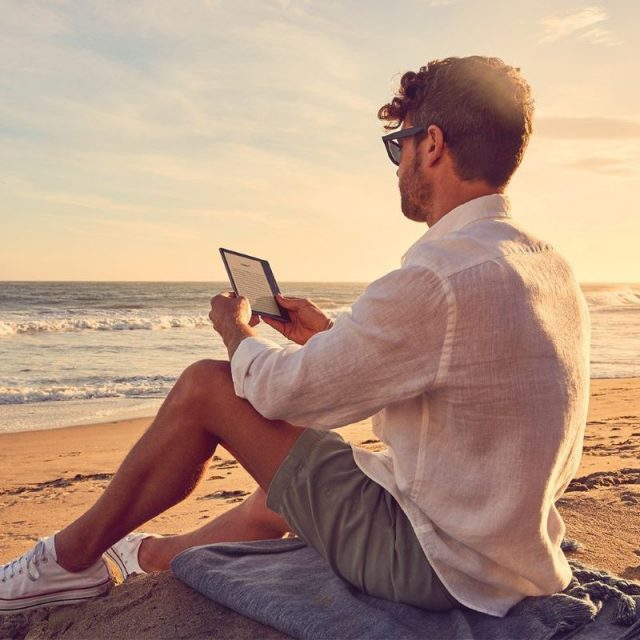 In addition to the 7-inch display, other key features of the large-screen Kindle Oasis are:
– The unit is waterproof: read on a beach, in the bath, and it is also more durable for travel.
– Audible audiobooks are compatible with the device.
– VoiceView screen reader can read aloud text on the screen.
– Front light illuminates the screen for reading even in dark.
– Free cloud storage space for all content downloaded from Amazon.
– Wi-fi and/or mobile network connectivity depending on the model.
A couple of things to notice in the Kindle Oasis 7 are that there is no headphone jack, but you have to have Bluetooth headphones, the ereader still doesn't open EPUB-formatted ebooks, and models with lowest price tags come with ads.
The prices start from 250 USD for the seven-inch Kindle Oasis. The cover must be purchased separately (if you need one). The kindle Oasis 7 base price point is at the same level as competitors' 7.8 and 8-inch models.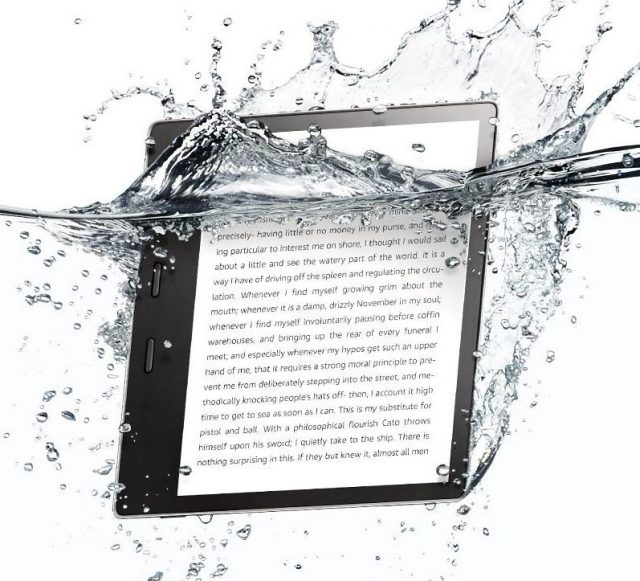 Why 7.8 and 8-inch are becoming so popular that even Amazon decided to make a product that has display larger than six inches? Reading is more comfortable on a larger screen. This is, of course, very personal. For instance, I like to read from a 10-inch screen. More texts fits into a page, pictures look better, and if I enlarge the font, it can still display a fair amount of text. For a balanced view on the pros and cons on the different screen sizes (from 6 to 13 inches) of ereaders, read this article.
Hands-on video of the 7-inch Kindle Oasis by Cnet shows how significant the size difference is to the 6-inch model.
Amazon Oasis 7 key features and specifications

7-inch display technology with E Ink Carta.
300 ppi pixel density, 16-level gray scale.
Built-in light for reading even in dark.
Waterproof (IPX8), tested to withstand immersion in 2 meters of fresh water for 60 minutes.
Audible audiobooks can played on the ereader.
8 GB built-in storage. Holds thousands of books or over 35 Audible audiobooks; 32 GB holds thousands of books or over 160 Audible audiobooks.
Free cloud storage for all Amazon content.
Wi-Fi Connectivity.
Bluetooth. Advanced Audio Distribution Profile (A2DP) support for audio streaming from Kindle Oasis to your Bluetooth speakers or headphones. Audio/Video Remote Control Profile (AVRCP_ support to remotely control playback of Audible audiobooks on Kindle Oasis from compatible Bluetooth devices. Bluetooth speakers requiring PIN codes are not supported.
The VoiceView screen reader, available over Bluetooth audio, enables access to the vast majority of Kindle Oasis features.
Ability to Invert Black and White, adjust font size, font face, line spacing and margins.
Ebook formats: Kindle Format 8 (AZW3), Kindle (AZW), TXT, PDF, unprocted MOBI, PRC natively; HTML DOC, DOCX, JPEN, GIF, PNG, PMP through conversion; Audible audio format (AAX).
Dimensions 6.3″x 5.6" x 0.13-.33" (159 mm x 141 mm x 3.4-8.3 mm).
Weight 6.8 oz (194g).
Battery life up to six weeks, based on a half hour of reading per day with wireless and Bluetooth off and the light setting at 10.