Small e-reader devices with 6-inch E ink displays are still around, and new models are continuously introduced, but new development is happening elsewhere. Recently, 7.8 and 10-inch ereaders have adopted so many new features that it is time to examine what really is the difference between an 8 or 10-inch tablet and an ereader of the same size.
This comparison considers both the Amazon Kindle and EPUB reading devices as ereaders, and both Android and Apple 8 or 10-inch devices as tablets, because the purpose is to study the principal differences of product categories, not individual products.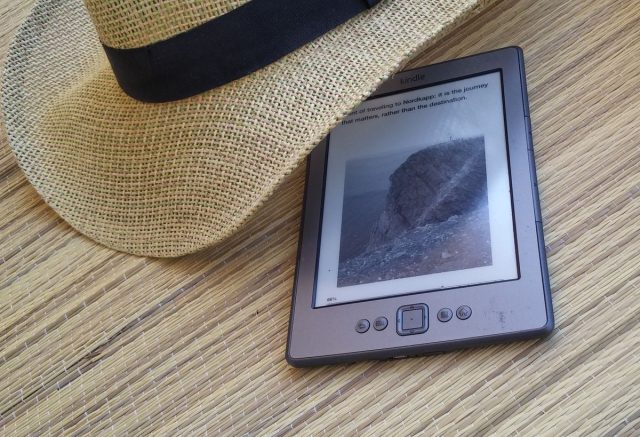 Display
Tablets come with LCD or LED screen that can display bright colors (up to 16 million different). High-end tablets have sharp displays whereas budget tablets can have quite low resolution displays. Nonetheless, the tablet displays are excellent for watching movies, photos, web pages and reading nonfiction books or textbooks with illustrations.
E ink screens used in reading devices can only display black and white, and a few shades of grey. They are optimized for text. It works so well that many book lovers prefer ereaders instead of paper and ink. On the downside, viewing video clips is not even possible on most ereaders, and photos don't look very nice.
Processing power
Since ereaders have been optimized for displaying text, the required processing power has been minimal. This is changing with 10-inch ereaders. Because many large screen models can accept handwritten input and they run Android software, more powerful processors have been introduced to new ereaders.
Generally speaking, tablets have more processing power because they are multipurpose devices, capable of, for instance, playing and recording video.
Storage
Storage capacity in tablets and ereaders typically consist of two separate spaces: storage space inside the device (it is fixed in size and can't be changed) and a memory card slot where you can insert a card of your choice. No meaningful differences between ereaders and tablets.
Connectivity
Wi-Fi for wireless internet access is a vital connectivity feature, and it is included both in tablets and ereaders. Usually, a USB port is featured for charging and for PC connection as well.
The key difference is that it is possible to order some tablet models with a mobile network connection (3G or 4G), whereas ereaders don't have this option (if you know one, let us know).
Reading
Ereaders were designed for reading. The display technology successfully imitates paper and ink. The display doesn't flicker once the text has been rendered on the screen. The introduction of built-in light that allows reading in poorly lit conditions finally made ereaders products that can be used anywhere, from dark bedroom to direct sunlight. Many features make reading comfortable, such as changing font size and type, search, and possibility to make notes.
The display technology in tablets is the same as in laptop computers. The colors are bright and beautiful that help when reading, for instance, an illustrated nonfiction book or textbook. Some experts regard long hours of reading from a screen that emits light and flickers potentially harmful, but the fact is that office workers and freelancers stare at laptop and tablet screens for long working hours. Reading applications available for tablets have similar features as ereaders.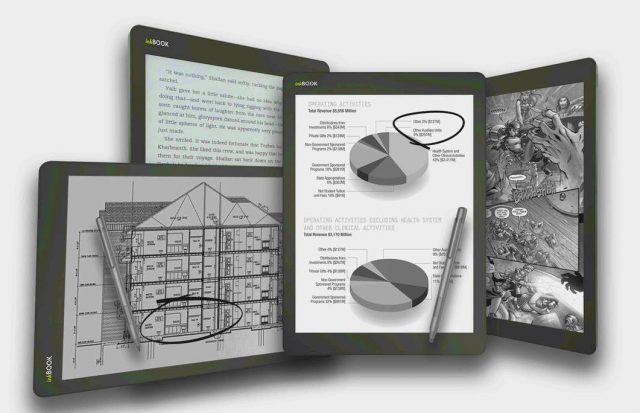 Writing
Few people acquire a tablet or ereader for writing alone, but both can be used to typing notes and jotting down drafts.
Some high-end tablets come with wireless keyboards, and other tablets can connect to Bluetooth keyboards for typing. For instance, Apple iPad Pro has sophisticated features for writing with stylus.
Writing is the hot feature that new 10-inch ereader devices have introduced to the world recently. No more are e-readers for reading alone, but it is possible to write down notes, drafts, and draw images with a stylus. This changes the original purpose of the product. For instance, Sony regards its 10-inch model DPT-CP1 a tool for office workers who can store their documents in the device, read, and annotate them on the screen.
We believe also researchers and writers can use a 10-inch ereader that is running on Android software for collecting information, storing documents, saving voice notes, annotating documents, jotting down notes, and writing drafts on a device.
Music, photos, video
Tablets are excellent for music playback, as well as for video and photo viewing. Many tablets have stereo sound, and a headphone jack for enjoying audiobooks, podcasts and music. Videos and photos are a pleasure to view on color screen.
Most ereaders have an MP3 player application for listening to audiobooks and music. Video viewing is not possible, and photos don't look good.
Social media
Tablets are ideal devices for social media. It is easy follow multiple social channels, view photos, videos, and update personal comments to newsfeeds. All social media services are available for tablets.
Ereaders that are powered by Android software can connect to social media services if a respective application runs on the device. Videos are not available, and photos don't look very nice in grayscale. Old ereaders without Android can not access social media services.
Indoors
Tablet screens provide their own light, making it possible to use them indoors in brightly lit rooms and in dark corners.
Modern ereader devices come with frontlight that makes the black-and-white screen visible even in dark. Beware of old ereader models that don't have frontlight at all.
Outdoors
Tablets can be used outdoors, but shade is required. No matter how bright the screen is, direct sunlight will make it unreadable. Also reflections on the screen disturb viewing.
E ink screens used in ereaders are exceptional in sunshine: it is easier to read on an ereader than a printed book, magazine or newspaper.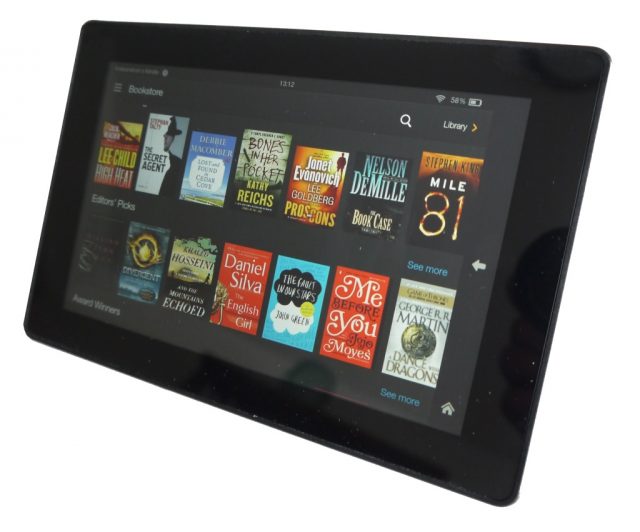 Applications
Millions of applications are available for tablets at Apple App Store and Google Play. The possibility to download applications is a remarkable advantage because it allows you to enhance the functionality of the device.
Traditional ereading devices were closed systems where it was impossible to install new apps, but new ereaders that are running on Android operating system make it possible to download apps (all apps won't work, but many do).
Battery
Battery life in ereader devices is so long that you may almost forget about it. The special screen in ereaders requires very little power, making it possible to use a device for weeks without recharge.
Tablets must be recharged after a day or two, naturally depending on the usage. The primary reason is the color screen that consumes plenty of energy in a tablet.
Price
10-inch tablet prices range from 100 to 1500 dollars/euros. Low-end tablets are made of cheap plastics, whereas high-end tablets have been designed to replace powerful laptops, raising their prices considerably.
10-inch ereaders typically cost 300-600 dollars/euros.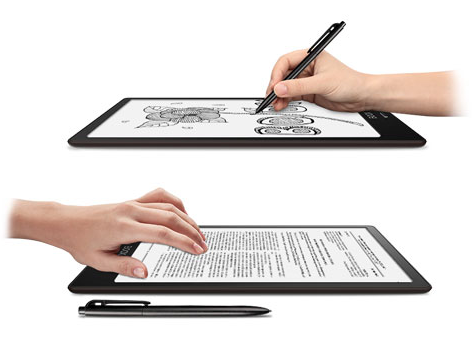 More information on large screen ereaders
Bouye Likebook Note
Icarus Illumina XL6
Sony DPT-CP1
Onyx Boox Note
Onyx Boox Max2
Pocketbook Inkpad 3
Ereaders with 8 inch screens