The Amazon Kindle ereading device and the Fire tablet have been designed for different tasks. Nonetheless, there is one application in both products that lets users to do exactly the same thing: read ebooks. If reading ebooks is the most important task you are going to do on your device, here are a few tips for choosing the right product.



In June 2017, Amazon starts deliveries of new improved versions of two popular tablets: the Fire 7 and the Fire HD 8. Since they are priced very competitively at $49 (7 inch model) and $79 (8 inch model), and both can be used for ereading, the question is: should I purchase the Fire or the Kindle for reading books?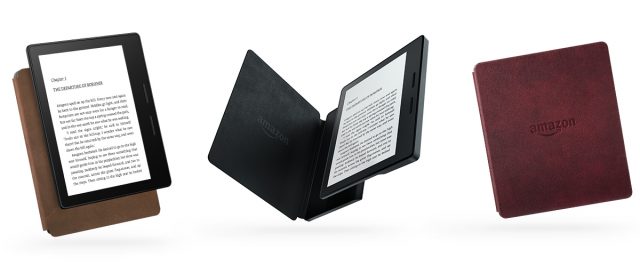 Lets forget about the price for a moment and study the three key differences between the Fire tablets and Kindle ereaders.
1. Display.
The display on an ereader is designed to resemble paper and ink. It is black and white only and can't display moving images. The amazing thing is that the E ink display commonly used in ereaders is actually better than paper and ink. For instance, in sunlight, it is difficult to read a book printed on white paper, but ereader screen is fine even in direct sunlight. You can change the text size on an ereader, but not on paper. A typical display size on an ereader is 6 inches. A tablet display has colors and it can show videos, but in sunlight there is not much hope. Common display sizes in tablets are 7, 8 or 10 inches.
2. Multipurpose product vs. single-use product.
You can only read on an ereader – and listen to music or audiobooks, but the whole purpose of an ereader is to give the best possible reading experience, nothing else. A tablet is a multipurpose computer that can be used for almost the same tasks as a laptop. If you will be using your device only at home, think of the way you are going to use it, and choose accordingly. If you will take the device along for your travels, which one is more useful for you: single-use or multipurpose product?
3. Battery life.
Typically, battery life of an ereader is weeks rather than days. A tablet has consumed the energy stored in its battery in a couple of days. Both times of course heavily depend on the way the devices are used. Both can be recharged via USB from a laptop, wall socket, or from a portable power bank.
Now, let's consider the price. At the moment, Amazon has priced the products as follows.
The Kindle ereaders start from $79 and up to $300. All models have 6-inch black and white screen designed for reading.
The Fire tablets start from $49 and go up to around $100 depending on the configuration. You may choose between a 7-inch and 8-inch color display. If you are interested in differences between the Fire tablet models, here is a page that lays out all the details.
Don't forget that the Kindle is not the only ereader in the market. For instance, Kobo ereaders are used across the world by book lovers who shop in other stores than Amazon, and read EPUB-formatted ebooks.
In addition, if you already have a tablet or smartphone, you can try how reading ebooks feels on it by downloading the Kindle reading app on your device. Simply search for the Kindle app from the application store.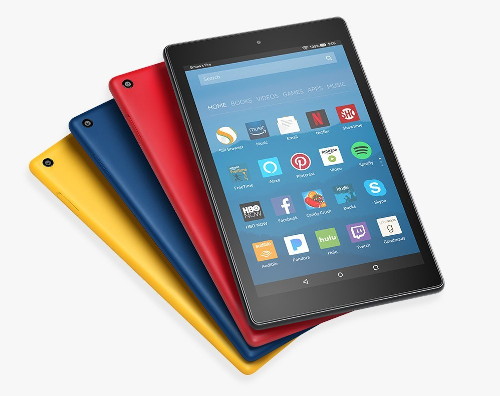 Key features and technical information for the Fire HD 8 tablet
– 8-inch touch screen, 1280 x 800 resolution at 189 ppi.
– HD video playback.
– CPU & RAM Quad-Core: 1.3 GHz , with 1.5 GB of RAM
– 16 GB (11.1 GB available to user) or 32 GB (25.3 GB available to user) of internal storage.
– Battery life up to 12 hours of reading, surfing the web, watching video, and listening to music.
– Battery charge time under 6 hours using the micro-USB power adapter included in the box.
– Wi-Fi Connectivity.
– USB 2.0 (micro-B connector) to connect to a computer, or to charge your device with the included power adapter.
– microSD slot for additional storage space.
– Compatible with content formats: Kindle (AZW), KF8, TXT, PDF, unprotected MOBI, PRC natively, Audible Enhanced format (AAX), DOC, DOCX, JPEG, GIF, PNG, BMP, Dolby Digital (AC-3), Dolby Digital Plus (E-AC-3), non-DRM AAC, and many video formats.
– 640×480 pixels front-facing camera. 2.0 megapixel rear-facing camera
– Location-based services via Wi-Fi
– Colors: Black, Marine Blue, Punch Red, Canary Yellow
– External volume controls.
– Bluetooth, A2DP compatible for stereo headphones.
– Speakers
– Microphone.
– Size: 8.4″ x 5.0″ x 0.4″ (214 mm x 128 mm x 9.7 mm)
– Weight : 13.0 ounces (369 grams)