The Remarkable ereader/writing tablet has already been available for a year, but only the recent software upgrade delivered the great promise of the product: it can convert handwriting to text along with a selection of new tools that aid writing and drawing on the screen. The key principal of Remarkable is to be a tool that feels like paper and pen when used for writing and sketching. The company says they spent four years developing display-stylus technology that mimics the tactility and response of paper.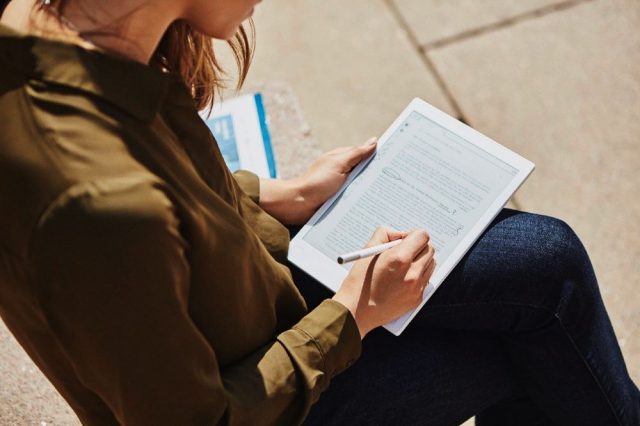 The Remarkable writing tablet/ereader is priced at 599 euros. Essentially, you get a 10-inch ereader with a special display laid over E ink display technology that turns the device into a slate for writing and drawing. The stylus is included.
The display-stylus combination can recognize a wide variety of pressures and angles, producing results like handwriting or drawing on paper would produce.
The Canvas display, as Remarkable calls it, is something that only Remarkable has, making it different from other 10-inch ereader/writing tablets that have been introduced during 2017 and 2018.
One of the new features is the conversion of handwriting into text that can be edited and inserted into other documents. Here is a video clip that shows how the handwriting conversion works on the Remarkable:
The fall 2018 software update to the Remarkable writing tablet has so many new features that it makes me wonder how all those customers who bought the product before the update used their device? Probably many of them had a specific task in mind how they wanted to use the product, like researchers who have to read a lot of documents or knowledge workers who have to study both technical and business documents. In fact, Sony had identified the latter requirement a couple of years ago, and developed the ereader/writing tablet DPT-CP1 for this market.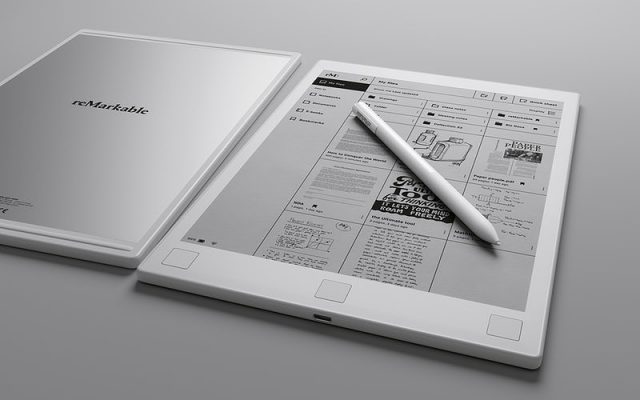 Apple and Microsoft have also discovered this market, but have developed tablets to meet the needs of people who want to write with a pen. The iPad Pro and Surface Pro are powerful, high end tablets that allow handwriting, note taking, and drawing with a stylus.
Other e-reader vendors have also turned their attention to 8 and 10 inch devices. Many of these products come with stylus that let you write and draw on the screen. Some of the manufacturers are Onyx and Boyue.
Remarkable writing tablet/ereader key features and specifications

10.3-inch monochrome display in 1872×1404 resolution (226 DPI). Multi-point capacitive touch.
Partially powered by E-ink Carta technology.
The screen has paper-like surface friction. No glass parts, making it robust.
The included stylus features a high-friction pen tip. Tilt detection and 2048 levels of pressure sensitivity.
Dimensions 177 x 256 x 6.7mm (6.9 x 10.1 x .26 inches).
Weight approximately 350 gram (.77 pounds).
Wi-Fi.
Micro USB.
8 GB internal storage, about 100,000 pages.
512 MB RAM.
1 GHz ARM A9 CPU processor.
Operating system is a customized Linux software called Codex.
Can open PDF and ePUB documents and ebooks.
Menu language: English.
3000 mAh battery.
Remarkable has its own cloud service where product owners can automatically sync the works they draft on the slate.
A video by Remarkable shows the paper tablet's many features for note taking and sketching: