Six inches has been the standard size for e-reader devices for years, but fortunately, the situation is changing. A number of e-readers with 10-inch screen have been introduced to the markets. It means ebook users can enjoy some tablet-like features, like writing and drawing on their devices. The Bouye Likebook Note ereader comes with a 10.3-inch screen, stylus, and with a price tag that makes it very competitive.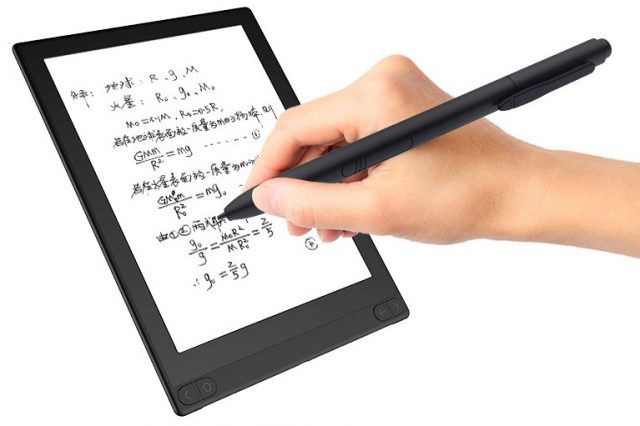 Bouye may not be a familiar brand for many people, but the Chinese company has produced a few ereader devices before the Likebook Note. In essence, it is an ereader with large, very sharp E ink screen that lets you write on it. Since the device is running on Android operating system, and some early customers are saying that Google Play is factory-installed, it is possible to install additional applications from the Play Store to the Likebook Note.
The possibility to install apps from the Play Store makes the ereader similar in functionality to a tablet, although it is worth reminding that all Android apps will not run on an ereader.
The key specifications and features of the Boyue Likebook Note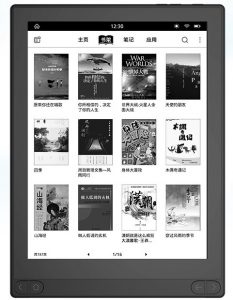 – 10.3-inch flexible E Ink Carta screen.
– Resolution 1404×1872.
– Front light.
– Android 4.4.
– Wi-Fi.
– RAM memory 1 GB.
– Storage space 16 GB.
– MicroSD memory card slot.
– USB port.
– Bluetooth
– Audiojack.
– Stereo speakers.
– Microphone.
– Physical buttons for page turn, back and home.
– Dimensions 191 x 262 x 8 mm.
– Weight 386 grams.
All is well in the specifications department. 1 GB of RAM memory for running Android and applications is not much, but many low-cost tablets have the same amount of RAM. Another thing is that Android is quite an old version.
Other than that, the Likebook Note has plenty of features for a 10-inch ereader that costs only about 370 euros at Aliexpress online store. Stylus and case are included.
Here is a video clip that shows a few features of the Bouye Likebook Note, like the front light and writing with the stylus:
Other e-readers with 10-inch or even larger screen are, for instance:
Onyx Boox Note
Onyx Boox Max2
Sony DPT-CP1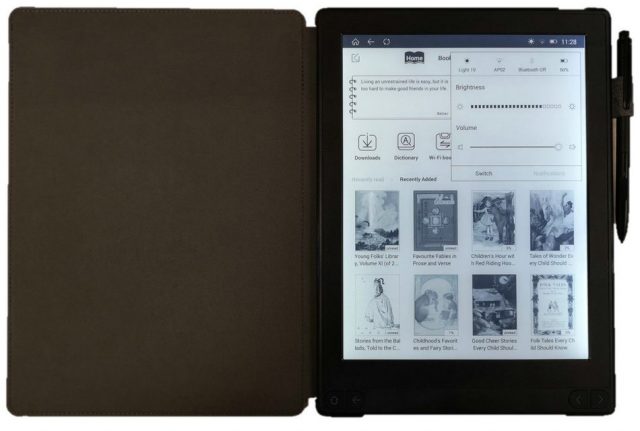 Via Ebook Reader Blog.