Many writers apply their skills and knowledge to various media, writing different types of texts, articles or manuscripts. Even today's most successful author JK Rowling writes young adult and suspense fiction (and who knows what else, because she has already used a pseudonym). As computer games have become more like movies complete with storylines that could originate from books, how many writers have already tried writing scripts for video games?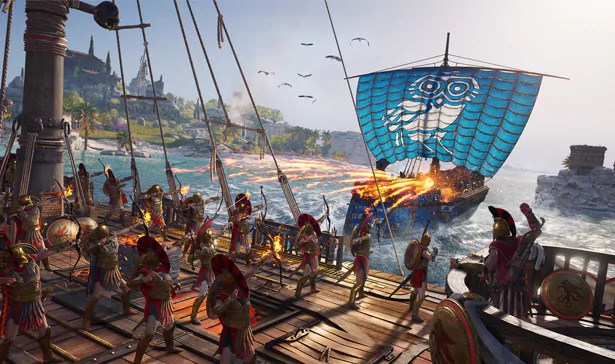 Assassin's Creed Odyssey by Ubisoft.
If you haven't thought of writing for the games industry, you are not alone. Writing a script for a video game is a complex task that requires more work than, for instance, a movie script.
There are similarities in movie and game scripts: the world where the story takes place must be described, characters created, dialogue established, action described, and plot line invented. The thing that requires additional work in video scripts is choices. The characters can decide what they do next. Every possible decision path must be determined in the game script.
An experienced script writer describes the process of authoring a game in seven steps. The potential complexity of choices can be presented in flowcharts as these samples show.
Why writers may consider writing for the games industry right now? Until now, large, resource-hungry video games could be played on game consoles alone. This is changing. Google and Microsoft have introduced connectivity technologies that allow streaming advanced games via the Internet to computers that only need a web browser to run the game. This can attract new audiences from a wide variety of age groups to play games, expanding the variety of games from action to other genres.
Google Project Stream
Google Project Stream is in beta test at the moment, but it is possible to ask for an invite if your computer's IP address is in the U.S. The Project Stream provides Assassin's Creed Odyssey console game to your browser. The technical requirements are simple: the latest Chrome browser, a computer, and a minimum of 25 Mbps internet connection.
Business Insider tried out the Odyssey game by Project Stream, and the conclusion from the test was positive. They played the game on three computers (two powerful and one ordinary laptop) that had different types of network connections.
The game worked well on all three laptops. On two powerful computers, "Project Stream was essentially flawless". Only the ordinary laptop that had the slowest connection experienced minor glitches.
This is impressive. Perhaps the Chrome browser and Project Stream do some proprietary tricks together to keep data rapidly flowing from the game server to the browser?
Microsoft Project Xcloud
Google Project Stream is not the only cloud gaming service available. Microsoft is already trialing Project Xcloud service that has multi-device support as its key feature.
The Microsoft video shows how Xcloud games run on tablets and phones:
The Sony PlayStation Now and Nvidia GeForce Now provide games via the internet as well.