Product catalogs are bestsellers among certain types of readers. Catalogs are made for browsing, viewing beautiful photographs and for dreaming of owning products listed on a glossy paper. Of course, catalogs were one of the first print products to move to the internet because of cost savings, accessibility and ease of keeping them up-to-date. Magik Book, however, believes print catalogs are more important than ever, and has integrated catalogs with mobile devices.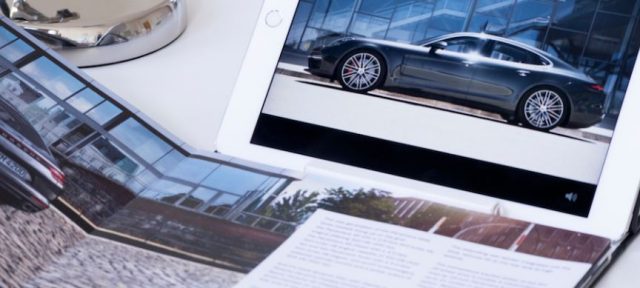 The Magic Book concept is to sync a tablet or phone with the page of a product catalog. For instance, a company wants to create a catalog of garden furniture. It doesn't have to be as thick and extensive as an Ikea catalog, but attractive photos taken in beautiful gardens is all-important. Before opening the catalog, a potential customer must download the Magik Book app to his or her phone or tablet. As the customer turns pages of the paper catalog, the app on the mobile device displays additional information about the product featured on the print page. In the app, it is possible to share the information to social media channels or buy the product.
An introduction video to the Magik Book below shows how it works:
In effect, the simple task of browsing a product catalog has been turned into a tech challenge that requires the shopper to have two tools at hand: the print catalog and a mobile device (with an app downloaded as well, of course).
Instead of having the entire catalog on the mobile device and allowing the reader to access all possible information in the app, an awkward integration of paper catalog and mobile device has been established. Maybe the sync between paper catalog and mobile device works via NFC, but that's not essential. The point is that it is difficult to see why anyone would invest in two things (paper catalog and mobile app) when everything can be provided to customers in one neat digital package.
The company behind Magik Book is based in Portugal. We have a suggestion: have a vacation in Portugal, and get to know the local culture and business customs before considering a project that involves this technology.
Via Ubergizmo.
UPDATE: The syncing of the paper catalog and the mobile application works via Magik Book's patented "advanced magnetic field technology" (magnets in each page). Thank you for the additional information, Magik Book!