Ereaders with larger than six inches displays made a breakthrough in 2017, and we expect the trend to continue developing further. Ereader vendor Pocketbook already has a few large-screen models available, but the Inkpad 3 comes with sharp E ink display, advanced frontlight features, and a text-to-speech facility.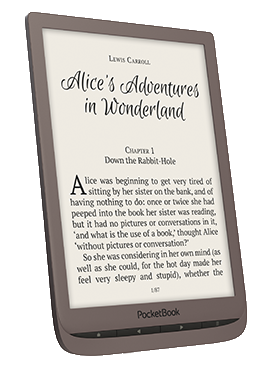 The greyscale screen of the Pocketbook Inkpad 3 is 7.8 inches in size with 300 dots per inch (DPI) resolution, making it a sharp display. The 7.8-inch size seems to have become quite common, for instance, Kobo is using the same size in some of its e-reader models.
Advanced features in the display include a frontlight that automatically can adjust the level of light so that it is pleasant for reading. It can also adjust the temperature of the light. You may rely on the automatic settings, or tune all the features of the frontlight to your liking.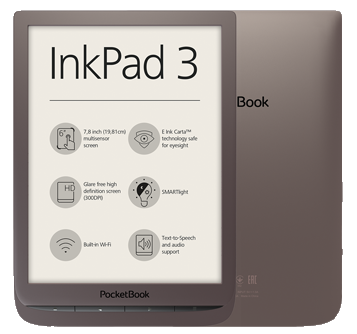 Audiobooks are likely to find new friends along with a feature included in the Inkpad 3: the ereader can read aloud all ebooks you have already downloaded (and, of course, all the new ones). You don't have to buy and download large audiobook files, but you can tell the ereader to read any ordinary ebook (EPUB) to you. The difference with traditional audiobooks is that a person is not reading the text, but a computer. The quality of computer voices have greatly improved, and, for instance, I can today listen to it comfortably (a couple of years ago, I couldn't).
The Pocketbook Inkpad 3 comes with Wi-Fi connectivity that lets you access a number of cloud services, like Dropbox. This feature makes it more convenient to download ebooks because every file doesn't have to go through a computer.
The ereader is light – only 210 grams. Its dimensions are 195 mm x 136 mm x 8 mm.
8 GB storage space for ebooks and other files is located inside the device, and more space can be added by inserting a microSD memory card (up to 32 GB) into a card slot. The Inkpad has 1GB of RAM and a Dual Core (2×1 GHz) processor.
The features of the Pocketbook Inkpad 3 indicate that it won't fit into the lowest price category of ereaders. Product pricing and availability can be checked at Amazon and at company's web page here.
Here is an article that introduces a number of other large screen ereaders.
Via Klaava.fi.