Listening to a book while doing something else is a fun and useful way to enjoy a good story or learn from a nonfiction book. Audible and other stores let you purchase audiobooks that have been narrated by professionals, often actors. Most book lovers already have a selection of ebooks, and it is not very tempting to re-purchase them as audiobooks. Here is how you can make your mobile device (iPhone or Android) read an ebook to you for free.
Android smartphone or tablet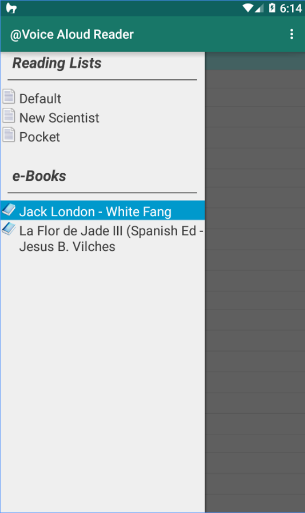 For Samsung, LG, Nokia, and all other smartphones and tablets that are powered by the Android software, there are many voice reader apps available at the Google Play Store. At the store, you may search, for instance, "voice reader" or "text to speech" for applications to download.
I have been using @Voice Aloud Reader on my Android tablet and phone. The way it works is that you specify the folders where you have your ebooks or any other texts stored. The app can also automatically scan the folders for ebooks.
Open the app, browse the ebooks and documents that are available for reading aloud. Choose anyone, and the app will read it to you. Play controls are available at the bottom of the screen.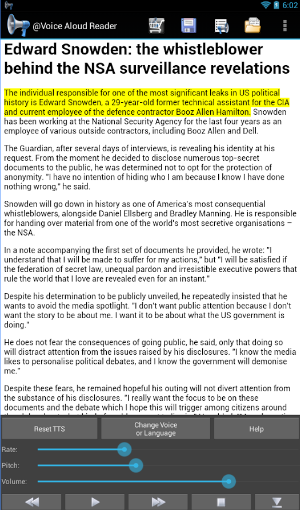 For EPUB ebooks, Voice Aloud Reader works really well. You can view the table of contents, jump to a chapter you want and the app will read it to you.
The app doesn't come with its own voices, but it relies on voices that come with Android. It is possible to download additional voices from the Play Store as well.
The free version displays ads that can be removed by paying for an upgrade.
Apple iPhone and iPad
The app that can read text aloud to you is already on your iPhone and iPad. You just have to find it – it is well hidden into the iOS operating system's menu system.
1. Open Settings.
Select General > Accessibility > Speech. Toggle on Speak Screen.
2. Open the ebook you want your iPhone or iPad read to you.
3. Swipe down from the top of the screen with two fingers.
It will take a moment before the audio starts, and a pop up window with buttons to control playback appears.
4. Change the reader's voice.
Go back to Settings – Accessibility – Speech section, and open Voice. You will get choices for voices that read to you.
The feature works best with the iBooks application, but it works on any screen where you have texts. Just swipe down with two fingers. So, you can use it in the Kindle app and in the web browser, but it may read some irrelevant text, too.