Presidents Trump and Putin are due for a tête-à-tête in Helsinki on 16 July, 2018, a summit in which national security issues and alleged Russian interference in the US elections of 2016 are likely to be hot topics. The two leaders have missed me by a year. I was in the Finnish capital in the summer of 2017 – not to mention the previous autumn – as part of the journey which has resulted in my newly published ebook, The Honest Tribe: Travels in Finland.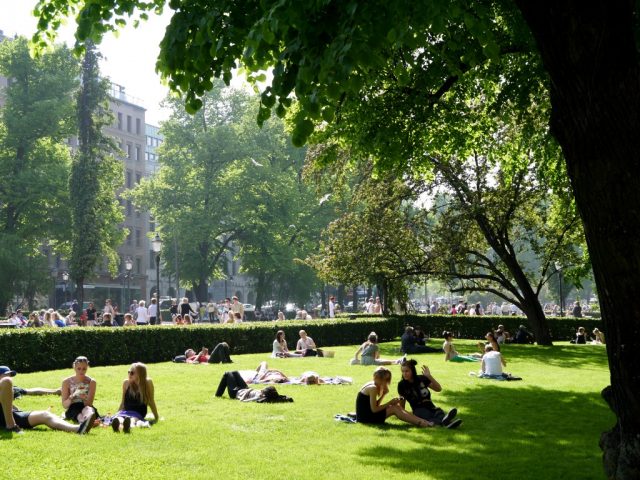 Esplanade Park in Helsinki, Finland.
Too bad, gentlemen. Our paths are not to cross, and I know you're cursing your luck. During my time in Finland I picked up more than a few snippets of information on the Finns and their metropolis, and we could have lounged in a Helsinki bar, drinks in hand, while I filled you in on a few points that even your advisors might know little of. Following that, I would have shown you something of the city.
Had we met for a drink in Helsinki, I trust Mr Trump, with his vast personal wealth, would have stood me a beer or two. My teacher's salary doesn't extend to prolonged stays in Finnish bars, and, with measly quantities of beer on sale for the best part of ten euros a time, many Finns also feel the pecuniary pain of alcohol consumption, not least in the pricy pubs of the capital.
According to some, this is a historically rooted ploy on the part of the Finnish establishment and designed to keep the country's working class sober enough for their labours. With his Soviet past, Mr Putin might be inclined to agree. Had we drunk together in Helsinki, he might have refused Finnish beer on the grounds of its (supposed) exploitative, capitalist associations. Or that may have been an excuse to partake of vodka, a drink much loved in his home country.
Helsinki's cafés and restaurants have offered me similar insights into Finnish life. Mr Trump is no doubt accustomed to high levels of customer care in American eateries – 'Hi, my name's Jenny and I'll be your server today' – and is likely to encounter similar standards in their Finnish equivalents, though with one notable exception. It was in a café on Suomenlinna, the island off Helsinki's coastline, that I was told by the girl at the counter to fill my cup myself. She indicated cups, tea bags and an urn of hot water behind me.
'Beware Finland's DIY cafés,' I might have warned my presidential companions as we staggered away from our Helsinki bar in search of a cappuccino or an Earl Grey. Mr Trump would have been appalled, even incredulous, and might have dismissed my caveat as fake news. Mr Putin may have been equally disbelieving, but I could have convinced him with a tall tale. 'It's for the protection of Finnish citizens. So a Russian agent can't slip poison into their drink. Remember Alexander Litvinenko?'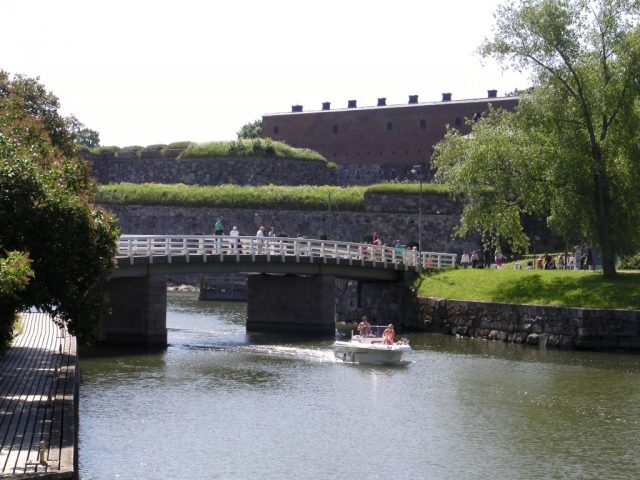 Suomenlinna fortress, Helsinki.
Fortified with beer, and tea or coffee, Donald, Vladimir and I might have perambulated around Helsinki, in search of a little culture. The city's famed Lutheran cathedral would have been a must-see, and, once we'd negotiated a route through the groups of young people who perpetually congregate on its steps, we'd have found ourselves within its calming but plain interior.
The plainness might not have suited Mr Putin, more accustomed as he is to the ornate and gilded interiors of Russian Orthodox churches. Silvio Berlusconi, the notorious Italian politician, once commented of an eighteenth-century wooden Finnish church he'd been shown that in his own country it would have been bulldozed. So it is with the Latins and Slavs, who revel in the decorative and effusive.
No so the Finns. In the early stages of The Honest Tribe I comment that my assessment of Finland could be summed up in the words 'clean, unfancy and efficient'. And those attributes are fine with me, as, I suspect, they are with Mr Trump. Indeed the American president has Lutheran roots on his father's side of the family, so he might have felt at home in Helsinki Cathedral. He'd have nodded with approval, I'm sure, as I indicated its statue of the redoubtable Martin Luther. Mr Putin might have grown bored and impatient, seeing his surroundings as dourly Protestant. But Donald and I wouldn't have minded – as long as Vladimir didn't phone for a bulldozer.
'Don't mention the war!' John Cleese famously enjoined in an episode of Fawlty Towers, the popular British comedy series of the 1970s. Finns, however, are inclined to refer to the conflicts of the twentieth century all too often, at least for the sensibilities of Russians, who received the run-around from militarily slick Finnish forces in the short-lived Winter War of 1939-40. Finns take pride in the sacrifices their people made in the 1940s and some see the period as being fundamental to the formation of the modern Finnish national character.
As Stalin received a bloody nose at the hands of Finnish forces, it might have been politic for me to steer both Vladimir and Donald away from the Helsinki museum devoted to the life of Carl Gustav Mannerheim, the Finns' celebrated military leader of the war years. Both Trump and Putin are not slow to voice their opinions, and a visit to the Mannerheim Museum might have riled the latter, and even led to a stirring-up of old Cold War enmities between the pair.
So perhaps we'd have simply strolled the streets of Helsinki, or spent time shopping or eating salmon dishes at the shoreline market place. Given the innumerable visitors that congregate there both presidents might have expressed a fear of pickpockets. I could have countered their concerns with a mention of the Reader's Digest experiment of a few years ago in which the magazine's staff planted 'lost' wallets around cities worldwide to see how many might be returned to their 'owners'. Helsinki came out top of the honesty stakes.
All this, of course, is a 'might have been'. My time in Finland predated theirs by twelve months, and Presidents Trump and Putin missed out on spending time with me in Helsinki. But gentlemen, don't despair. The Honest Tribe: Travels in Finland is available now, so reach for your wallets. If you're in Finland, at your summit, as you read this, they're likely to be safe and sound in your pockets.
This guest post was written by Max Boyle.