China has rapidly become the largest market for books in the world. Of all the 1.6 million new book titles published in 2015, 28% of them were published in China. The second largest market, the U.S., published 20% of new titles launched to the global markets in 2015.
The vast population of China, more than one billion, explains part of the success of books in the country, but it is not the whole story. India's population is roughly at the same level as China's population, but India is nowhere near China when the number of published books are considered.
China has very quickly developed from a primarily farming society into an industrial society that is rapidly turning into a new technology powerhouse. That requires masses of well educated engineers, managers, and marketers. Books are a great way to learn, and of course, be entertained.
Book statistics have been published by the International Publishers Association (IPA). The numbers come from publishers, and don't include self-published titles.
Below a graph by Quartz that shows the number of new book titles published in each in 2015: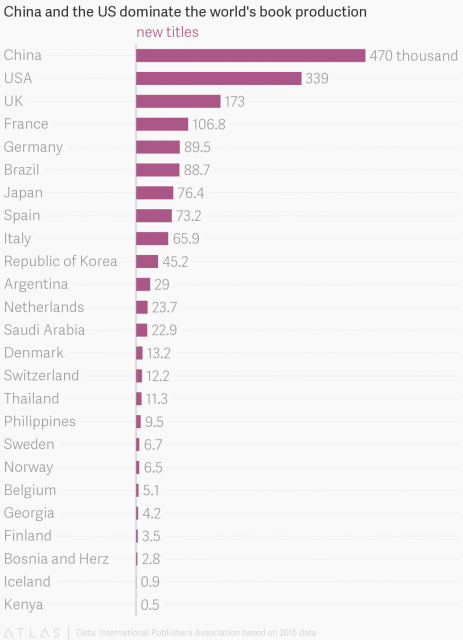 The relative importance of books, or how the society values books, in each society can be studied by dividing the number of citizens by the number of new titles. Now, the story is completely different. European countries rise on top. Top 10 of published titles per million inhabitants is all European countries, followed by the U.S.
UK, France, and Spain export plenty of books to other countries where English, French or Spanish is spoken, but why are Scandinavian countries so high in the top 10? Every Scandinavian country has its own language, making each market small. Book industry is a subsidized business in these countries. Authors may get allowances, translators may receive grants, and value added taxes for books are lower than for other products.