People who live in the far north, for instance, in Scandinavia have to cope with different environment than, say, people in Italy or US. This inevitably leaves its mark on local cultures and customs of each region. If you are planning a journey to Finland, here are ten tips that help you explore the country and communicate with locals. Otherwise, you may wonder for the whole duration of your trip why didn't anyone speak to you or why did locals eat reindeer.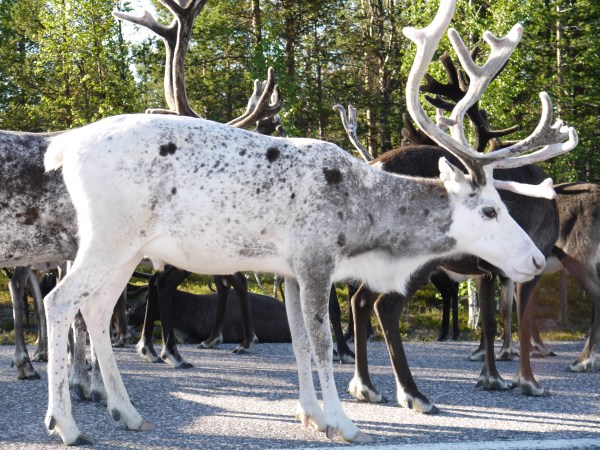 1. Reindeer is not the national dish of Finland.
In Lapland (the northernmost region of Finland, Norway and Sweden), however, reindeer is daily food. A few restaurants in the capital Helsinki have reindeer on their menus, and meat is available in large grocery stores. If you want to taste reindeer, here is a tip: try the smoked reindeer first. It is a delicacy that practically every meat eater loves. After that, if you are adventurous, try the traditional fried reindeer with mashed potatoes. More tips for touring and eating in Helsinki in this book.
2. Helsinki is the most popular tourist destination, but there are other places worth a visit.
Finland´s capital Helsinki draws the country's biggest tourist crowds, especially, in summer. Visitors who are looking for natural landscapes, peace and quiet or adventures head to Turku archipelago, Lapland or lake district in eastern Finland.
3. Mobile networks in Finland have a wide coverage, and they are among the fastest and most economical available.
Roaming costs both for voice calls and Internet data are easy to avoid by getting a prepaid SIM card from a R-Kioski shop (it is like a 7-Eleven) and inserting the local card to a smartphone. If you want to find a free Wifi access point, look for a hamburger restaurant, like Hesburger or McDonalds, a shopping mall, or an access point in the center of Helsinki provided by the city.

4. Russian influence is evident in Helsinki, but don't tell it to the locals.
Until 1917, Finland was Russia's territory. Hundred years earlier, when Russia had won Finland from Sweden, the capital was moved from Turku to Helsinki. The new capital needed administrative buildings, university and proper infrastructure. That's how Helsinki's uniform city center around the Senate Square was established. Today, excellent Russian restaurants can be found in Helsinki, and plenty of business is conducted with Russians. A visitor should never question if Finns are eastern or western Europeans: Finland wants to belong to the west.
Read more about Finland's history between the east and the west.
5. Midsummer turns Finland's cities into ghost towns.
Midsummer is no ordinary fiesta in Finland. The sun doesn't set at all in the north, and in southern parts of the country there is enough light to party through the night without artificial lights. The thing is that locals escape to the countryside and into deep forests to celebrate the Midsummer. Shops and restaurants are closed, leaving only innocent tourists roaming on empty city streets. If you happen to be in Helsinki during Midsummer, take a boat ride to Suomenlinna fortress or ferry to Tallinn in Estonia. Other places to visit are medieval town of Turku where an old castle stands by the sea, or the medieval castle in Hämeenlinna by a lake.
6. Leave your cheque book home.
The preferred way to pay in Finland is a debit or credit card that has microchip for added security (chip card). The only alternative is cash (Euros). The overall price level in Finland is higher than in Continental Europe, but somewhat lower than in neighboring countries Sweden or Norway. The price of Big Mac meal was 6.50 Euros in 2015.
7. You will not a see single reindeer or elk.
Reindeers live only in Lapland where it is easy to find them and photograph animals even in selfies. The only town where reindeers occasionally visit is Rovaniemi because they organize reindeer races. A large elk population roam in forests across the country, but you would have to be extremely lucky to see one.
8. Finland is a bilingual country.
Both Finnish and Swedish are official languages in Finland. This is the reason why street signs in Helsinki and in other coastal towns are in Finnish and in Swedish. Children learn both languages at school, but still, English is the foreign language that Finns know the best.
9. Finns follow the rules.
If you see a pedestrian waiting for the pedestrian traffic light to change to green, even though there are no cars in sight, you are looking at a local person. More than 600 000 people live in Helsinki . and more than a million in the metropolitan area, but the city is a safe place. In summertime, public drinking in parks and streets may surprise visitors, as well as Finns' fairly natural way of dressing, but you should excuse them because of the short summer that they enjoy from the bottom of their hearts.
10. The top sights in Helsinki are not the Sibelius statue or Olympic stadium.
Don't waste your time, but head to Suomenlinna (a beautiful island fortress outside the city), Temppeliauko Church, also known as the Rock Church, or Ateljee Café at the top of hotel Torni. If you have time, take a hike in Nuuksio wilderness (only 30 minutes from the city) or get an invitation (or rent yourself) a cottage by a lake and enjoy the summer the Finnish way. More tips in the book The Lighter Side of Finland.