Many ebook lovers like to read on a 7-inch tablet because the device is compact and light. That is true, but the compact size is not a perfect solution for many other applications. We have always liked the reading experience on a 9.7-inch Apple iPad. Additional reason for using the iPad is that it can be used as a productivity tool as well. Would it be possible to replace the iPad with a low-cost 10-inch tablet that could be used for reading books, following news, watching TV series, for email and for writing? We tested the Acer Iconia One 10 B3-A20 tablet.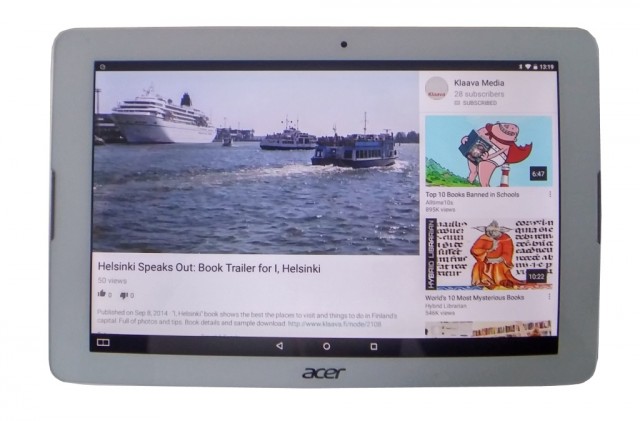 The Acer Iconia One 10 B3-A20 tablet has a 10.1 inch display. The screen resolution is 1280 x 800 pixels. The resolution is at the low end in the 10 inch tablet category, but the display is really readable and sharp. We didn't detect any jaggedness or blurriness with books, videos, photos or news sites. Our benchmark tablet was a retina-display Apple iPad.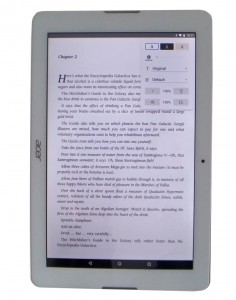 The form factor of the Acer B3-A20 tablet resembles a wide-screen tv, as opposed to the iPad's ordinary 4:3 screen ratio. There are a couple of benefits in the Acer's wide-screen solution:
1) In landscape mode, all web pages display properly. There is enough width on the screen for the whole page. Some ebook reading apps can display two pages at a time when in landscape mode.
2) In portrait mode, some applications like Twitter work better than in landscape. This is also true for some apps that originally were designed for smartphones, but run nicely on the tablet in portrait mode as well.
We have been using a Bluetooth keyboard with the iPad, and the same hardware keyboard worked with the Acer tablet right away. Bluetooth has to be switched on in Android settings and hardware keyboard with the correct language must be specified and that is it.
The Acer B3-A20 comes with 1GB of RAM memory which is enough, for instance, for running two web browsers, Twitter and a notepad application. The system resources monitoring application has a low threshold for warning of low memory. If you know what you are doing, you may ignore the warnings or you can install an app that helps you closely monitor and clean unnecessary apps. Android Assistant is one such application that lets you clean memory from applications that reserve RAM memory and also clean data and cache files from storage (flash memory).
GPS and memory card slot are normal features on Android tablets and smartphones, but not on all Apple devices. GPS lets you navigate using Google Maps or any other map application you may download from the Play Store. If you take the tablet along on the road, you can also use GPS for recording your travel route.

Memory card slot on a tablet is a truly valuable feature. It can be used as storage space for data and for installing applications that take a lot of space. Not all applications can be installed on a memory card, but large apps, like web browsers (e.g. Opera, Firefox) can run from a memory card. Another nice thing is that you can take a memory card from your camera or phone and insert the card into the tablet and view photos on a large screen.
Few people buy a tablet because of its camera. The five megapixel camera on the Acer B3-A20 captures ordinary images, but we don't believe anyone will be using it as their primary camera.
The performance of the B3-A20 tablet was fine. Videos, photo galleries, large PDF documents, cloud services (like Dropbox), ebooks, maps, writing all work smoothly. We didn't experience any hick-ups.
The tablet runs on the latest version of Android (5.1) which is important for application compatibility that you may download in the coming months and years. As such, Android 5.1 doesn't provide new exciting features if it is compared to Android 4. A dedicated soft key for multitasking and greatly improved alerts at the top bar are the most visible and useful improvements.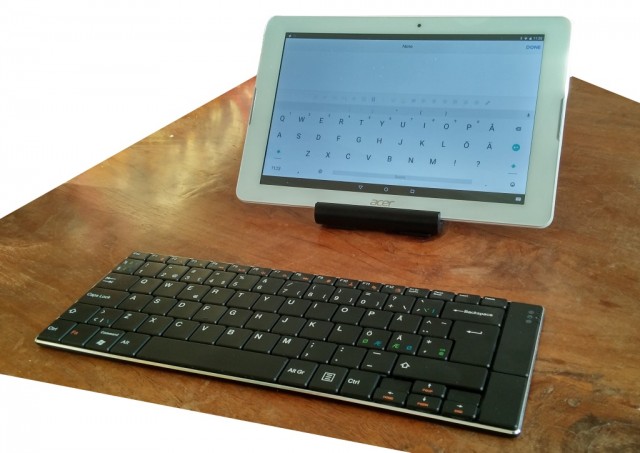 Conclusion
The Acer Iconia One 10 B3-A20 tablet fulfilled all our requirements for reading books, for news, for entertainment and for productivity, even for writing.
The tablet feels nice when you hold it (because of the surface on the backside), but it also feels like you want to hold it very carefully so that it doesn't break. It is not a solid piece of engineering like high-priced tablets that may have metal cases. Another negative feature is the small amount of RAM memory. The built-in system health monitor app regularly warns of low memory.
Nonetheless, the tablet does what it is supposed to do, comes with a decent display, has a good battery life, and has valuable features that, for instance, the Apple iPad doesn't have (memory card and GPS).
At the moment, when the Acer B3-A20 is priced at 150 dollars/euros, it provides very good value for the money.
Acer Iconia Tab 10 B3-A20 key features and technical specifications
– Screen size 10.1 inches
– Screen type active matrix TFT Color LCD, LED backlight, multi-touch
– Screen resolution 1280 x 800 pixels
– Android 5.1 operating system
– Back camera 5 megapixels, full HD (1080) video capture
– Front camera 2 megapixels, 720 video recording
– GPS
– Processor MediaTek Cortex A53 MT8163, 1.30 GHz, Quad-core
– RAM memory 1 GB
– Built-in flash memory 16 GB
– microSD memory card slot
– Wireless LAN Wi-Fi IEEE 802.11a/b/g/n
– USB-port, micro-USB 2.0 type B
– Bluetooth 4.0
– Microphone
– Stereo loudspeakers
– Headphone jack
– Battery Lithium Ion (Li-Ion), capacity 6100 mAh
– Maximum video watching 10 hours per charge
– Dimensions: thickness 0.4″ (9.5 mm) x height 6.6″ (168mm) x width 10.2″ (259mm)
– Weight 1.21 lb / 550 gr.