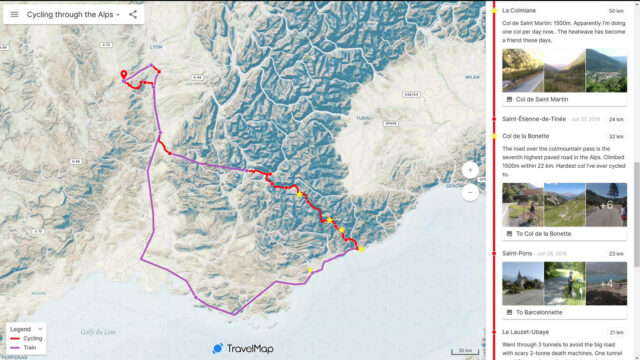 When I started making long road trips in Europe, I realized it was impossible to remember where all the photos were taken (with a camera without GPS) or draw up the exact route traveled. I had to find a tool to record my journeys. Many travelers also want to write down notes of their impressions of destinations, or distances, altitudes and travel hours. What is the right tool for the job?
Before exploring tools and techniques that can help in creating a travel journal, it is essential to determine what type of travel you intend to conduct.
A) Online tools: If you are traveling along main roads in and out of cities and towns, it is likely that you can connect to mobile networks and access the internet practically all the time. This means you can rely on online tools and mobile apps that require internet connection. It is important to ensure that data roaming is active and you are ready to pay the price mobile networks charge for roaming.
B) Offline tools: If you are are planning to explore a destination along quiet country roads, ascend to mountains, camp in remote locations, go hiking or cycling in nature parks, or bathe on isolated beaches, you will need offline tools that you can use without internet access (since you can't trust there is a connection to a mobile network).
Online travel diaries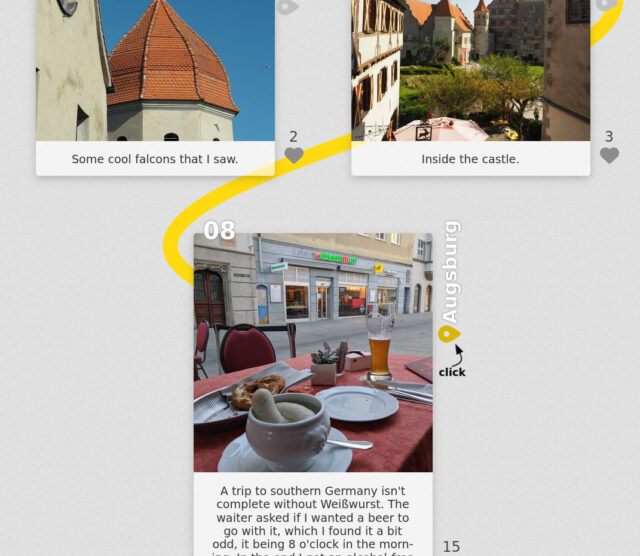 Applications running on a smartphone provide plenty of functionality for creating a travel journal. The travel diary app can automatically place photos on a map and record your route. Most travel apps allow making notes along the route that are attached to locations or photos. Six popular travel diary apps reviewed by MUO are:
Some of the apps allow access in a web browser, making them easy to use on a tablet or PC as well. For instance, Travelmap and Traveldays are simple, accessed in browser and allow making quick posts and updates. Apps running on Android and iPhone phone have more functionality if you need it.
Because these apps require you to upload photos, routes and notes to your account on a central cloud service, they require connection to the internet. It is worth noting that the apps that are constantly doing something even when the phone screen is dark can deplete the phone battery faster than expected.
Offline travel diary tools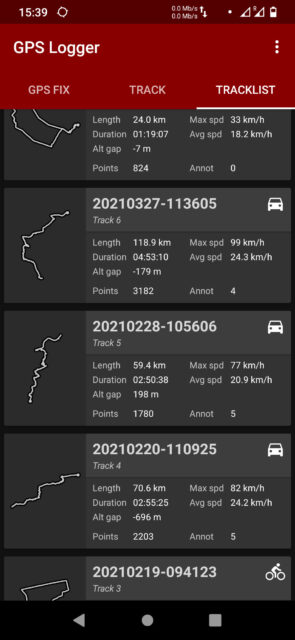 Three key components of a digital travel diary are: the route traveled, photos and videos taken on the road, and notes written about the trip. All these elements can be saved on a phone or tablet during the trip without mobile network or internet connection. After the journey, you can choose if you publish your photos, notes, and route on a cloud Travel Diary for others to see, or for instance only pick the best photos and publish them on a shared photo album.
The route can be recorded with an offline app, like GPS Logger that only saves the GPS coordinates of a journey. An app like GPS Logger doesn't require any connections except for receiving the signals of GPS satellites. For those travelers who don't want to risk their phone battery energy level, an option is to manually write the route into an offline notes app. Towns, road numbers, mountain passes, rivers, villages, anything that can be found on maps are good markers for writing down the route, for instance, every evening. Make sure you are using a notes app that works offline.
Photos and videos are stored on the phone automatically. If you are using an app that automatically copies your photos to, for instance, Google or Apple account, consider if it is worth keeping it active. If the network signal is weak, the phone battery quickly depletes as the app tries to send data to the cloud. Perhaps you backup your images on Dropbox, Pcloud, or Internxt, but it is important to do later when you get internet access, for instance, at a hotel or camp site.
Notes about destinations, incidents during the trip, distances, hours, and other information can be written down in an app that works without internet connection. For instance, this Notes app can store your text documents on the phone, and later when you have internet access you can send the notes where you want.
Cyber security and privacy -minded travelers may prefer the offline method because all the data is saved locally under complete control of the phone or tablet owner. Backing up data is is naturally important. Then, all the information or highlights only can be published for other people to view.
So, all the required information for a travel diary can be recorded without internet access, but once you get back home or have enough time during the trip, you can merge all the data into a nice presentation. There are many tools and services that allow you to do that, for instance, the ones listed in the beginning of this article.