So you have a shiny new electric car or electric campervan that is begging you to make a tour in Europe. Some regions adopt new technologies faster than others, which in this case means planning is required for being able to manage the energy level of the EV battery during the road trip. Of course, maps are available that show where charging stations are, but we also have a ranking of cities that have the most hotels or other places to stay a night and let the battery charge during the night.
Elmo Drive has collected statistics on European cities with hotels and B&Bs that have charging facilities for electric vehicles.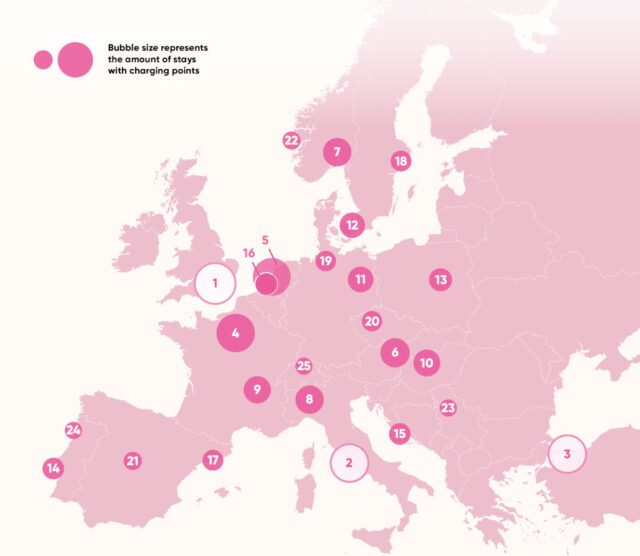 London, UK 879 places to stay a night and let the battery charge
Rome, Italy 754
Istanbul, Turkey 750
Paris, France 704
Amsterdam, Netherlands 677
Vienna, Austria 410
Oslo, Norway 388
Milan, Italy 387
Lyon, France 353
Budapest, Hungary 344
Berlin, Germany 313
Copenhagen, Denmark 306
Warsaw, Poland 251
Lisbon, Portugal 223
Split, Croatia 222
Rotterdam, Netherlands 221
Barcelona, Spain 208
Stockholm, Sweden 201
Hamburg, Germany 198
Prague, Czech Republic 196
Madrid, Spain 158
Bergen, Norway 154
Belgrade, Serbia 140
Porto, Portugal 139
Zürich, Switzerland 136
At the moment, the sweet spot for battery powered vehicles (from convenient charging while sleeping-point of view) is Central Europe around the region marked by Hamburg, Amsterdam, Rotterdam, Paris, Prague and Berlin.
Looking at individual countries where businesses already have invested in electric car charging points, four countries stand out: Italy, France, Netherlands, and Norway.
It is somewhat surprising to find out that Germany didn't do better in this ranking. Germany is Europe's autobahn car nation, after all. Only Hamburg and Berlin made it to the top 25 list. We will see if Volkswagen's strong marketing and manufacturing capability will gradually change attitudes in Germany as well.
Clean Technica reported.