The book Stunts, Scenes and Safety – Introduction to Movie Stunts was originally published for the Apple iPad only. The reason was that it was the only ebook system that allowed video clips inside a book at the time. Well, times have changed since the original edition was published, and so has the book, which is now available for smartphones, tablets and computers.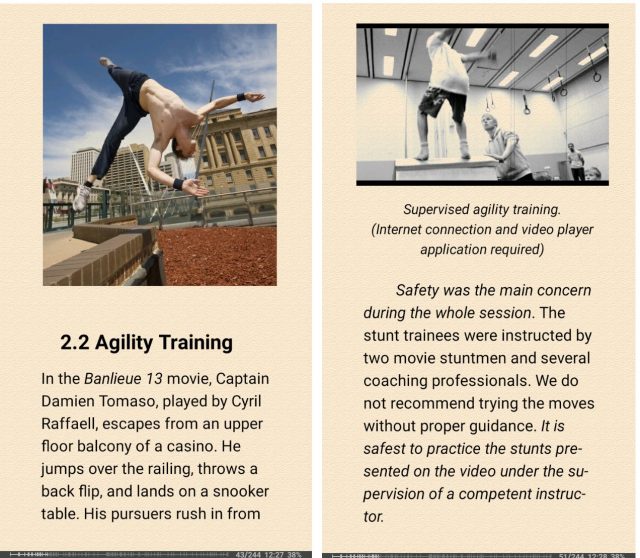 Book pages on a smartphone.
The concept for the book had been brewing in H-P Virkki's head, who is an experienced professional stuntman, for a long time. When the iPad started the tablet revolution and Apple introduced the iBooks Author multimedia ebook design software, he knew his vision could be turned into reality. And so we did.
The one thing with Apple is that no matter how great its products and tools are, everything tends to work on Apple devices alone. Since many movie fans and aspiring stuntmen kept asking for the book to be made available for smartphones, Android tablets and PCs, we created a mobile edition of the book that works on practically all mobile devices.
In addition to the iBooks edition, Stunts, Scenes and Safety is also available as an EPUB and Kindle book. It means that exactly the same content can be viewed on a smartphone, tablet or computer, only the layout is different.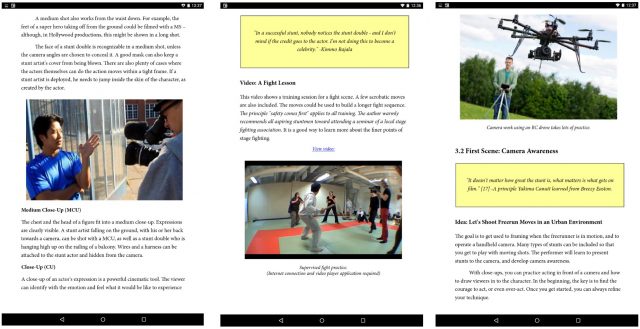 Book layout on a tablet.
The book is available in all major online bookstores that sell ebooks, for instance:
Amazon.com
Apple iBooks (the iBooks edition comes with embedded video clips – be patient with the download)
Barnes & Noble
Google Play Books
Kobo
If you get your book from the Amazon Kindle Store, download the Kindle reading application from the app store. If you download your book from the Apple store, make sure you have iBooks app on your mobile device. Other bookstores let you read ebooks in a variety of apps. For instance, FBReader, Aldiko, Kobo and Google Books are popular reading apps.
The author of the book, stuntman and stunt coordinator H-P Virkki, has performed in many movies and he has trained actors, athletes and stuntmen at dedicated courses, universities and theaters.
More about the book here.
Below a couple of samples from the iPad edition of the book.