Stunts, Scenes and Safety – Introduction to Movie Stunts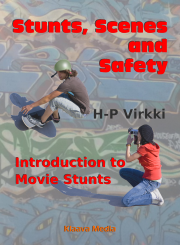 UNAVAILABLE
Author: H-P Virkki
Publisher: Klaava
Published: April 2015
ISBN:
978-952-7074-35-0 (Amazon Kindle)
978-952-7074-37-4 (Apple iBooks)
978-952-7074-36-7 (EPUB)
Stunts, Scenes and Safety introduces readers to the concepts of stuntwork. The book builds a learning path for readers who are planning to create action scenes for their home videos featuring, for instance, skating, parkour, BMX biking, or similar activity.
Practically anyone with a modern camera can learn the basic skills of creating action-packed movie scenes. The book explains the concepts of timing, camera awareness, shot size, rhythm and camera angles. When these elements are combined with aspiring stunt person's own creativity, physical fitness, talent in front of the camera, and video editing competence, the results are ready for YouTube.
The book describes how professional stuntmen prepare for action scenes, how they rehearse, what kind of technical equipment they use, and how they plan their performance before stepping in front of a movie camera. Anyone who is hoping to find a career in stunt business will get valuable tips from the book. Moviegoers can get unique behind-the-scenes insight on movie making and stunt work.
Large selection of photographs, video segments, sample scripts, camera maps and other practical material make it easy to adapt the information into personal video projects. The book also features tips for experiental learning and adventure education practice sessions.
The author, stuntman and stunt coordinator H-P Virkki, has performed in many movies and he has trained actors, athletes and stuntmen at dedicated courses, universities and theaters.
Book Trailer
View sample pages
View sample pages of the iBooks edition of the book.
Contents
PROLOGUE
INTRODUCTION: STUNTS AND THEIR ROLE IN THE MOVIES
1. ACTION SCENES FROM FALLS TO EXPLOSIONS
1.1 Common Basic Stunts
1.2 Special Equipment Stunts
1.3 Vehicle Scenes
1.4 Indirect Action Scenes: Letting Imagination Do the Magic
2. STUNT ESSENTIALS
2.1 Practice Perfects a Stunt
2.2 Agility Training
2.3 Fight Sequences
2.4 Sharp, Alert and Focused!
3. FROM IDEA TO ACTION SCENE
3.1 Keys to Shooting Action Scenes
3.2 First Scene: Camera Awareness
3.3 Making a Sword Fight
3.4 Second Scene: Rhythm, Style and Teamwork
3.5 Shooting – Technique and Terminology
3.6 Third Scene: Timing
3.7 In Cold Sweat on the Filming Spot
3.8 Finished Action Sequence
4. SOME LUMINARIES OF THE STUNT WORLD
Stunt Legend Dar Robinson
From the Peking Opera to World Fame – Jackie Chan
Hal Needham's Path from Paratroops to Cannonball Run
Ground-Breaking Bronc Rider Yakima Canutt
Master of Silent Comedy' Buster Keaton
Terry Leonard: How a Football Player Turned Into a Barbarian?
Superman of Movie Adventure – Vic Armstrong
Maverick of the North – Kimmo Rajala
Skill, Contacts, and Fire Inside
EPILOGUE
HOW SARA AND KEVYN FOUND THEIR WAY INTO MOVIES
PRODUCTION TEAM
ACKNOWLEDGEMENTS
REFERENCES
SOURCES OF INSPIRATION
H-P VIRKKI
VIDEOEXTRA: THE MAKING OF A DIVE SCENE
Production Team
Stuntmen and Actors
Tung Bui
Karlyn-Kevyn Kollom
Jouni Kivimäki
Esa Muittari
Ville Seivo
Vierumäen leiritulet: stunt course participants
"A Fight Lesson" at Kanute, in lead roles Viljami Hotanen and Jussi Jätinvuori
Aikido shots
Mari Wiklund and Juuso Kenkkilä
In the roles of DOP and Director (as themselves)
Pekka Uotila
H-P Virkki
Director of Photography, "Action"
Pekka Uotila
B-Camera, Making of
Mikko Suomalainen
Camera Operators of "Whirling Around"
Juha Lankinen
Pekka Sipilä
Camera Operators of "Fight Lesson"
Janne Holopainen
Eemi Lehto
Cut
Pekka Sipilä
H-P Virkki
Music
Olli Halonen
Rudirok
Photographs/Illustration
Esko Tuovinen
H-P Virkki
Film Editing and Digital Effects
Pekka Sipilä
Cartoon Art
Leena Jääskeläinen
Graphic Designer for Tung Bui's Image
Joona Kallio
Swordplay Notes
Tung Bui
H-P Virkki
Storyboards, Camera Placement Diagram and Call Sheet
Pekka Sipilä
H-P Virkki
Scripts, Direction and Production
Harri-Pekka Virkki
Publisher/Editor
Ari Hakkarainen
Translator
Jari Jalkanen
Supported by H-P Virkki