The dark winter in the northern hemisphere has been left behind, and the sun shines brightly on snowy slopes of fells in Lapland, in the northernmost region of Europe. Even though the nights are cold, the days tend to be warm (if it is sunny – and it often is) making spring the ideal season to enjoy outdoors activities in the snow.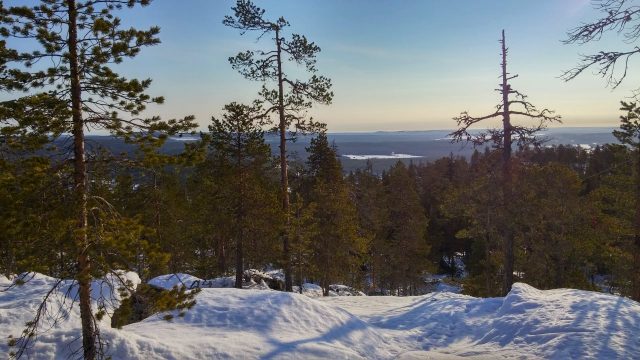 Skiing is perhaps the most popular way to experience the magic of the north. If you mention skiing to the local Finns, Norwegians, Swedes or Sami in Lapland, they may assume you are referring to cross-country skiing. It is a good idea to specify what kind of skiing you mean: downhill or cross-country. Cross-country skiing tracks can be found practically in every village, town and tourist center. Downhill skiing slopes with lifts are available in large resorts, such as Ylläs, Ruka, Levi (in Finland) and Riksgränsen, Björkliden (in Sweden).
Snowmobile safaris have become very popular recently. You can ride a snowmobile yourself (highly recommended – it is a lot of fun) or take a backseat on someone else's snowmobile. Resorts rent snowmobiles and organize guided tours to the wilderness. Most places have designated tracks for snowmobiles, which means you have to stay on those tracks. The tracks also help you from getting lost in the vast region where people and towns are few (and mobile phone signal disappears after a minute or two).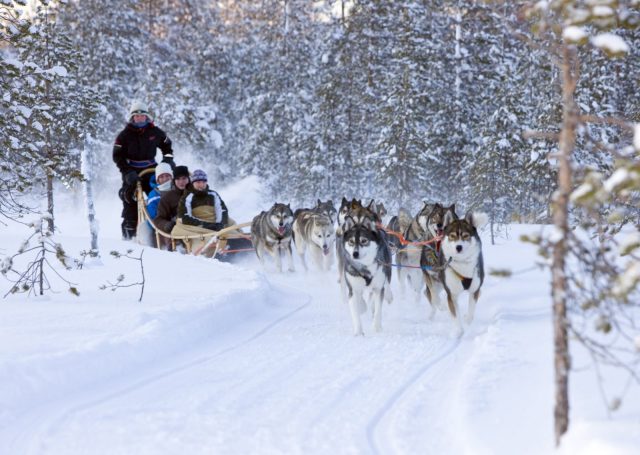 There are, however, plenty of reindeer roaming in the wilderness. The animals must dig deep into the snow to reach plants to eat. The owners of the reindeer usually bring supplemental food to the animals on their snowmobiles.
Snowmobile rides are fun, but the engines make some noise. Dogs can take you to a completely silent ride in the snow. Huskies are more than happy to pull a sledge, and once they settle to their travel speed, it is amazing how silently they go. You can sit back, admire the scenery and appreciate the work dogs are doing.
When the sun sets, a magical show starts in Lapland. Spring is also a wonderful time to see the Northern Lights, because the nights are dark, but it is not cold as in winter.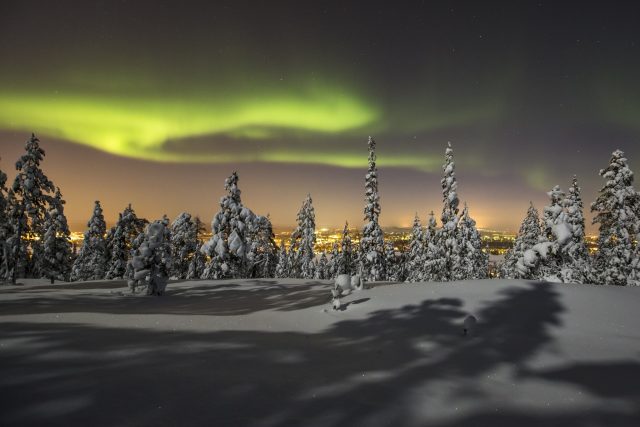 Photo: Visit Rovaniemi/Rovaniemi Tourism & Marketing Ltd.
The high season for spring travel in Lapland is March and April. Easter tends to be the busiest time at resorts and airports.
What you should know about traveling in Lapland
In the spring, be careful with the sun that also reflects from the snow: wear sunglasses and if you are exposed to the sun more than an hour or so, apply sunblock to your face.
I have written a guidebook (Lapland – North of the Arctic Circle in Scandinavia) that helps in all aspects of planning and exploring this exotic wilderness region both in summer and in winter.
Here are some bookstores where the Lapland travel guidebook is available:
Amazon.com
Amazon.co.uk
Apple iBooks
Barnes & Noble Nook Books
Google Play Books