Common smartphone screen sizes are between 5 and 6 inches, and the most common ereader screen size is six inches. Reading a book on a bright and colorful smartphone display is pretty convenient these days. The downside is that the color screen drains the battery and it is still difficult to read in sunlight. So, why not build a smartphone with two screens: a color screen for apps and a black-and-white screen for ebooks.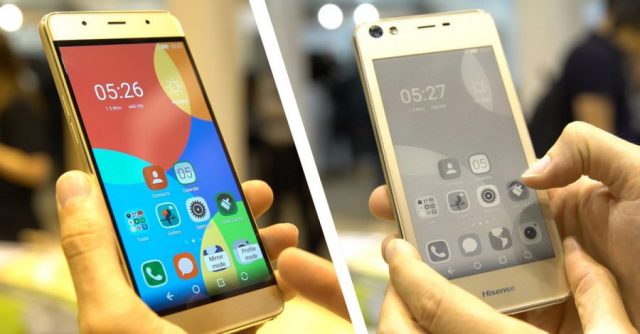 The Hisense A2 is the latest product that has implemented just that. The smartphone comes with a 5.5-inch color display and a 5.2 E ink display. One side of the phone is used as an ordinary smartphone and the other side an ereader. Two devices in one product.
01net had an opportunity to get their hands on a Hisense A2 prototype. Their first impression was positive, so it seems that we finally could have a proper dual-screen smartphone for ebooks by the end of 2017. The price is expected to be around 400 euros.
Similar products have been available in some markets earlier. Yotaphone has returned to the business, introducing the Yotaphone 2. Its availability, however, is unclear at the moment. Also Onyx, which has successfully introduced a number of ereaders recently, had a dual-screen smartphone earlier, but it didn't live long.
The Hisense A2 is already available in China, running on Android software.
---
[email-subscribers namefield="YES" desc="Subscribe to our newsletter on ebooks, writing and photography:" group="Public"]