There is nothing better than laughing at mistakes other people have made. BBC put together an infographic with famous predictions gone wrong. Here are the highlights from the compilation that relate to books and communication technologies.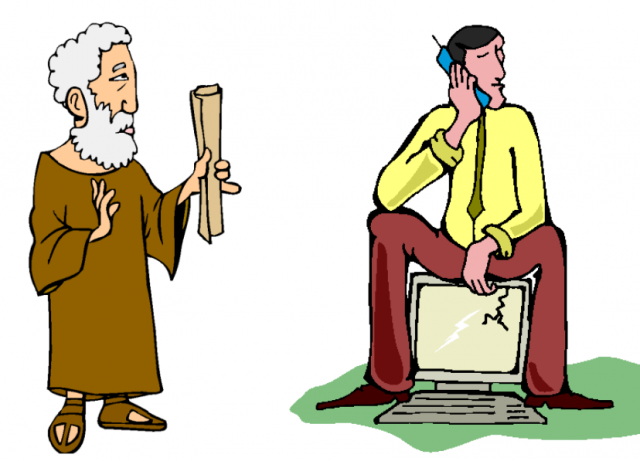 Circa 370 B.C.
Socrates predicted that the written word will destroy our memories. Men will cease to exercise memory because they rely on what is written.
Yet, the world can remember what he said because Plato wrote it down.
1492
Monk Johannes Trithemius wasn't happy about the new innovation: printing press. He worried about the future of his profession because Gutenberg had invented a machine that could print books. Monks who earned a living as scribes had to find something else to do.
1545
Swiss scholar Conrad Gesner worried that too many books in the world is perilous. Confusing and harmful abundance of books seriously bothered him.
1685
More than hundreds year later, after many books had surely been printed with new machines, French scholar Adrien Baillet wrote that he had a reason to fear that a multitude of books would drive humankind into barbarous state.
1879
A new invention, telephone, had arrived in England where the Head of the Post Office regarded the new device useless. Relaying messages with the help of messenger boys was the proper way to communicate for him.
1883
Just like books used to be a threat to powerful people in ancient times, because ordinary people could actually learn something, public education was seen as a threat at the end of the 19th century. New York Medical Journal warned that public education would exhaust the children's brains and nervous systems.
1929
Telephone continued its inevitable conquest across the world, and was seen as a threat to the society. San Francisco Catholic Adult Education Committee worried: does the telephone break up home life and the old practice of visiting friends?
1936
Another relatively new invention, radio, was too much for the music magazine Gramophone. Children have developed the habit of dividing attention between the humdrum preparation of their school assignments and the compelling excitement of the loudspeaker, the magazine concluded.
1959
Although there were not many computers in the entire world at the time, mathematician I.J.Good believed in artificial intelligence (AI). He thought all work could be handed over to machines in 10-30 years.
1964
Arthur C. Clarke, one of the most successful science-fiction authors, predicted the rise of remote work and digital nomads accurately. He even got the popular nomad destination, Bali, right. Clarke thought that in 50 years, we can work remotely.
1975
The buzzword Paperless Office appeared on an article in BusinessWeek. Well, it is kind of happening now. The magazine article predicted that all office information would be digital by 1990. The consumption of paper, however, started to decrease in US offices in 2001.
1995
Robert Metcalfe, one of the pioneers of the Internet estimated that the network will catastrophically collapse in 1996. He had to eat his words in 1997 in front of an audience where he mixed his column into water and drank it.
The list of false predictions is endless. It is only the predictions by famous people that went horribly wrong which will live long after the world has moved on. It is also easy to find parallels between ancient and recent studies and research papers that conclude how evil a new invention is.
How many times have I seen the story that reading a book from a screen rots our brains. How many children have been doomed to damnation because they use social media. How many times has it been proved that only the "smell of book" and "holding a book" improves learning when studying something – instead of reading an ebook. How many studies indicate that the Internet is destroying our memories.
All right, I will make one prediction. Now that audiobooks and voice control are growing strongly, the backlash will be in 2019: no one can learn by listening to a book, you have to read it.