In Spain, every city and village has its own festivities that are unique to the community. A number of these fiestas have long traditions, whereas others, like the Tomatina near Valencia in Bunol is a recent innovation. In addition to gazillion of local fiestas, national holidays are celebrated in Spain as well. If you want to experience a genuine Spanish fiesta, and visit the best sights of Valencia, here are a few tips.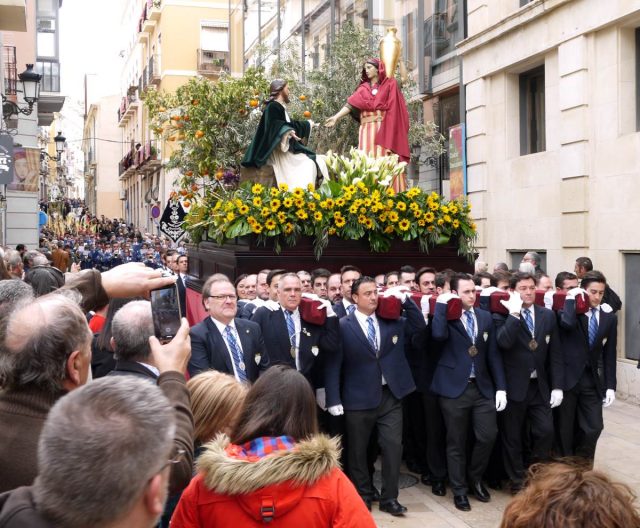 Three massive festivities in Valencia
Epiphany is celebrated on the 5th and 6th of January. As a festivity and carnival, this is much bigger than Christmas or New Year's Eve. Every town and city organizes one or multiple cavalcades in the town center. The leading theme is the Three Wise Men who bring gifts to children. For adults, it is another perfect excuse to go out and get a table at a restaurant or bar.
Fallas is a unique festival for Valencia. The entire fiesta lasts about three weeks, but the key events in mid-March that end the celebrations draw the biggest crowds. Fallas has become a popular event that Spanish people outside Valencia want to experience, together with plenty of foreign tourists.
In some countries, people can have one extra day of holiday because of Easter, but in Spain the minimum Easter holiday is one week. The entire population of the country is on the move. Every town with any self-respect organizes big cavalcades, Masses, and other events. A reason why the Easter is Spain's biggest national holiday is that it often coincides with warm spring weather. Beach resorts can be fully booked.
Travel guide to Valencia shows all the events, sights, places, and attractions of the city. It also covers cultural tips, key things about food and drink, and nearby towns and sights.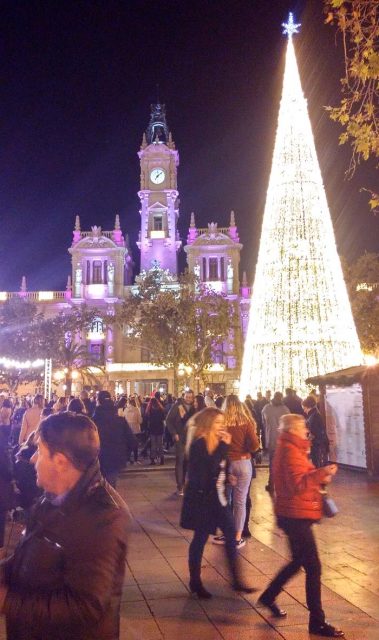 Three unique sights in Valencia, Spain
Even during a fiesta in Valencia, there is time to party, and time to do something else. The city is relatively easy to explore by foot, by bicycle, and by occasionally using the underground (metro) network. Here are three unique must-see sights in Valencia.
Old Town, the city center of Valencia, is a large and busy district with magnificent old buildings and monuments. It is not an outdoor museum, but Valencians live and work there. However, since locals like to spend plenty of time at their favorite restaurants and bars, there is an astronomical number of places to eat and drink in the city. Considering sights, La Lonja, Mercado Central, Catedral, and Plaza de la Virgen attract most visitors.
Turia Park is a green district that stretches a long way around the city center. The park is so large that there is space for everyone – well, weekends can be crowded. How is it possible that many kilometers/miles long park is located in the heart of an ancient European city? The park is built on the river banks of Turia River. The river used to flood the city so badly that finally, in the 1950s, it was diverted to flow around the city straight to the Mediterranean Sea.
The City of Arts and Sciences
The City of Arts and Sciences is a district in Valencia where modern architecture shines under the Southern European sun. It is place where a science museum, sea world, high-tech movie theater, concert hall and other institutions are open to visitors. Also, elements of parkland and water are cleverly applied to complement the ultramodern buildings.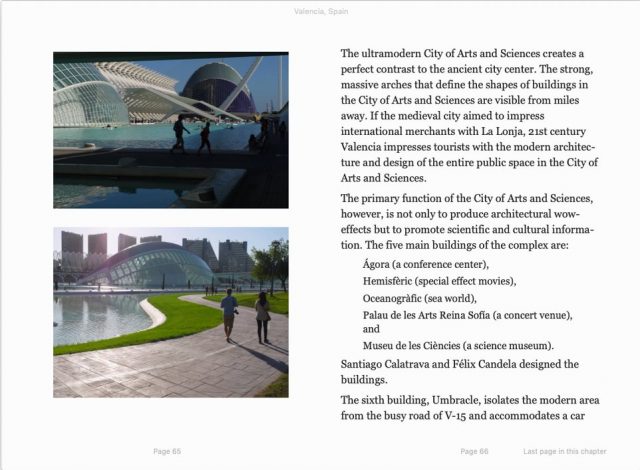 The Valencia travel guidebook is available at all major online bookstores, for instance: Amazon.com, Google Play Books, and Kobo.