Ereader device manufacturers are developing their products to include writing and drawing functions, and tablet vendors are following the same trend. The biggest IT company in the world, Apple, has decided to transform its entry level iPad Mini table into a writing and drawing slate. Using the Pencil stylus, the iPad Mini allows note taking, sketching, and saving any drafts in handwritten format.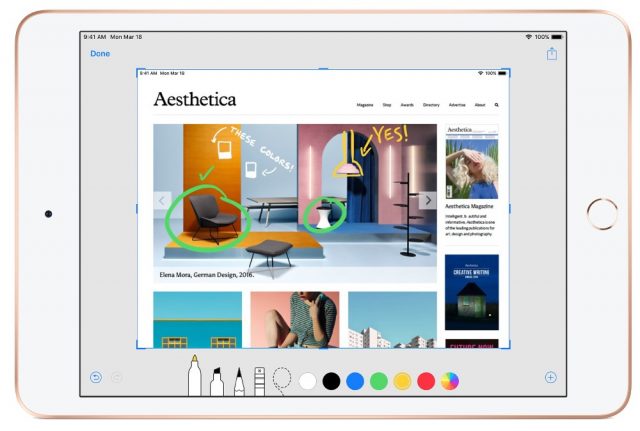 Every iPad tablet is a pretty powerful computer. Practically all the same tasks that are performed on a computer can be achieved on a tablet, but there is one big difference that separates them. PCs have been designed for keyboard and mouse, whereas mobile devices have been designed for touch screen access. For instance, writers experience this fundamental design difference the very moment when they pick up a tablet.
Tablets are going through a re-invention at the moment. For instance, both the Apple iPad Pro and Microsoft Surface tablets are being developed like powerful PCs. When you attach a keyboard to these tablets, they are like ultra-portable laptops. Both of these tablets can be used with a stylus, and this is exactly the most important revelation in the 2019 iPad Mini.
The key feature of the 2019 iPad Mini is handwriting and drawing capability. Using the Pencil stylus it is possible to take handwritten notes, comments or draft documents. Designers may sketch, draw and save their ideas in images. The powerful processor allows even editing of video clips.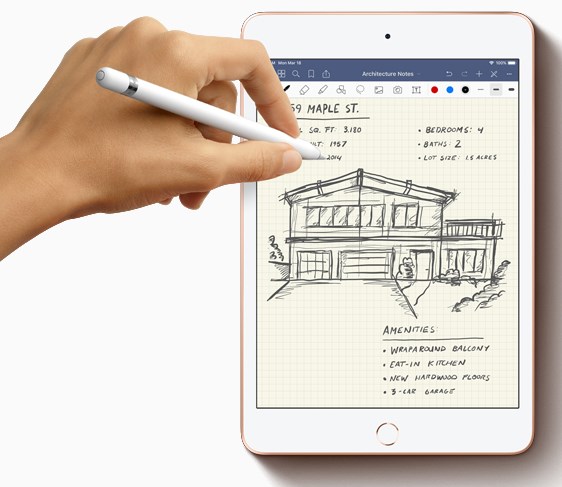 The ebook reading app and bookstore Apple Books are included in the iPad Mini.
The Apple iPad Mini list prices start from USD 399, or from EUR 469, depending on where you are shopping. Only Apple has the nerve to charge 99 euros/dollars extra for a stylus (the Pencil product).
The reviewers of the iPad Mini 2019 tablet agree that its performance, size, weight, and applications are its best features. Reviewers don't like the bezels around the screen, and the price of the Pencil stylus that has to be purchased separately if you want handwriting and drawing functionality.
Pocket-Lint reviewed the 2019 iPad Mini, and liked the performance, lightness, and size of the tablet. Here is the video review:
Apple iPad mini (year 2019 model) key features and specifications
Display 7.9 inches. LED back light.
2048 x 1536 resolution, 326 pixels per inch (ppi).
Apple Pencil can be used for handwriting, sketching, taking notes, drawing (sold separately).
A12 Bionic ‑chip, 64‑bit architecture.
8 megapixel camera. Aperture ƒ/2.4.
Camera features: HDR, manual shutter speed, burst photos, timer, image stabilization.
1080p HD video recording.
Video features: slow motion(120 fps), timelapse.
Front camera 7 megapixels.
Storage space 64 GB or 256 GB, depending on configuration.
Stereo loudspeakers.
Two microphones.
Wifi (802.11a/b/g/n/ac).
Bluetooth 5.0.
3.5 mm headphone jack.
Mobile network connectivity option: 3G, 4G, LTE. Nano-SIM card required.
A-GPS, GLONASS satellite positioning.
Touch ID –lock system.
Siri voice service.
Lithium­polymer battery: about 10 hours online via Wi-fi. 9 hours via mobile network.
Dimensions: 203 x 135 x 6 mm.
Weight 300 gr.