Spaghetti & Sauna – Discovering the Rational Finnish Culture through the Eyes of an Emotional Italian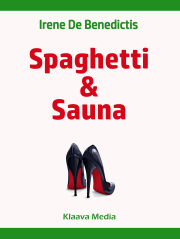 UNAVAILABLE at the moment.
Author: Irene De Benedictis
Publisher: Klaava
Published: March 2016
ISBN:
978-952-7074-53-4 (Amazon Kindle)
978-952-7074-54-1 (EPUB)
978-952-7074-55-8 (Apple)
It is a long way from Rome to a small town in Western Finland. The geographical distance is considerable, but the cultural distance between South Europe and Nordic countries may be even greater. This is exactly what a young woman from Rome quickly learned after she had moved to Finland to study and work.
Spaghetti & Sauna is an entertaining description of a journey where the emotional Italian culture meets the rational Finnish culture. In order to understand the customs and behavior of ordinary Finns, the author had to dig deep into her own Italian cultural heritage as well.
In order to survive in Italy, foreigners should master the local way of socializing and self-expression, whereas in Finland silence and humility are appreciated. Both cultures are rich and lovable, but often, evaluate a particular thing from very different perspectives. This may create tension when Italians and Finns encounter at work, at studies or at parties. The author is not afraid of revealing both funny and awkward moments that helped her identify and appreciate the cultural differences between the two nations.
The book is packed with valuable information for everyone who wants to learn about Italian and Finnish cultures through practical examples from real life.
View sample pages
Contents
Introduction
Weather
Food
Sauna is More than You May Think
Body Language
Body Contact and the Bubble
Silence, Talk, Socializing and Alcohol
Work
Express Yourself
Humility Wanted
Manners and Style
The Treasured Friend