8 Arctic Seasons is a book that lives and breathes the sensitive Arctic environment as it describes gourmet meals prepared from local ingredients that often are enjoyed outdoors. The book also takes readers to exquisite adventures to the North. Above all, it is a beautiful book filled with photographs of the Arctic moments, meals and landscapes.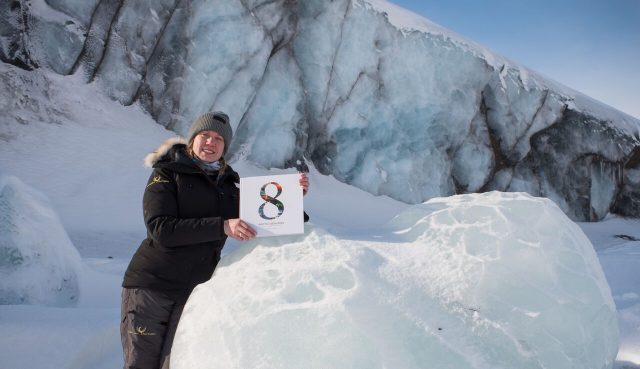 Liisa Kokkarinen, Editor & Co-author of the book took it for a spin near North Pole.
The Gourmand World Cookbook Awards were founded in 1995 by Edouard Cointreau. Every year, the best food and wine books (printed and digital), and food shows on television are being awarded.
In 2017 award ceremony in China, 8 Arctic Seasons: Discover – Taste – Experience was the Scandinavia Cookbooks category winner in the global Gourmand World Cookbook Awards.
Janne Honkanen and Liisa Kokkarinen, who were the key contributors to the book, have day jobs at Luxury Action Ltd. The company is based in Finnish Lapland from where it covers the entire Nordic region, including Greenland and even North Pole. Custom tours are planned with the environment and gastronomy in mind, a source of inspiration for the book as well.
The book is available both as printed edition (at Akateeminen bookstore) and as an ebook (check availability and prices here).
Still wondering what the eight Arctic seasons are? Starting from summer, they are: the ever-rising sun, Midsummer harvest, colors of autumn, the first snow, Christmas time, frosty winter, crusty snow and departure of ice.