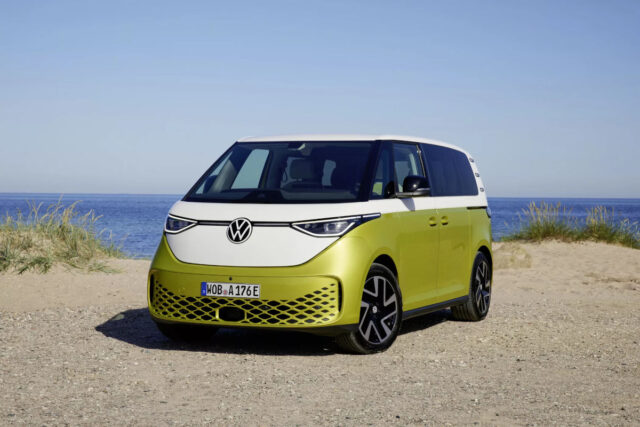 Compact electric vehicles are already here, practically everywhere on the roads if you look closely. Electric vans are available as well, but it seems that campervan travelers are waiting to see the VW ID Buzz electric van before deciding if they are ready to go all electric. Fortunately, a reporter has tested the brand new, ultra modern Volkswagen van on a two week road trip in Europe. Now, we can learn from his experiences.
Thomas Ricker, tech journalist for The Verge, packed his reporting and computing gear into an electric VW ID Buzz, and together with his wife and dog they made a 3200 km trip in Europe during spring. Since Volkswagen doesn't yet produce a campervan variation of the ID Buzz at the factory, you have to create your own camping facilities into the van, or buy a camping kit from a vendor. There are a few kits already for the ID Buzz, from which the journalist chose the Ququq Busbox.
The Ququq kit is a product meant to be easily installed into a van for a trip, and removed and packed for storage after the trip. It includes a kitchenette and two beds. Toilet and washing facilities are not featured in the kit. In this case, the compact space of the van wouldn't have room for them anyway. Also heating, cooling, and electricity required for computing and internet connectivity must be managed by the traveler, one way or the other.
After a two week tour in Europe on a VW ID Buzz, the conclusion of the test team was positive. Vanlife in an electric van is reality, today. You just have to learn the necessary tricks as you would learn them during the first trips in any other motorhome or campervan. The electric van itself and the Ququq kit were considered very positive experiences. On the negative side was the lack of functionality for utilizing the van's large battery for camping purposes, like powering the electronics or for heating.
How to choose the right type of camper van: electric/diesel, compact/large?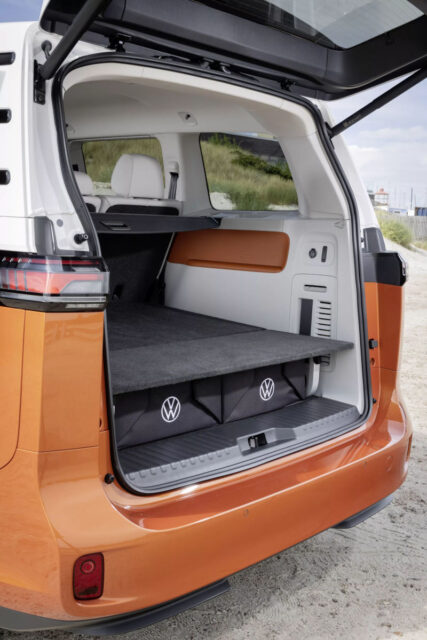 The road trip conducted by the journalist in the electric van VW ID Buzz unveiled many valuable insights for everyone who is planning to do the same now or during the next few years. It is evident that cars will be electric in the future. EU is planning to ban the sales of fossil fuel powered vehicles in 2035. Meanwhile, batteries will develop and wider range of price points for e-vehicles, also for electric camper vans, will be available.
The type and size of the vehicle used for travel is another crucial decision. If you only make weekend trips every now and then, a compact campervan (like the current VW ID Buzz model) equipped with a kit like the Ququq may be fine. For longer trips, a larger van is needed.
As the ID Buzz test team learned during their two week road trip, they had to organize the van according to the activity they were doing: driving, working or sleeping each required its own configuration. If you stay every night in a different location (common on a long road trip), you have to change the order of things in the van multiple times a day. After a few days, no one wants to do it.
They key things to consider when thinking of the type and size of a campervan or motorhome that is planned to be used more than for an occasional weekend trip:
High priority item: toilet
High priority item: a cooking facility, often a camping gas stove
High priority item: some kind of, even elementary, washing facility
How much stuff you absolutely must be able to take along? Electronics like laptops, tablets, internet connectivity devices, winter or summer clothes, and things needed for hobbies like cycling, trekking or golfing?
Can the bed or beds be foldable, or do they have be fixed?
As you notice, for instance, fridge isn't listed as an essential item (yes, there are others seemingly essential items). I learned this during the past year. Last summer, a tiny fridge in our campervan broke down. At first, it felt like a catastrophe – we were doomed, it seemed. Now, after a year, and after three trips without a fridge, we don't have any problems of traveling without it. We just think of what kind of food doesn't need a fridge and if we want such food we plan ahead when we buy it.
In any case, the decisions what is inside the camping section of a campervan or motorhome is a decision that is not really affected whether the vehicle is powered by electricity or by petrol. The obvious feature for electric vehicles that are suitable for road trips and vanlife would be the use of the vehicle battery for camping (with regard to the battery level, of course) .