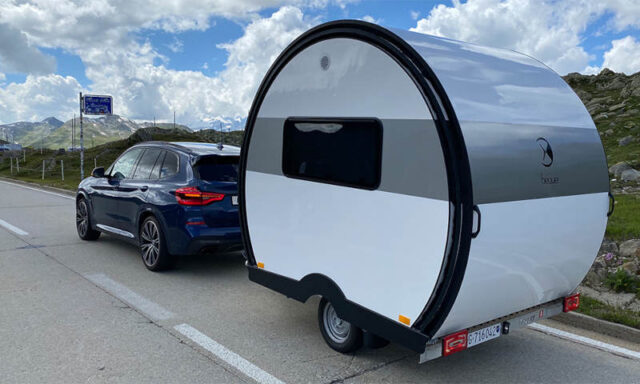 Travelers who don't want to invest in a campervan or motorhome, but hate towing a full size caravan behind their car could find the compact Beauer 3X as a smart solution for camping trips. The Beauer 3X is a caravan, but the telescope-like structure allows shrinking it to a compact unit for towing, and extending it to three times larger unit for camping.
Eric Beau, a Frenchman, developed the unique caravan after he realized he couldn't buy such a product anywhere. Now his company markets three models – 2X that doubles its size on a campground, 3X that triples its size, 3X Plus that is simply huge – and his caravans are available with local features in the US, UK and in many other countries.
When the Beauer 3X is locked into the compact position for towing, its outer dimension are 195 cm (width), 260 cm (height), and 385 cm (length). It weighs 950 kg.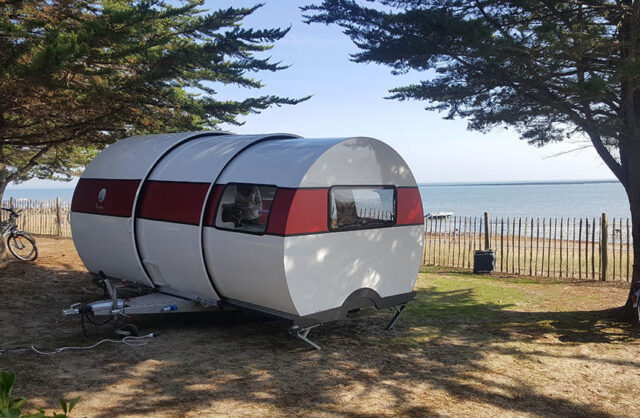 When extended to its full length, the unit is 460 cm wide (or long, depending on how you view it). The height of the living space is 200 cm as measured from outside. Kitchen, toilet, a kind of shower and full double bed fit in nicely into the caravan.
The price of the Beauer 3X starts from 30,000 euros, extra features increase cost, and different regulation and standards in countries outside EU may add to the cost.
The telescope-like structure surely has been an engineering challenge to ensure it operates smoothly and is easy to use. Beauer has succeeded to create a well functioning structure that opens and closes by turning a key. If there is no electricity available the mechanism can be operated manually as well.
The shrinking and extending structure is an engineering challenge for the built-in furniture and cabins as well. Inevitably, storage space is limited in a caravan like this. Bicycle racks can be installed outside the main unit.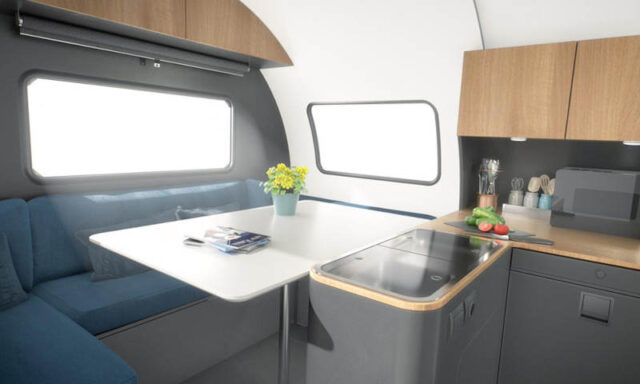 We have been cruising on European roads for a number of years in our campervan, and the only caravans we have seen are parked for good on campgrounds. Caravans have disappeared from roads, but of course, during a summer we can spot one or two on the road, but that's it. Yet, surely there is a market for innovative caravans like the Beauer that may attract new people to the great outdoors.
The British Caravan and Motorhome Club had an opportunity to explore the Beauer 3X inside and outside. Take a look at the video below:
Manufacturer's web page has a useful FAQ section for features like heating, air conditioning, and other common questions.