Wunder360 C1 is a 360-degree camera that can record video and photographs that show everything around the camera (up and down, right and left, front and back). It is an entry-level, budget-friendly camera aimed at people who just want to snap images, perhaps apply a special effect to the image and share it. How does the Wunder360 deal with travel photography? Here is our review.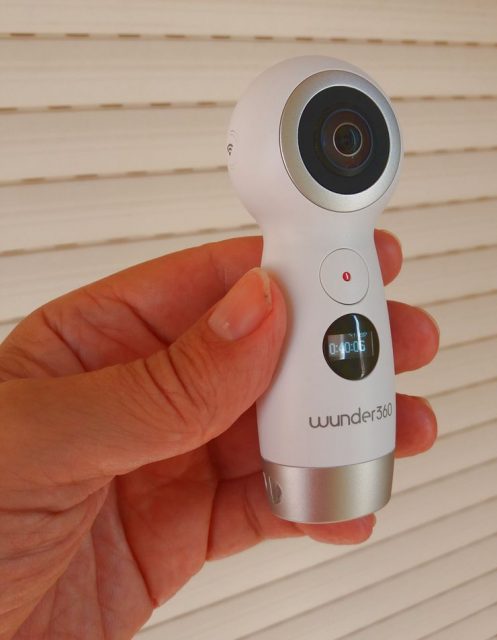 In our case, the primary application for a 360-degree camera was travel photography. Especially, taking images in spaces like a room in a castle, filming road trips, recording city or village life, recording events that are difficult to capture with one camera (e.g. Tour of France bicycle race or a parade). Now that we have tried the Wunder360 C1 camera in all these situations, we can analyse the results.
Capturing a space like a room
The camera is good at recording a space around it, especially if there is enough light in the room or in the space. We tested this in a castle, and it is fascinating how much information it is possible to discover when viewing the 360-degree photos or videos afterwards. Also, a section of, for instance, a park with plenty of objects can be easily captured. A tripod is required for the camera.
Filming road trips
We installed the camera on a tripod that was standing on the dashboard. We wanted to take advantage of the image stabilization and camera direction features. The result: not worth it. The stabilization was not good enough for us and directing the camera doesn't work well when the camera itself is moving with the car.
Recording city or village life
Excellent results. The idea was to leave the camera in a central place, like on a statue, in a large tree or on a bench, and let it film life on the street or on a square. The camera is so small that only few, if any, passing by pedestrian noticed it (we were hiding behind the statue so that we could see the camera).
We also tried walking with the camera, letting it record crowds on a busy street and people in cafes, but it didn't produce good video in this situation. The image stabilization can't correct movement caused by walking.
Capturing the motion of an event
Events, like parades, races (bicycle races, motor races, triathlon), and others have a lot of movement as many things are happening at the same time. A 360-degree camera can capture everything, and the Wunder360 has a feature that lets you direct the camera where you want after recording the video. This was exactly what we wanted, and this was exactly what we got. Good results, although the video quality after exporting the material to MP4 is not very good. Also audio sounds strange. The camera was standing still on a tripod in our tests at the Tour of France.
The street price of the Wunder360 C1 varies between 150-190 euros/dollars. It is available at online stores, and also at the vendor's homepage.
In addition to the camera, you must have a smartphone or tablet that is new and powerful enough so that it can work with those 360 videos.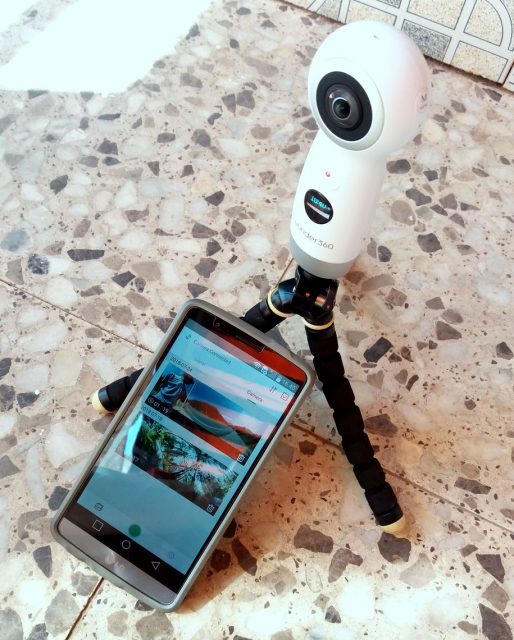 These are the steps for working with the Wunder360 videos
The way a 360-degree camera works is different from ordinary cameras, and naturally, the resulting images are different from images or videos taken on an ordinary camera. These are the key steps for recording a video on the Wunder360 and sharing it on social media channels.
1. Specify a Wi-Fi name for the Wunder360.
2. Choose the recording mode in Wunder360. We used high-resolution 30fps mode.
3. Download the Wunder app on your smartphone or tablet.
4. Record videos and photos in Wunder360.
5. Connect your smartphone or tablet to the Wunder360 via Wi-Fi.
6. You should see a list of photos and videos on your mobile app that are stored on the camera.
7. You can view the images and download them to your mobile device. All photos and videos are 360-degree images.
8. Downloaded videos can be edited (e.g. camera direction) in the mobile device app and exported as ordinary MP4 files (that can be further edited in a PC video editing software). Exported files are not 360-degree videos, but only show the areas you selected in the camera direction feature.
Conclusion: take it or leave it?
For our travel photography needs, the Wunder360 C1 has just enough functionality so that we will carry it along on our trips. The small and low-cost camera has a specific role in our camera bag.
This is our first 360-degree camera, and it was a surprise how different its usage and output were compared to an ordinary camera. Fortunately, we had a specific need for it, and knew what we were going to do with it. That's the key for anyone planning to buy one: it is essential to consider the applications for the 360-degree camera and then verify it has those features.
Tour de France road cycling race passes through the village of Bossost in Pyrenees mountains.
Wunder360 key specifications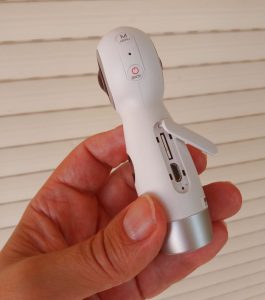 2 lenses. Stitching In-Camera Real-time (when you view a video or photo, it is already one 360-degree image)
Focal length/aperture f=0.94 F2.4
Sensor Type CMOS
Photo resolution 4096 x 2048
Video resolution 3040×1520 at 30fps, or 2176×1088 at 60fps
Camera settings exposure and white balance
Status display 32 x 64 pixels (for battery, Wi-Fi, recording mode info)
Free application for Apple iOS and Android devices (required for viewing, editing, and sharing images)
Livestream to Facebook and YouTube
Important features in the app: image stabilization and ability to direct the camera movement before exporting the video to MP4.
Wi-Fi 802.11 b/g/n 2.4GHz/5GHz
Micro USB 2.0 port
Tripod mount at the bottom
Microphone
MicroSD memory card slot
Battery 1000mAh
Weight 95g
Dimensions 109.3 x 45 x 35 mm