Often, the best ideas are so simple that you ponder why didn't I think of it. Dunkam 360-degree camera is exactly like that: a small, low cost product that you attach to your smartphone and start shooting 360 photos and videos.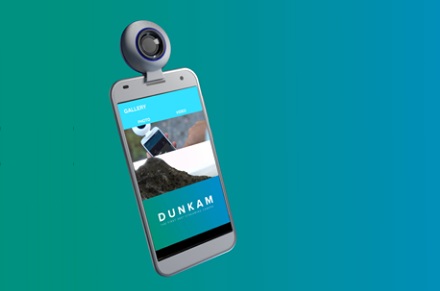 This is how the Dunkam 360 works:
– Download Dunkam application to your smartphone
– Plug the Dunkam camera into the USB port on your smartphone
– Open the app and take 360 photos or shoot 360 video.
– You can share your videos directly from the app to YouTube and social media.
– The app also features some special effects if you want to spice up your videos.
When you are done, unplug the Dunkam camera and continue using your smartphone as usual. The Dunkam camera is so small that it is quite easy to carry it in a pocket or purse – even just in case you would happen to need it.
The Dunkam 360 camera requires two things: you must have an Android smartphone (Apple version should be available later), and the USB port on your phone must be OTG (On-The-Go) capable. If you don't know if the USB port can act as a host device for the camera, there is an app for that in the Play Store.
Since the image processing takes place on the smartphone – using the memory and processor of the phone – it is a good idea to clean the phone from unnecessary apps and data so that there is as much free RAM and storage space for the 360 images as possible.
The Dunkam camera is a beta product at the moment, but it can be purchased for 99 Euros/USD directly from the company that is behind it.
A tech reporter of El Pais met with the inventor of the product Julián Beltrán who demonstrated how it works. Here is a video (in Spanish) where you can see the Dunkam camera in action.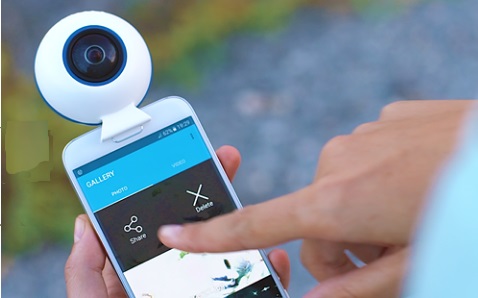 Technical specifications for Dunkam 360
– Two 8 megapixel cameras
– For smartphones with USB OTG connection
– Android only at the moment, Apple version under development.
– Resolution 1920×960
– Streaming HD 1080p
– Filters, tiny planet mode, exposure control
– Size 2.6 x 2.2 inches
– Weight 63 grams.
---
[email-subscribers namefield="YES" desc="Subscribe to our newsletter on ebooks, writing and photography:" group="Public"]