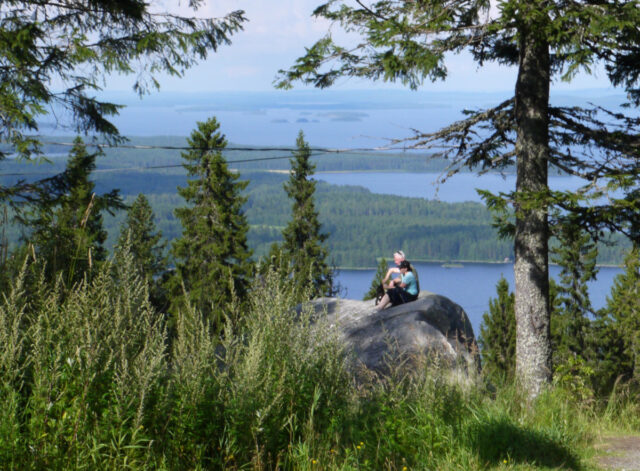 Traveling, seeing the sights, and meeting all kinds of people of a happy country is one thing, but learning the secret of becoming happy yourself is another thing. Finland, the happiest country in the world for the sixth time has decided to spread its wisdom to fellow earthlings. The tourism organization of Finland has put together the Masterclass of Happiness program that teaches the ingredients of the Finnish balance of life for a few lucky contest winners.
The Masterclass will be held in the lake district of Finland, near a small town of Rantasalmi. Kuru Resort provides the accommodation and other services for the participants. The Masterclass is a four day retreat during 12.-15. June, 2023. The tourism organization will cover travel costs for the selected winners.
The requirements for those who want to try their luck at the contest are simple: you sign up, complete a social media challenge, and wait if you are selected. English is the language during the Masterclass, and my guess is that you should be comfortable with bathing at a quiet, remote lakeside sauna surrounded by vast forests. You have to apply by April 2, 2023.
If you get an opportunity to travel to Finland, here are a couple of tips for destinations after you have seen the lake district Saimaa. The capital Helsinki and the vast wilderness of the Arctic Lapland are the key destinations for travelers in Finland.
Who says Finland is the happiest country in the world and why?
World Happiness Report 2023 has ranked countries based on three year average survey data (from 2020 to 2022). Here are the top 10 happiest countries in 2023:
Finland
Denmark
Iceland
Israel
Netherlands
Sweden
Norway
Switzerland
Luxembourg
New Zealand
Countries that ranked from 11 to 20 were Austria, Australia, Canada, Ireland, US, Germany, Belgium, Czech Republic, UK, Lithuania.
World Happiness Report has measured happiness by country for 10 years. Gallup surveys residents of countries, and independent researchers create statistical models from responses that can be examined from multiple viewpoints. There is plenty of science involved in the statistics and how the results are drawn from the data, but one insight stands out. The one factor that has major impact on happiness is the gap between people who are happy and the people who are desperate. The smaller the gap is, the higher a country ranks. The conclusion is that equality promotes happiness.
The surveys are powered by Gallup World Poll data and the statistics, models and conclusions were examined by independent experts.