Here is the nasty truth: the user interface software Apple uses in its MacBook laptops and iMac computers is seriously outdated.
In other words, Apple computers suck. Compare a Mac's user interface to a modern user interface, like Windows 10, and you have to admit that someone has mastered her homework while the other one has lost her vision and only enjoyed success that once seemed never-ending. I claim that the user interface of macOS is 10 years behind Windows 10, at least.
I am talking about Apple's line of computers, MacBooks and iMacs, that are running the macOS operating system (I am currently running Sierra version 10.12.5). This operating system is based on Unix software. Apple has developed its own graphical user interface on top of Unix.
In fact, Unix is the best thing in Apple's macOS software. The Open Group has certified that it really is Unix. For anyone who codes anything – web pages, enterprise applications, php scripts – having a full Unix under the graphical user interface is a great time saver and testbed.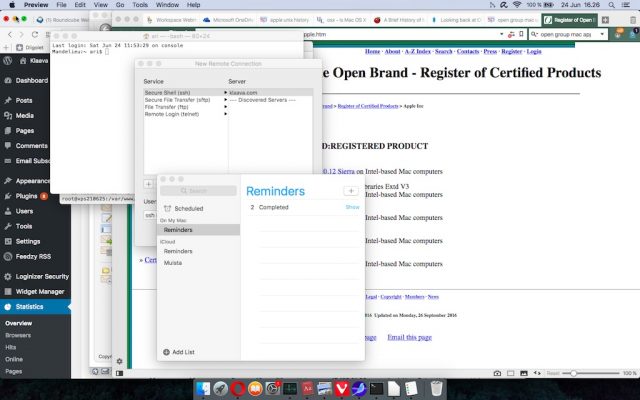 Apple introduced the OS X operating system software in 2000, and shipped it in 2001. MacOS is the same as OS X, Tim Cook just recently updated the name. When Steve Jobs introduced the brand new software 17 years ago, it was specifically the user interface that got people excited. It was simply amazing at the time.
Plenty of development has happened in OS X/macOS during the past 17 years, but in essence, the user interface is still the same. Yes, the dock icons are cute, but so what?
The worst thing is the windowing and the menu system of the macOS user interface software. Look at the user interface of Apple's mobile operating system, iOS. It is consistent. Or Android, or Windows 10. Consistent and intuitive. The windows and menus behave rationally and you find them in the same places wher you found them the last time.
The windows and menus in macOS live in parallel universes that are not quite sure how to interact with each other, if at all. An application window at the bottom of the screen has its menu at the top of the screen. An application window has problems of remembering all the other windows opened in the same application. Copying, moving and working with files in Finder is nearly impossible unless you open multiple Finder windows. The installation process of applications from outside the App Store occasionally reminds me of apt-get, a Linux command prompt installation program.
I understand that many Mac users open one application, fill the whole screen with it and are happy that it works the way it does. Because computers are very efficient multitasking machines, I want to exploit that feature and run several applications and windows simultaneously. On a computer, it must be easy and quick to switch between application windows.
I use both Mac and Windows computers at my work. Sometimes, I use both of them during the same day, but usually, I may work two weeks on a MacBook and then, two weeks on a Windows laptop. I also use smartphones, tablets, ereaders and perhaps a camera during a day. Experiencing many different user interfaces during an hour of work is normal. There is only one user interface that constantly bugs me: macOS on my MacBook laptop. It just doesn't fit in today's world. It lives in the past and is burying itself deeper in the past every day.
Microsoft has taken multiple courageous steps in order to keep Windows operating system's user interface relevant. If we look back at the last 17 years of Microsoft's PC operating system, Windows XP and Windows 7 were successful, although both included major changes in their user interfaces. Windows Vista and Windows 8 were less successful, many people hated them and switched back to the old version. Windows 10 development team could take all the learnings from the previous version that wasn't popular, and created a really solid user interface for Windows 10.
Microsoft Windows is 10 years ahead of Apple macOS user interface, at least. Windows 10 fits right in to today's world of tablets, smartphones, ereaders, cameras, and other devices we daily use.
MacOS was designed at a time when we purchased mobile phones for making phone calls and for sending text messages from a black-and-white screen of four rows of forty characters, two megapixel digital cameras were a novelty, Facebook didn't exist, tablets only cured diseases, home automation meant buying a dishwasher, and being online all the time was impossible because of ultra-high mobile network costs.
One piece of software – in addition to the underlying Unix – on Mac computers is brilliant. It is the iBooks Author application used for creating ebooks. The books laid out in the iBooks Author may have video, audio and animation elements as well as interaction with a (human) reader. It is possible to create smart, useful and beautiful ebooks, like text books, travel guidebooks and other nonfiction works in iBooks Author. This Apple application compared to its competitive products reminds me of times when Apple computers were number one machines in everything that involved graphics and laying out publications.
Perhaps my only option is to wait and hope Apple does something about its software that is powering its computers. But I won't wait for long. There are always other choices.