Tablets became an instant hit product category in 2010, when the original Apple iPad was introduced. Five years, and several iPad models later, Apple has decided to make the iPad bigger. The iPad Pro has a 12.9- inch display which promotes the tablet into the same size category where laptops such as the MacBook and Macbook Air already are.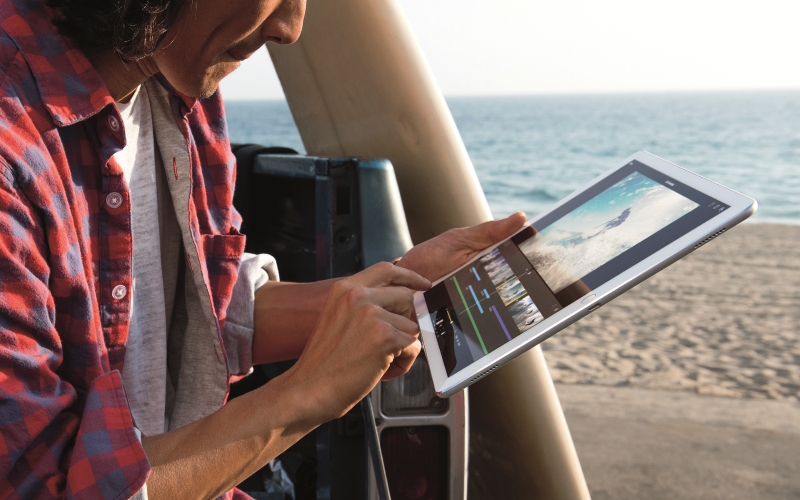 The starting price for the iPad Pro is $799 (models with higher specs are $949 and $1079), making it a bit cheaper than the MacBook or Macbook Air. As the name implies, the iPad Pro is targeted to professional use: enterprises, entrepreneurs and artists.
If you want to use the iPad Pro as an ereader, you can load your EPUB and PDF ebooks to the included iBooks app. The large screen is well suited for reading PDF-books and documents. Also fixed layout multimedia books created in iBooks Author shine on the large high-resolution display.
Because of its price, using the iPad Pro solely for reading and web surfing, however, may not justify the investment.
If you want to use the iPad Pro also as a computer where you write your next bestseller, you probably want to buy a detachable keyboard from Apple or from a accessory manufacturer, like Logitech. Apple's keyboard for the iPad Pro is a protective case that can be folded and used as a stand and as a keyboard. The Apple keyboard for the iPad costs $169.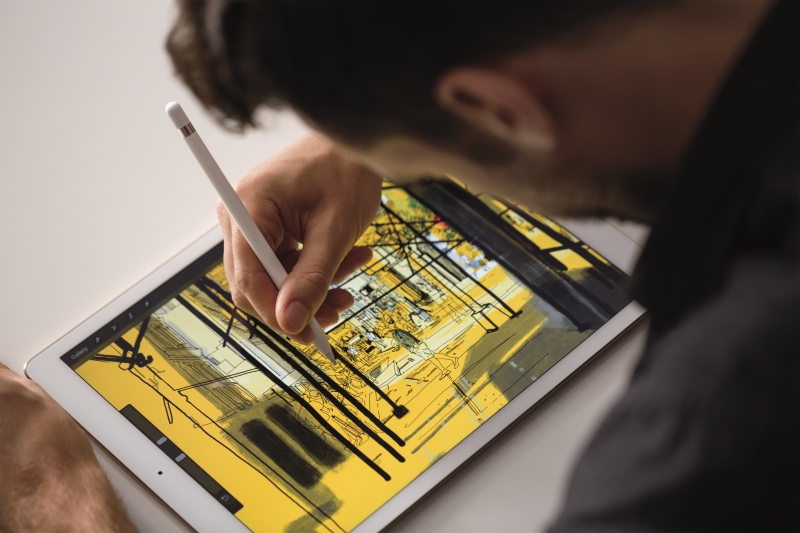 Authors, artists and graphic designers may find a stylus that Apple has developed specifically for the iPad useful. It is called the Pencil, and its price is $99. A reason for the high price of the Apple stylus is that it comes with embedded electronics. The Pencil can sense the angle how it is held in the hand and the pressure it is pushed against the screen, and the tablet app behaves accordingly.
iBooks Author is not on the list of applications that are available for the iPad Pro. iBooks Author is an application that runs on Mac computers (OS X). It is used for creating fixed layout multimedia ebooks, such as books about movies or travel guides.
A similar product with Apple's large tablet is Microsoft Surface Pro. It has a 12-inch display, and a stylus is included in the product package. Incidentally, the Surface Pro prices start at $799. Microsoft introduced a soft case that doubles as a decent keyboard for the tablet already two years ago.
Other large screen ereaders and tablets are, for instance, Sony DPT-S1 ereader with 13.3 inch black-and-white E ink screen and Samsung Galaxy Pro Android tablet with 12.2-inch screen.
View a hands-on video of the iPad Pro where you can see the keyboard case and pencil as well:

Apple iPad Pro key features and technical specifications
– iOS 9 operating system software with multitasking.
– iBooks ebook reading app pre-installed.
– 12.9-inch LED-backlit display.
– Resolution 2732 x 2048 at 264 pixels per inch (ppi).
– Fingerprint-resistant oleophobic, antireflective coating.
– 8 megapixel camera.
– Camera features: autofocus, ƒ/2.4 aperture, face detection, exposure control, panorama images (up to 43 megapixels), timer, geotagging.
– Video mode: 1080p HD video recording (30 fps), slow motion (120 fps), time-lapse video, image stabilization, geotagging.
– Front camera: 1.2 megapixel photos, 720p video recording.
– Two microphones for video calls and recording.
– Wi‑Fi (802.11a/b/g/n/ac).
– Bluetooth 4.2.
– Models with mobile network: 3G and LTE.
– GPS in models with mobile network.
– 64‑bit processor A9X. M9 motion coprocessor.
– Apple Pay.
– Siri.
– Battery life: up to 10 hours of surfing the web on Wi‑Fi, watching video, or listening to music.