Probably every country in the world, apart from closed societies like North Korea or disorganized regions like Somalia, has a state-powered marketing organization whose responsibility is to attract more tourists to the country. Nothing wrong with that, tourism is one of the largest industries in the world today, and some countries rely their national budgets on tourism. You may have met people from these marketing organizations at travel fairs where the marketers have been keen to offer a brochure or a plastic bag with a slogan on it. That slogan is supposed to make their country attractive for potential visitors.
Family Break Finder has published a marvelous map that shows all the slogans the world's tourism organizations are using at the moment. The slogans tend to change after a few years, but this is how the world of travel marketing slogans looks right now.
Among the best slogans is Norway's "Powered by nature" that really nails the essence of touring in Norway's magnificent landscape. Among the worst is Australia's "There's NOTHING like Australia" (if you have nothing to say, it doesn't get any better by shouting). India's slogan "Incredible India" is so true just now that it makes you wonder did they really mean it (trains don't travel along rail tracks in India anymore, and people are desperate because they can't get cash from banks).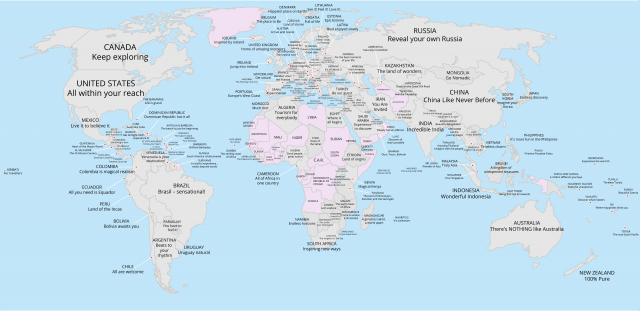 Source: Family Break Finder.
Albania – Go your own way!
Algeria – Tourism for everybody
Andorra – The Pyrenean Country
Antigua and Barbuda – The beach is just the beginning
Argentina – Beats to your rhythm
Armenia – Visit Armenia, It is Beautiful
Australia – There's NOTHING like Australia
Austria – Arrive and revive
Bahamas – Life Is Grand
Bahrain – Ours. Yours. Bahrain
Bangladesh – Beautiful Bangladesh
Barbados – Brilliant Barbados
Belarus – Hospitality Beyond Borders
Belgium – The place to be
Belize – Mother Nature's Best-Kept Secret
Bhutan – Happiness is a place
Bolivia – Bolivia awaits you
Bosnia and Herzegovina – The heart of SE Europe
Botswana – Our pride, your destination
Brazil – Brasil – sensational!
Brunei Darussalam – A kingdom of unexpected treasures
Bulgaria – A discovery to share
Burundi – Beautiful Burundi
Cabo Verde – No stress
Cambodia – Kingdom of wonder
Cameroon – All of Africa in one country
Canada – Keep exploring
Chad – Oasis of the Sahel
Chile – All are welcome
China – China Like Never Before
Colombia – Colombia is magical realism
Costa Rica – Essential Costa Rica
Croatia – Full of life
Cuba – Autentica Cuba
Cyprus – Cyprus in your heart
Czech Republic – Land of stories
Denmark – Happiest place on Earth!
Djibouti – Djibeauty
Dominica – The nature island
Dominican Republic – Dominican Republic has it all
Ecuador – All you need is Equador
Egypt – Where it all begins
El Salvador – The 45 Minute Country
Estonia – Epic Estonia
Ethiopia Land of origins
Fiji – Where Happiness Finds You
Finland – I wish I was in Finland
France – Rendez vous en France
Gambia – The smiling coast of Africa
Georgia – For the best moments of your life
Germany – Simply inspiring
Greece – All Time Classic
Grenada – Pure Grenada
Guatemala – Heart of the Mayan World
Guyana – South America Undiscovered
Haiti – Experience It!
Honduras – Everything is here
Hungary – Think Hungary more than expected
Iceland – Inspired by Iceland
India – Incredible !ndia
Indonesia – Wonderful Indonesia
Iran – You Are Invited
Iraq – The Other Iraq (Kurdistan)
Ireland – Jump into Ireland
Israel – Land of Creation
Italy – Made in Italy
Jamaica – Get All Right
Japan – Endless discovery
Jordan – Yes, it's Jordan
Kazakhstan – The land of wonders
Kenya – Magical Kenya
Kiribati – For travellers
Kyrgyzstan – Oasis on the Great Silk Road
Lao People's Democratic Republic (Laos) – Simply Beautiful
Latvia – Best enjoyed slowly
Lebanon – Live Love Lebanon
Lesotho – The Kingdom In The Sky
Liechtenstein – Experience princely moments
Lithuania – See it! Feel it! Love it!
Luxembourg – Live your unexpected Luxembourg
Macedonia – Macedonia Timeless
Madagascar – A genuine island, a world apart
Malawi – The warm heart of Africa
Malaysia – Truly Asia
Maldives – The sunny side of life
Malta – Truly Mediterranean
Mauritius – It's a pleasure
Mexico – Live It to Believe It
Micronesia (Federated States of) – Experience the warmth
Monaco – Easy going Monaco
Mongolia – Go Nomadic
Montenegro – Wild Beauty
Morocco – Much Mor
Mozambique – Come to where it all started
Myanmar – Let the journey begin
Namibia – Endless horizons
Nepal – Once is not enough
Netherlands – The original cool
New Zealand – 100% Pure
Nicaragua – Unica. Original!
Nigeria – Good people, great nation
Norway – Powered by nature
Oman – Beauty has an address
Palau – Pristine Paradise Palau
Panama – Panama Surprises
Papua New Guinea – A million different journeys
Paraguay – You have to feel it!
Peru – Land of the Incas
Philippines – It's more fun in the Philippines
Poland – Move your imagination
Portugal – Europe's West Coast
Qatar – Where dreams come to life
Republic of Korea (South Korea) – Imagine your Korea
Republic of Moldova – Discover the routes of life
Romania – Explore the Carpathian garden
Russian Federation – Reveal your own Russia
Rwanda – Remarkable Rwanda
Saint Kitts and Nevis – Follow your heart
Saint Lucia – Simply beautiful
Saint Vincent and the Grenadines – Discover SVG
Samoa – Beautiful Samoa
San Marino – San Marino For All
Saudi Arabia – Experience to discover
Serbia – My Serbia
Seychelles – Another world
Sierra Leone – The freedom to explore
Singapore – Your Singapore
Slovakia – Travel in Slovakia – Good idea
Slovenia – I feel SLOVEnia
Solomon Islands – Seek the unexplored
South Africa – Inspiring new ways
Spain – #spainindetail
Sri Lanka – Wonder of Asia
Suriname – A Colorful Experience… Exotic beyond words
Swaziland – A royal experience
Switzerland – Get natural
Syrian Arab Republic – Always Beautiful
Tajikistan – Feel the friendship
Thailand – Amazing Thailand. It begins with the people
Timor-Leste – Being first has its rewards
Tonga – The true South Pacific
Trinidad and Tobago – The true Caribbean
Tunisia – I feel like Tunisia
Turkey -Be our guest
Tuvalu – Timeless Tuvalu
Uganda – You're welcome
Ukraine – It's all about U
United Arab Emirates – Discover all that's possible
United Kingdom of Great Britain and Northern Ireland – Home of amazing moments
United Republic of Tanzania – The land of Kilimanjaro, Zanzibar and the Serengeti
United States of America – All within your reach
Uruguay – Uruguay natural
Uzbekistan – Naturally Irresistible!
Vanuatu – Discover what matters
Venezuela – Venezuela is your destination!
Vietnam – Timeless charm
Zambia – Let's explore
Zimbabwe – A world of wonders