Chinese is the most spoken language in the world, Spanish is the second, and English third. Nonetheless, the language of the biggest corporations, largest media services, most popular pop stars, books and movies is English. If French used to be the universal language of the world hundred years ago, English took its place in the 20th century. There are many countries across the world where you can step out of an airplane, talk English with locals during your whole trip, and return home without learning a word of local language.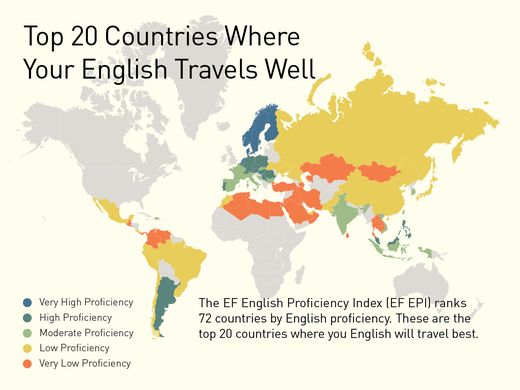 Language education institution EF has collected a list of 20 countries where it is easy to get along in English alone. So, if you like to travel, but like to speak English only, North Europe is your first choice as far as language is concerned.
Here is the top 20 English Proficiency Index by EF Education First:
1. Netherlands
2. Denmark
3. Sweden
4. Norway
5. Finland
6. Singapore
7. Luxembourg
8. Austria
9. Germany
10. Poland
11. Belgium
12. Malaysia
13. Philippines
14. Switzerland
15. Portugal
16. Czech Republic
17. Serbia
18. Hungary
19. Argentina
20. Romania
All but 4 out of 20 top English-speaking countries are in Europe.
Practically everyone (50 years old or younger) in Singapore, Malaysia and Philippines speak English, but it may take a little time for a foreigner to get used to the accent if you are only used to native English-speakers accent.
Which countries EF has ranked the most challenging if you only speak English? Saudi Arabia, Cambodia, Laos, Libya, and Iraq are countries where many languages are spoken, but English isn't one of them.