It is kind of funny that Amazon has introduced an reader (Kindle Oasis) that has a greyscale six-inch display and costs more than $250, and at the same the company markets Fire tablets with color screens that let you do more and cost less than Kindle ereaders. The Fire HD 8 tablet comes with pretty high resolution 8-inch color display, costs $90, lets you install apps, and consult Alexa. Which one to choose: an ereader or tablet?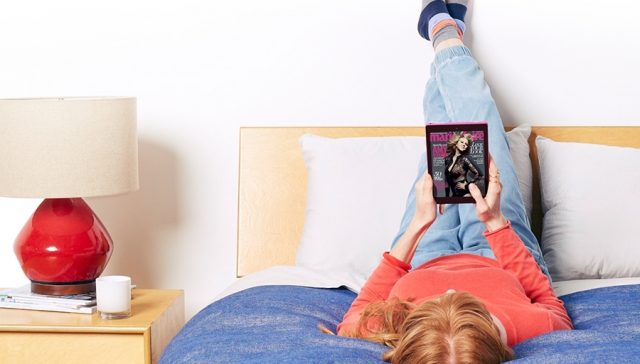 The size increase from six inches (typical ereader size) or seven inches (typical small tablet size) to a tablet or ereader with eight-inch screen gives you more than you might expect. That is one of the reasons the Kobo Aura One has been favorably reviewed: people simply like its larger 7.8-inch display.
If you read a lot of ebooks (more than a book a week), an ereader is a better choice. An ereader is also better choice if you are easily distracted away from a book you are supposed to read.
Tablet is a good choice for ebook lovers who read and view books with images, tables and charts. This is where color display and larger screen really help to present and absorb information.



The highlights of the Amazon Fire HD 8 tablet are that it has a 8-inch color display in 1280×800 resolution (pretty good), it has a microSD memory card slot for extra storage space (you will need it), and it is priced at $90. It will also be integrated with Alexa system, so that you can speak your commands and Alexa will speak to you as well.
Here is Amazon's introduction video to the Fire HD 8 tablet with Alexa:
Amazon Fire HD 8 key features and specifications
– 8-inch touch screen; 1280 x 800 resolution at 189 ppi.
– HD video playback, with IPS (in-plane switching) technology and advanced polarizing filter.
– Dimensions: 8.4 x 5.0 x 0.4 inches (214 mm x 128 mm x 9.2 mm)
– Weight 12.0 ounces (341 grams).
– Quad-Core: 1.3 GHz CPU.
– 1.5 GB of RAM
– 16 GB (11.1 GB available to user) or 32 GB (25.3 GB available to user) of internal storage.
– microSD card for more storage (card not included).
– Battery Life: up to 12 hours of reading, surfing the web, watching video, and listening to music.
– Wi-Fi for connecting to public and private Wi-Fi networks or hotspots that use the dual-band 802.11a, 802.11b, 802.11g, or 802.11n standard with support for WEP, WPA, and WPA2 security using password authentication; does not support connecting to ad-hoc (or peer-to-peer) Wi-Fi networks.
– File formats: Kindle (AZW), KF8, TXT, PDF, unprotected MOBI, PRC natively, Audible Enhanced format (AAX), DOC, DOCX, JPEG, GIF, PNG, BMP, Dolby Digital (AC-3), Dolby Digital Plus (E-AC-3), non-DRM AAC, MP3, MIDI, PCM/WAVE, OGG, WAV, M4V, MP4, AAC LC/LTP, HE-AACv1, HE-AACv2, MKV, AMR-NB, AMR-WB, HTML5, CSS3, 3GP, VP8 (WEBM)
– 2.0 megapixel camera at the back, 640×320 pixel camera on front panel.
– Location-based services via Wi-Fi
– Colors: Black, Magenta, Blue, Tangerine
– External volume controls.
– USB 2.0 port with micro-B connector.
– Bluetooth (A2DP compatible for stereo headphones)
– 3.5mm stereo jack for audio.
– Speaker.
– Microphone.
– Screen Reader, Explore by Touch, and Screen Magnifier, enabling access to the vast majority of Fire tablet features.
– Adjustable font sizes/color, and built-in Oxford dictionary.
– USB 2.0 cable, 5W power adapter, and Quick Start Guide included in the product box.