When you are traveling – perhaps exploring a new city and snapping photos on a camera, using your smartphone for navigation and reading notes and tips from a tablet – it feels like it is always the wrong moment when the battery dies on one of the devices (that's why we carry two cameras with us). If you are carrying your stuff in a backpack, why not have a backpack that can charge your gadgets on the go? It is a fine idea that we really like to try out when the HP Powerup Backpack becomes available in mid-September.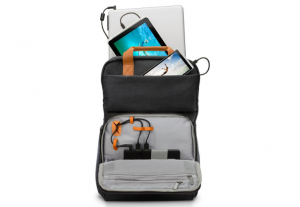 The product concept is that HP has designed a backpack that can be used as a charging station while you are on the move. Throw in your gadgets, books, water bottles and snacks and go. When the power runs out from your smartphone, laptop, tablet, ereader or camera, plug it in to a USB connector in the backpack. The built-in power bank charges your gadget. Note: you may charge your camera only if it has the same power input as a smartphone or a tablet.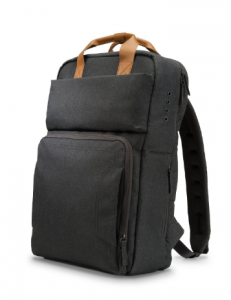 The thing with this backpack is that it has enough power to charge a big 17-inch laptop, or a smartphone up to 10 times. That's a lot of power (22400mAh), but it also means that from time to time, you have remember to recharge the backpack (or rather, the power pack inside it).
The backpack that doubles as a charging station is priced $200, for instance, at Amazon.com. Would it be possible to build a similar backpack for less money? Most likely, but keeping the charging process cool enough and avoiding water are challenges that must be solved in any case.
View HP's introductory video to the Powerup Backpack:
HP Powerup Backpack key features and specifications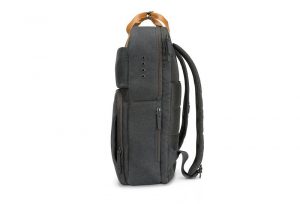 – Charges most laptops with up to 17.3″ diagonal screen size, a tablet, and a smartphone.
– With power priority, you control the order in which your devices charge.
– High-capacity 22400 mAh battery.
– Provides a full charge to most laptops, charges a tablet up to three times, and a smartphone up to 10 times.
– A built-in heat sensor monitors backpack temperature and adjusts accordingly. Meets security requirements for in-flight carry-ons.
– Coated to resist wet weather and comes with its own raincoat.
– Laptop and USB micro cables included. Two USB micro cables for Android devices and one laptop cable included.
– Recharge your backpack with a side-pocket plug-in.