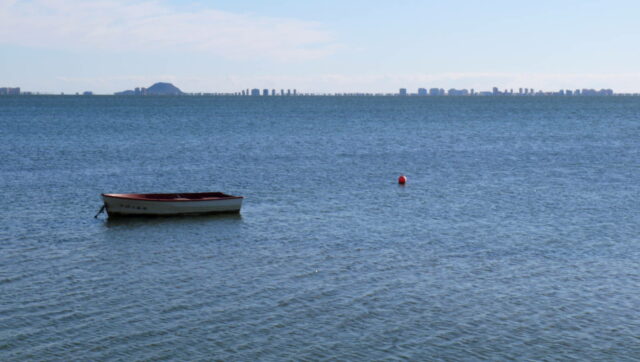 In the 1960s, investors made a huge bet in a large beach resort that was built from scratch on a narrow strip of dunes. The first hotels and holiday apartments were ready for sunbathers along the road that crossed the 20 km / mile long peninsula in the 60s and 70s. On one side is Mar Menor (small sea) and on the other side the Mediterranean Sea. This destination, La Manga, between two seas is in Murcia, Spain. The nearest city is Cartagena.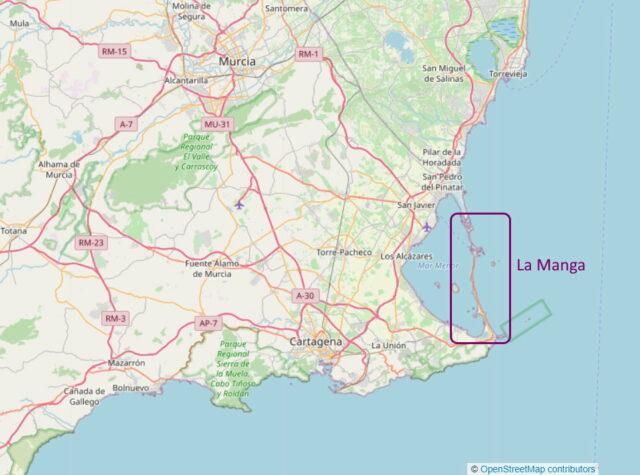 The marketeers who created the slogan for La Manga (arm or sleeve), did a pretty good job. Gradually, almost the entire peninsula was filled with houses, restaurants, and shops. Since the coast on both sides of the strip was left in its natural state, and a wide enough road had to be built for traffic, there wasn't much space for buildings. The only way was to go up, and so that's what happened. La Manga is a land of tall buildings that can be seen as far as Torrevieja and mountains next to Murcia City in clear weather. From far away, it looks like a work of art rising from the sea.

Fishing village Cabo de Palos at the south end of La Manga is a must-visit destination for everyone who stays in the region. Sea tours, coastal cave visits, scuba diving and other activities on the sea haven't replaced traditional fishing, but fishermen bring their daily catch to the port, and some of it ends up in many restaurants that line the port.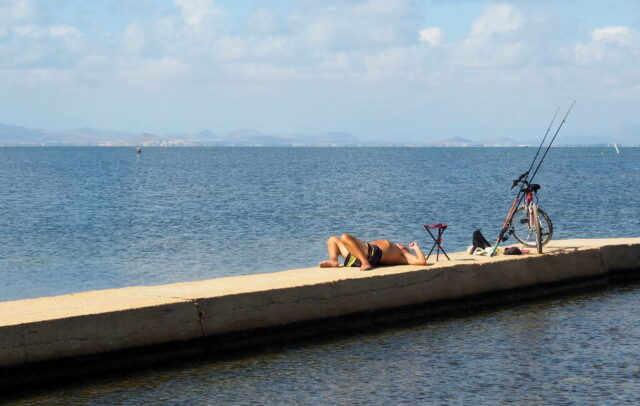 On the shores of Mar Menor, towns of Los Alcazares, San Javier, Santiago del Ribera, and San Pedro del Pinatar welcome tourists as well. Originally, San Pedro's economy relied largely on salt production in the shallow waters of Mar Menor, but tourism complements the economy today. Mud baths in mineral waters is a popular attraction. Santiago del Ribera is a modern beach town almost inseparable from traditional Spanish town San Javier.
Los Alcazares is the most pleasant of these towns by Mar Menor. A small old town section is there, but plenty of new neighborhoods have been built for visitors to enjoy their stay in town. Impeccable beaches and views to La Manga greet sunbathers.
Back to La Manga: if you want to stay as close to the center of the town, you must reconsider your options because there is no center. Multiple small centers of restaurants, shops, and services can easily be found along the main road. I recommend thinking if you want a quiet location (the further north you go, the quieter it gets), or want as quick access to Cartagena or other inland destination as possible (stay south). If the traffic flows normally, a drive from Cabo de Palos in the south to Puerto Tomas Maestro in the north takes about 30 minutes.
The best beach in La Manga? My tips for choosing your beach are to consider views, water, and space. If you want open sea views and fresh sea breeze, stay on the Mediterranean side. Views on the Mar Menor side are pretty because mountains loom in distance and coastal towns shine in the sun. There are times when the water quality is not the best in Mar Menor, because floods can bring unwanted minerals to the sea. Beaches in north La Manga are less crowded than beaches in south.