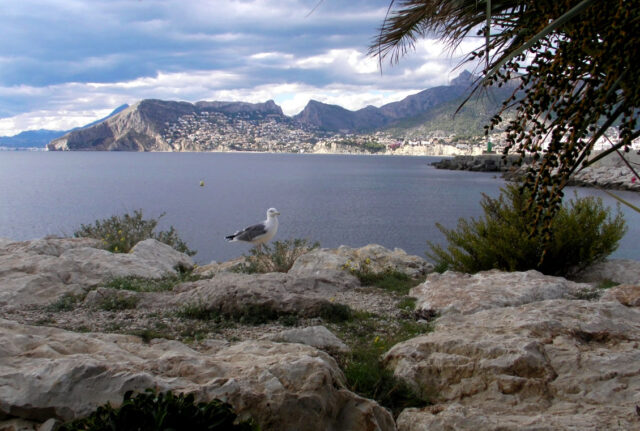 Costa Blanca is the name for a long stretch of Mediterranean beaches located in the state of Valencia, southeast of Spain. Costa Blanca's northernmost towns and beaches are in Valencia City and southernmost beaches in Torrevieja. Hundreds of kilometers of varying coastline has plenty to offer: rocky shores, silky white dunes, fishing villages, mountains, resort towns, and ancient town centers with castles. We have chosen five different types of destinations at Costa Blanca for those who want to enjoy the sea and the sun.
The following top 5 towns are in no particular order. They have been selected based on their unique features, keeping in mind that a traveler may adore dunes, whereas another visitor prefers rocky shores. Our selection is Benidorm, Santa Pola, Denia, Calpe, and Cullera.
Benidorm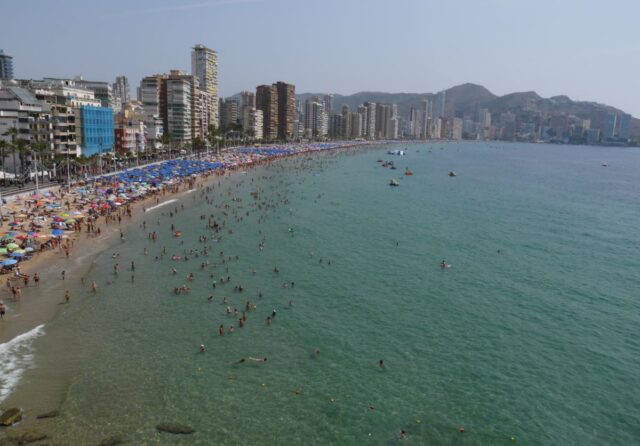 Yes, that Benidorm. The famous town has its reputation, but let's explore what it really has to offer for visitors. What originally was a small fishing village has developed into a beach lovers' paradise that has a unique skyline in Spain (and in Europe). If you can think of skyscrapers of Hong Kong placed along magnificent beaches of the Mediterranean Sea, you are getting the picture. Large theme parks just outside the town entertain the smallest members of families, and practically always sunny golf courses have a nineteenth hole with a view.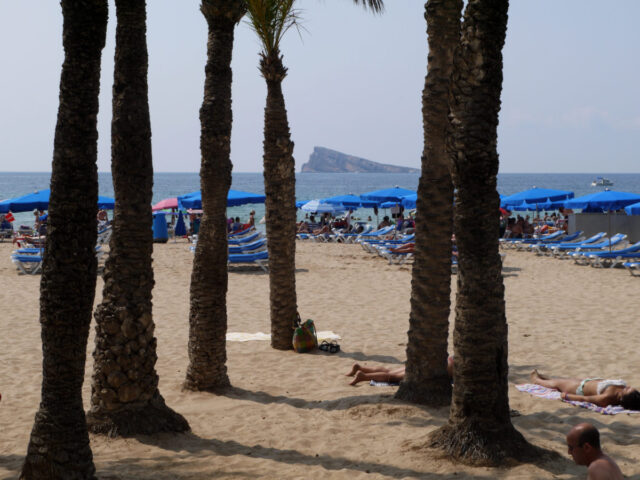 The town is clean and tidy, beaches are manicured, scenery towards inland provides beautiful mountain views, and the town surely has something in store for every visitor. The bar and pub crawling activity is concentrated on a relatively small area in the town center. Book your stay away from that area and don't let it bother you, or join the party. During winters, the town is peaceful with pensioners filling the hotels and restaurants. Summer brings families and party-goers to the town.
Santa Pola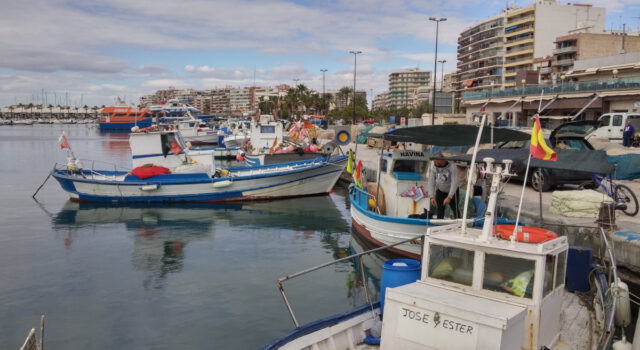 Santa Pola is only a 10 minute drive away from the Alicante airport and 20 minutes from the Alicante city, but Santa Pola has retained its original charm and leisurely pace of life of a small town. The town's entire coastline is one long beach, split in two sections by a port that serves fishing boats and yachts alike. Residents tend to live in the town center, and vacation-goers have plenty of choice for hotels and apartments along the long beach.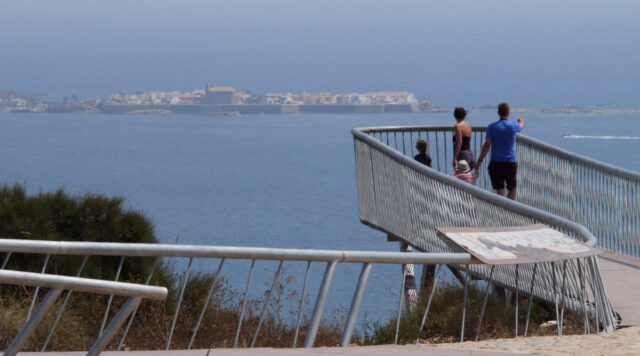 Fresh seafood is the specialty of Santa Pola. A long row of seafood restaurants cater to locals and tourists at the port. Other things Santa Pola is known for are boats and ferries that sail to nearby Tabarca Island, the lighthouse (faro) of Santa Pola above the town on the hill, and kitesurfing during summer afternoons. Santa Pola wakes up to full life in summer when tourists arrive, winters are peaceful and pleasant in the Spanish small town atmosphere.
Denia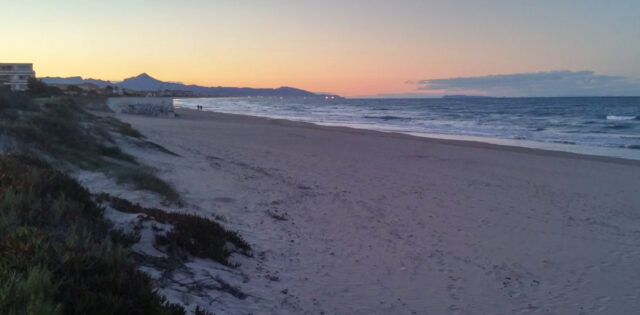 Denia is one of the few historical coastal towns in Costa Blanca. It was inhabited long before the Romans arrived, and named it Dianium, but it was Romans who made it a prosperous international town. The ancient castle on a hill in the town center, old town neighborhood below the castle, and the port are there for anyone to visit, and they are full of life.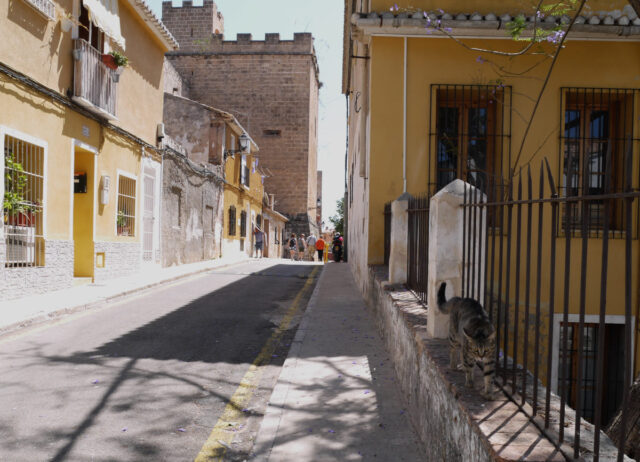 Long beaches stretch northwest from the town, and that is where the choices for hotels and apartments is the greatest. In addition to its beaches and history, mountains are a good reason to travel to Denia. Mountains are not that high around Denia, but towards inland you will find more variety in altitude. The islands of Ibiza and Mallorca are near Denia, accessible by ferries that frequently navigate to the Baleares.
Calpe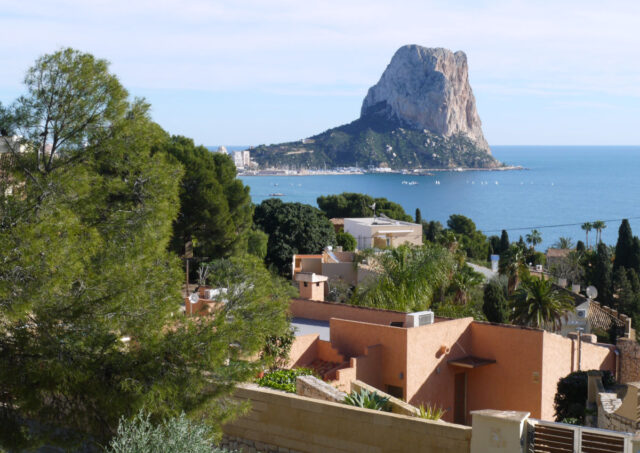 The magical Ifach Rock is the first sight that catches a visitor's eye when approaching Calpe (known as Calp in Valenciano language). The majestic rock stands on the coast, providing perfect shelter for the port of Calpe. The town center with its scenic beach is squeezed between the Ifach Rock, mountain, and the busy N-332 main road.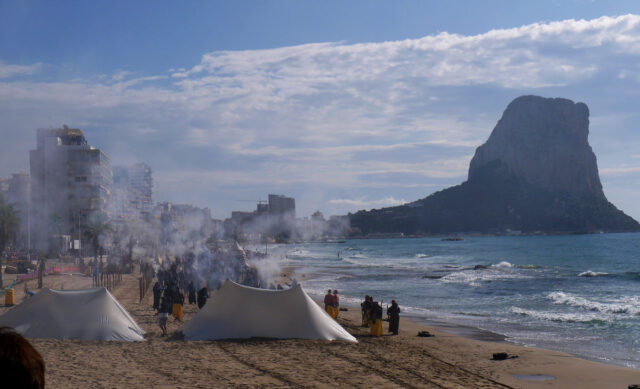 Every town and village has its own annual fiesta, but the Moors and Christians celebration in Calpe is quite spectacular. A battle of the two groups is peppered with gun shots (without bullets), and other ancient military action. Make sure to take earplugs with you. If you want to see how the beaches look from above, it is possible to hike to the top of Ifach Rock – but check with tourist information first for possible wind and heat warnings.
Cullera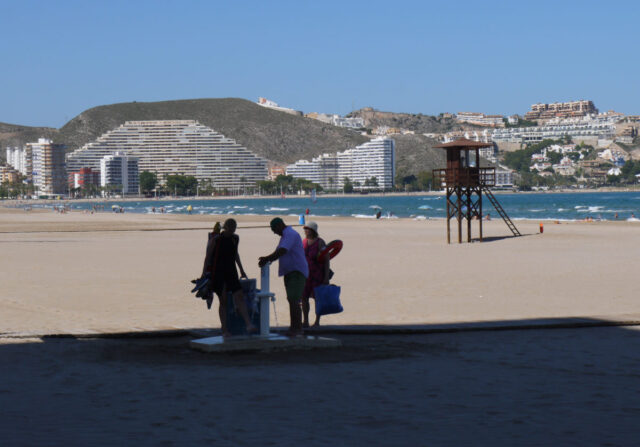 Cullera might be better known among people living in Madrid than by foreign visitors, but it is a lovely beach resort with a castle on a hill guarding the town. Very little is left from the original village that used to be there as high rise hotels and apartments have been constructed along the long beach. Cullera is a tidy town with well managed beaches that has the same problem as many popular European destinations: parking space is scarce. That said, the positive thing is that the town is only a 30 minute drive away from a magnificent travel destination: Valencia City (and its airport).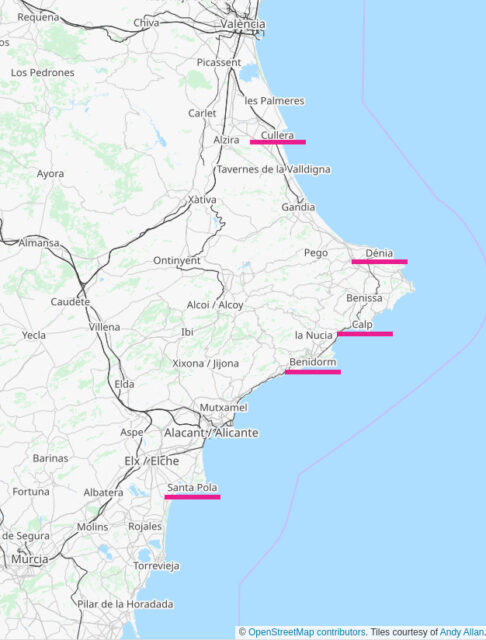 Well, someone may ask why Costa Blanca's major cities Valencia or Alicante didn't make it to the top 5? First, they are large cities, and we wanted to list smaller towns. The metropolis region of Valencia is home for about one million people, and Alicante city with its adjacent neighbor towns has about half a million inhabitants. Both cities are excellent travel, remote work, and winter escape destinations with beautiful beaches, plenty of history, and big fiestas.
One more honorable mention goes to Mar Menor. Costa Blanca (White Coast) is located in the state of Valencia. Where Costa Blanca ends in south, you will find Mar Menor lagoon. It is in the state of Murcia, where the coastline is called Costa Calida (Warm Coast). The Mar Menor lagoon is separated from the Mediterranean Sea by a narrow piece of land known as La Manga (arm or sleeve). La Manga is completely dedicated to beach lovers who have a wide choice of hotels, apartments and restaurants. Beaches are located on both sides of the narrow strip of land.