The land of the Midnight Sun, long and cold winters, welfare states, high living standard, languages that no one outside Scandinavia can understand, plenty of space and few people. Sure, it is a definition of Scandinavia, but for travelers, the Northernmost region of Europe is much more.
If you want to find out how much more, read Traveling in Scandinavia. It is an ebook that you can download for free.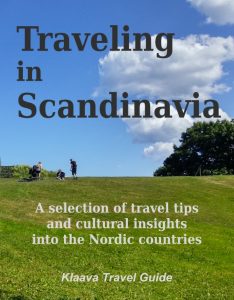 The guidebook is a selection of travel information, tips and cultural insights into the Nordic countries. A little bit of information on food and history is included in the book as well.
From the book description:
Here is a taste of Scandinavia for you to explore at the comfort of your reading nook – perhaps before heading out to the North yourself. As the selection of writings show, there are plenty of destinations to see and things to do: city life, mountain biking, fishing in pristine rivers, camping, island hopping, road touring, Arctic adventures, or hiking in the wilderness. If something is missing, Finns will invent it (e.g. wife carrying competition), Swedes will sell it to the world (e.g. entire country available on Airbnb), and Norwegians will win the cross-country skiing world championship (again).