A selection of travel tips and cultural insights into the Nordic countries
— Unavailable —
The title was a limited time special offer.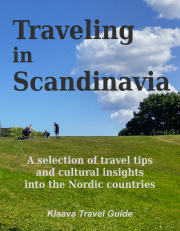 Authors: Kim Anton, Erin Dahl, Ari Hakkarainen, Kari Ojala, Russell Snyder, Soile Varis
Published: June 2017
Publisher: Klaava
ISBN:
978-952-7074-81-7 (EPUB)
978-952-7074-82-4 (Amazon Kindle)
978-952-7074-83-1 (Apple )
Few regions of the world have been praised as frequently as North Europe in recent years. One day the news is all about the best work-life balance in the world (Denmark), the other day we hear about the best school system in the world (Finland), the happiest nation of the world (Norway), or the best country for women to live in (Sweden).
This book focuses on the northernmost countries in Scandinavia: Finland, Norway and Sweden. If you want to discover what the secret sauce of those nations is, this is a good place to start. We have selected chapters from travel guidebooks, cultural guides and even from a cookbook to show you some of the many tourist sights and cultural curiosities of the North. Authors Kim Anton, Erin Dahl, Ari Hakkarainen, Kari Ojala, Russell Snyder and Soile Varis have contributed sections from their books to this collection.
The countries are large and varying in geography: everything from the sea, archipelago, vast forests, mountains, fells, lakes, and fjords to marshlands establish the natural environment. Most people live in capital cities and regional centers, leaving the great outdoors wilderness for all of us to experience.
Each country has its own language and culture. Swedish, however, is the common language for these countries. Today, English is widely understood everywhere in the Nordic countries as the school system has been teaching foreign languages (often multiple) for decades. Cultural differences between Nordic nations are obvious, but from traveler's point of view not dramatic. Cultural differences between Nordic and other European nations, however, can be surprisingly wide, but that's where a guidebook can help.
Here is a taste of Scandinavia for you to explore at the comfort of your reading nook – perhaps before heading out to the North yourself. As the selection of writings show, there are plenty of destinations to see and things to do: city life, mountain biking, fishing in pristine rivers, camping, island hopping, road touring, Arctic adventures, or hiking in the wilderness. If something is missing, Finns will invent it (e.g. wife carrying competition), Swedes will sell it to the world (e.g. entire country available on Airbnb), and Norwegians will win the cross-country skiing world championship (again).