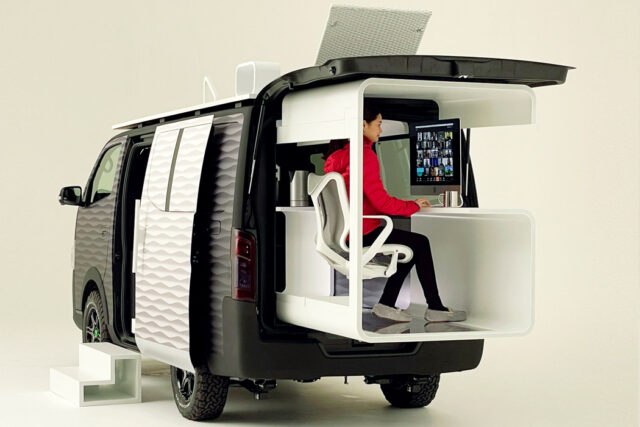 Nissan has designed a vision for a stylish campervan that traveling professionals, digital nomads, can drive to a scenic place even outside paved roads, stop, and work and stay awhile in the nature. The Nissan NV350 Caravan Office Pod Concept looks beautiful, and certainly invokes dreams of other kind of life and work among many people. The campervan's most remarkable design innovation is the tiny office that protrudes from the back of the van into open air.
Nissan introduced a prototype of the van at the Tokyo Auto Salon 2021 show. The van NV350 has been available for 10 years already. For the concept campervan, designers re-imagined how the cargo/living space would provide the best facilities for one or two digital nomads who might live and work in the van. The office pod movement is controlled with a smartphone app.
Watch the video that introduces the key ideas of the Nissan office campervan concept:
A time when travel is restricted is a perfect time to prepare for next trips when borders re-open, and travelers are welcomed to camp sites, caravan parks and hotels. I have a campervan that I'm constantly tinkering and tweaking. During recent months, I have installed more insulation on the interior walls to protect the living space from the sun and to keep it warm on high mountains. I work during my trips, which makes the Nissan campervan's protruding office desk a fantastic idea for me. I just want to find a way to do it without consuming any electricity.
In real life, when someone is working and traveling in a campervan or motorhome, electricity is a precious resource. You can't work if your laptop or telecommunication device doesn't have power. You can't charge them if you have depleted your extra batteries and power banks. That's why, electricity shouldn't be used for any fancy tricks, but only for things that really matter.
Another thing in Nissan's NV350 concept office camper is beds, toilet and cooking facilities. Where are they? Storage space for items that must be carried along on a trip?
That's fine. Nissan NV350 Caravan Office Pod is a design concept product that teases us with the future, and gives us ideas how we may modify our own campervans and motorhomes.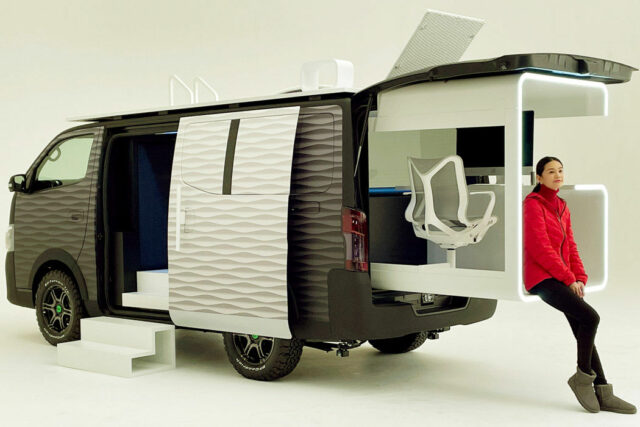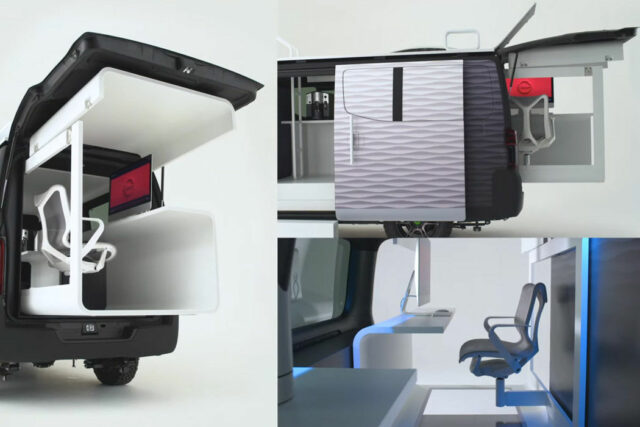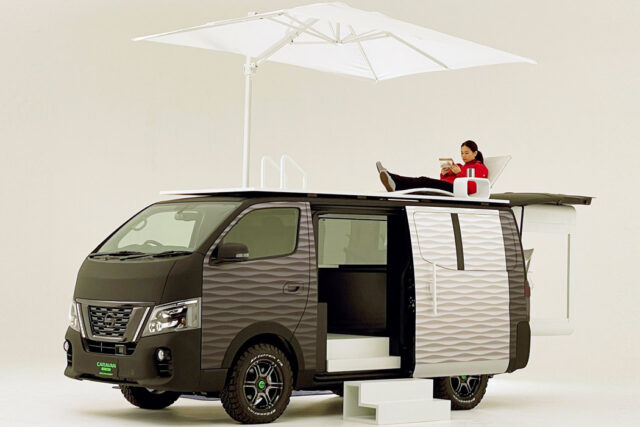 Images by Nissan.