When an aspiring writer asks for advice from a published author, the first tip usually is: read books. A lot of books. All kind of books. If a young entrepreneur gets an opportunity to ask for advice from wealthy individuals, like Warren Buffet or Mark Zuckerberg, the answer may be the same: read books.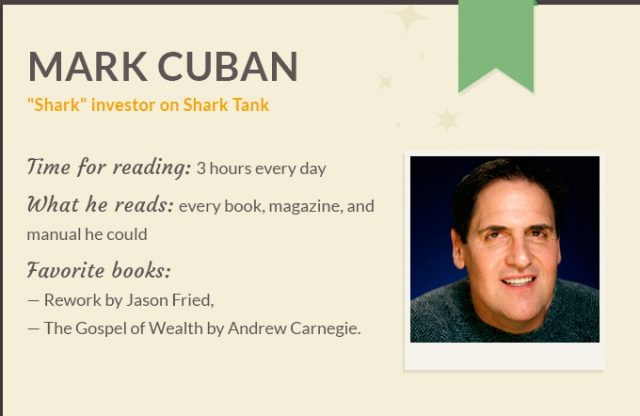 Mark Cuban reads three hours a day, but Warren Buffet reads even more: 80% of his working hours is reading time.
When Microsoft's founder Bill Gates was still the head of the corporation, he used to take a vacation in order to relax and read. Every year, people wanted to know what he would read during his vacation. Mr Gates told the media which titles had made it to his summer reading book stack. Naturally, these books used to climb high on top seller lists.
The founder of Facebook, Mark Zuckerberg, promoted reading in 2015 when he announced that he would read two books every month. He told (on Facebook, of course) which books he was going to read in advance so that anyone who was interested could read the same books and discuss about them on social media.
Here is the infographic Reading habits that lead to success by Fresh Essays.



Via Ebookfriendly.