The whole media industry, including books, is in fundamental transformation from traditional media to digital products. It is fascinating to follow how some parts of the world adopt new media products faster than other regions. Cultural reasons, traditions, legislation, and the book industry itself affect the pace of change. Many end-of-the-world scenarios have been presented for books that have to compete over audiences' precious time with other media, like movies and music.
The Federation of European Publishers (FEP) has drafted a report on the state of the book business in Europe. It was published in March 2017, and one of its conclusions is that books are doing fine despite very competitive media landscape.
In many European countries, 60-80% of people read at least one book a year. Czech, Germany, Estonia, Luxembourg, Austria, Slovakia, Finland, Sweden, Iceland and Norway having the highest share of book readers. There are some exceptions, of course, like Portugal and Romania, where residents have something else more worthwhile to do than to read books.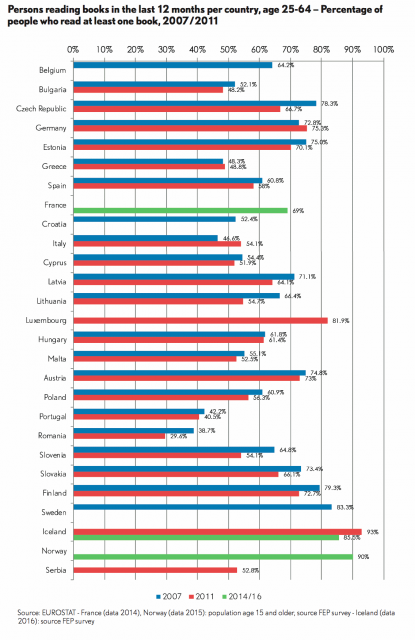 The trend that people are reading less can be seen in the statistics, but it is not the end-of-the-world kind of thing. The trend is somewhat inconsistent: Italy and Germany show an increase in the number of book readers.
The same survey reports that the number of brick-and-mortar bookstores in Europe has increased. At its peak in 2010, more than 32 275 bookstores stocked paper and ink on their shelves for customers. A rapid fall followed that bottomed in 2013 (26 766 bookstores). Since then, new stores have opened, and the number of bookstores in Europe is on the rise again.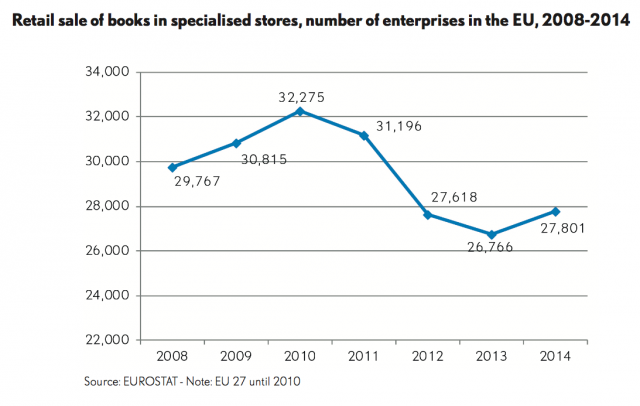 Here is an interesting question: the number of bookstores is growing in Europe, the market share of ebooks is growing, but people read slightly less. How does it add up?
There are many ways to assess and measure how the book industry is doing. One of the most innovative analysts is Author Earnings that primarily tracks sales of large online bookstores, like Amazon, Apple iBooks, Google Play and Kobo. The February 2017 Author Earnings report indicates that 42% of all book sales in the U.S. comes from ebooks, and in the UK, ebooks are 34% of all book sales.
A report published in March 2017 by the Federation of European Publishers (FEP) states that the market share of ebooks in the UK is 17% (in 2015). That's a huge difference: is the correct market share for ebooks 17 or 34 percent? Two factors may explain a big portion of the gap in numbers: FEP doesn't include independent publishers and self-publishers in its statistics, whereas Author Earnings tallies up them as well. FEP gets most of its sales data from traditional booksellers, whereas Author Earnings tries its best to get accurate data from big online bookstores.