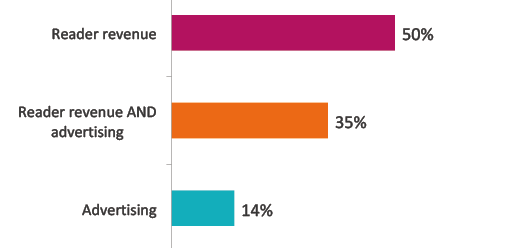 Reuters Institute has published a survey on news business that highlights the key trends for 2020. Overall, the results don't feature any dramatic surprises, but rather reinforce the trends already happening. The most concrete, the most likely to happen item is something that publishers seem to be determined to do right now: make readers to subscribe and register, and in many cases, to pay for the news.
Here are the key points from the Reuters Institute's
Journalism, Media, and Technology Trends and Predictions 2020 report.
Trends for 2020 in the business of news publishing
People who want to read, watch and listen to news online, have to register to publishers' web sites if they want to get the news directly from the source. Publishers want to have direct contact with readers, and they want to get some key personal data directly from readers.
Artificial Intelligence (AI) will find natural applications in transcription, automated translation, speech-to-text, and text-to-speech services. Audio assistants, like Alexa, Siri, Cortana are driving the technology that publishing industry can utilize.
Delivering news and analysis in audio format is expected to further increase in popularity, even though podcasts and audiobooks have made a breakthrough in recent years.
Headphones (or tiny earplugs, like Apple Airpod) can become a hit product category as audio services deliver ebooks, online content, and news to our ears.
Digital platforms are in the middle of political storms whenever elections are organized. Artificial Intelligence is expected to be applied to fake news, deep fakes and on the other hand, uncovering them.
5G networks are being launched around the world, and although smartphones with 5G capabilities are still scarce, planning for multimedia content that will be delivered to phones is important for publishers.

Missions and challenges for the media industry for 2020
Main income for news publishers will be revenue from readers. 50% of executives believe readers have to subscribe to digital news. Around a third (35%) think that advertising and reader revenue together will bring in the revenue, with just 14% counting on advertising alone.
Leading politicians who attack journalism are a serious concern for media executives. Inevitably, trust in journalism is eroded.
The majority of respondents (85%) believe that the media should do more to call out lies and half-truths that a number of politicians circulate on social media.
The power of big tech platforms is a serious concern for most publishers.
53% of publishers are committing to podcast initiatives. Even those publishers who are not going to invest in podcasting, are planning to convert text articles into audio (text-to-speech).
52% of publishers are betting on AI's support in personalising content and services for readers.
The survival of local news is a key concern for media leaders.

Reuters Institute received completed survey responses from 233 people in December 2019. Participants were selected from 32 countries. They held senior positions (editorial, commercial, or product) in traditional or digital publishing companies. They were involved in publisher's digital or wider media strategy work.
Via PressGazette.