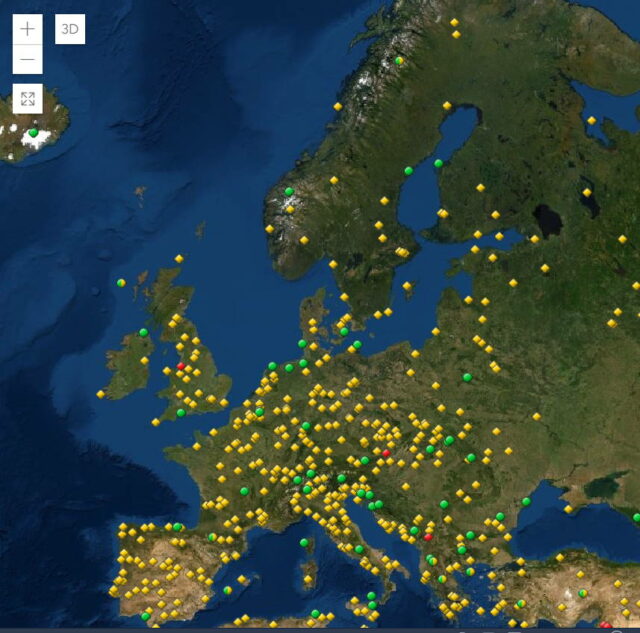 Unesco nominates destinations in all parts of the world as World Heritage Sites annually. Only the destinations that have outstanding universal value and meet at least one out of ten selection criteria can be listed as heritage sites. In 2019, 11 out of 29 new heritage sites are located in Europe.
Unesco World Heritage Sites located in Europe nominated in 2019. The listing is sorted by country.
Czech Republic and Germany: Erzgebirge/Krušnohoří Mining Region (Ore Mountains)
It is a mountain region in todays' south-east Germany and north-west Czech Republic. Precious metals were mined in the Middle Ages in the mountain. It was the most important source of silver ore in Europe from 1460 to 1560 and a hotbed of the day's technological innovations.
Czech Republic: The Landscape for Breeding and Training Ceremonial Carriage Horses at Kladruby nad Labem
A horse breeding center in Czech Střední Polabí region. The center was established in 1579 and has been in business since then. The original purpose was to breed and train horses for royal ceremonies, but now the center covers other types of training as well.
Germany: Water Management System of Augsburg
The town of Augsburg, located between Munich and Stuttgart in southern Germany, started developing its remarkable water channeling and energy generation system in the 13th century. It is still in operation. Canals, power stations, pumps, rivers, lakes, and buildings constructed over water form a hydraulic engineering wonder.
Iceland: Vatnajökull National Park
The barren landscape of Iceland has largely been shaped by volcanoes that are still mostly active today. Vatnajökull National Park in the southeast region of the island is renowned for its glaciers and volcanoes, and the interaction between these elements.
Italy: Le Colline del Prosecco di Conegliano e Valdobbiadene
In Treviso region in north-east Italy, landscape shaped by vineyards has developed into a remarkable sight that has long cultural tradition. Prosecco wine is produced here on small vineyards on narrow grassy terraces. Here and there, patches of forest and villages complement the lush farmland.
North Ireland: Jodrell Bank Observatory
Jordell Bank radio astronomy observatory.
Poland: Prehistoric Striped Flint Mining Region in Krzemionki
Mining sites in the mountain region of Świętokrzyskie. Mines were used from about 3900 to 1600 BCE to extract striped flint primarily for making axes.
Portugal: Royal Building of Mafra
Mafra is small town north-west of Lisbon, about an hour drive from the capital. King Joao V built the palaces and parks in 1711. The site includes, for instance, a palace, basilica, convent, Cerco Garden and a hunting park. A short distance from Mafra towards south you can find another, even more spectacular ancient town: Sintra.
Portugal: Algarve, the South Coast travel guide shows the sights, events, food recommendations, and gives cultural tips for traveling in this popular region.
Portugal: Sanctuary of Bom Jesus do Monte in Braga
Near the city of Braga in north Portugal, a sacred mountain overlooks the community. The slopes of Mount Espinho were developed during 600 years as a religious site for the city.
Russia: Churches of the Pskov School of Architecture
In the city of Pskov, in northwest of Russia, a number of religious and administrative buildings date back to the 12th century. The architecture education on the premises defined Russian style until it peaked in the 16th century.
Spain: Risco Caido and the Sacred Mountains of Gran Canaria Cultural Landscape
Canary Islands is an archipelago in the Atlantic Ocean west of Moroccan coast. The islands belong to Spain. On the mountains of one of the islands (Gran Canaria), Risco Caido is a historical site, first settled by north Africans and after them Spanish. The landscape and rich human history in Risco Caido are unique.
If you are planning a trip and want to explore World Heritage Sites near your destination, Unesco has published a handy map that lets you zoom into the region where you intend to travel, and see if any sites are nearby.