These tips were written with digital nomads and remote workers in mind, but the travel guide where the tips have been extracted from (Algarve, Southern Portugal) features much more information on accommodations, sights, beaches, villages, culture, activities, food, and towns.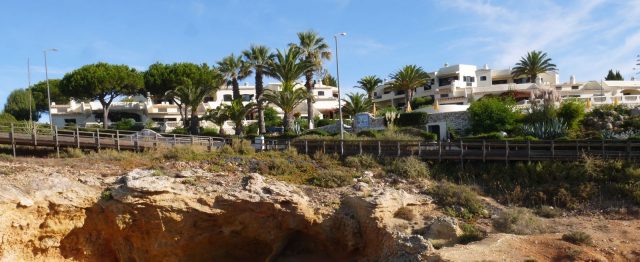 Houses on the coastal cliffs of Algarve, Portugal.
Professionals who can work anywhere as long as the supply of electricity and decent Internet access are guaranteed have discovered Algarve's pleasant climate and peaceful lifestyle. Lisbon and Porto are the business centers of Portugal, but the whole point of staying in Algarve is to manage a business remotely.
Even though the region lacks big cities, the largest towns have nightlife, and popular pubs have crowds from lunch time onwards. Internet access in coastal towns is relatively reliable, but having a backup connection, like a mobile data connection for Internet access, is imperative.
A wide range of hotels and holiday homes are available for short and long term stay in Algarve. If you want to stay in large towns, like Albufeira, Lagos, or Portimao, the chances are that the best selection and best prices are for rooms in apartment blocks. Townhouses, bungalows, and other types of places with a terrace or a small garden are easier to find in small towns or villages, such as Luz or Carvoeiro. In addition, villas are available for rent on the outskirts of towns and in the countryside.
Many apartment blocks built for tourism come with a community pool. In winter, the pool may be closed. Another nice feature with recently-built apartment blocks is that they tend to have spacious balconies. For instance, a place where I stayed on the outskirts of Albufeira was a one-bedroom apartment with three balconies. The kitchen, living room, and bedroom had their own balconies.
If you love to watch television, here is an important tip. Verify the channels that can be viewed in the place you are going to stay. If it is only RTP (Portugal's public broadcaster), you may have to do something other than watch television during your stay. I stayed one month in a place with only RTP channels, and I could only find one show that I could understand and watch: "The Voice of Portugal" singing contest every Sunday.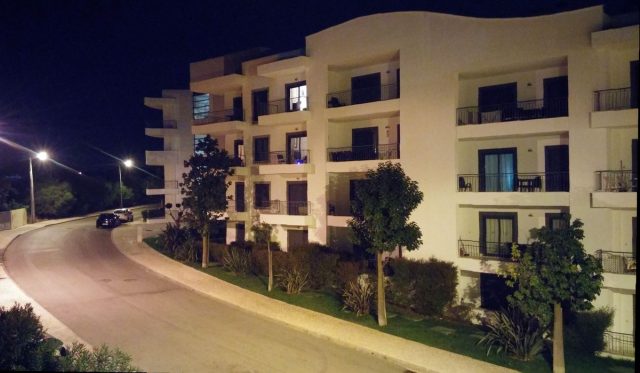 Apartments for tourists in Albufeira.
If you are looking for a place to stay and work for a few weeks, month, or more, I recommend getting in touch with local real estate agents. First, book a place for a few days only – perhaps via an online service. It will be your base while you search for a long-term place. You should have an idea of the area where you want to stay. If not, hire a car and drive along the bumpy roads of Algarve and explore. Once you have decided on the area, contact a real estate agent in that particular district. They will show you the places available at your price level. For instance, I once dealt with an agent who handled the maintenance and rentals of apartments for entire buildings in a particular section of a town.
The important thing in this whole process is that you actually see the place before you pay. The big, ugly problem with booking a long-term stay via an online service is that you have to pay without seeing the place. When you open the door, step in, and find that it is not like the web pages, you have already lost. In that situation, the only thing you can decide is what kind of loss you are going to take: money, time, or both. Maybe you grit your teeth and decide to stay, demand reimbursement from the landlord, or negotiate with the online service. In any case, you are going to lose precious working time with the hassle – and even more time if you have to start searching for new place to stay.
The better way is to research the area, contact an agent, and ask the agent to show you the place you intend to rent.
Even if the apartment where you are going to stay comes with Internet access, always get a backup connection. This is ridiculously easy to accomplish. Walk in to a mobile phone shop (for instance, Phone House) or a mobile network operator shop (MEO, NOS or Vodafone), ask for a data only SIM card, and choose your initial data amount. There are no formalities. After you have used the initial amount of data, you can top up online, at an ATM, or in a post office. I managed to top up my SIM card at a post office (cash only accepted).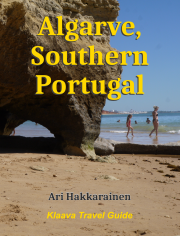 The travel guide Algarve, Southern Portugal is available in all major bookstores, such as Amazon, Google Play, Apple iBooks, and Kobo.