Selfie-sticks are surprisingly popular, even though they let you take photos from a very limited angle, and that's why selfie-stick photos tend to look the same. We don't expect to see as many selfie sticks at tourist destinations next peak season anymore as we have seen this year. Ambitious selfie photographers may move on to selfie drones because now, it looks like there is a drone product that everyone can use without having to spend days in learning how to fly one.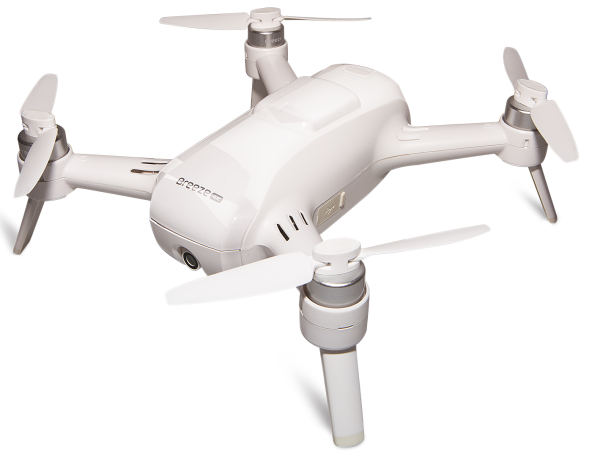 Yuneec Breeze is roughly the size of a thick book, but it is much lighter than a book (the heaviest component is the battery). It is meant to be small and light so that it is easy to take along in a bag or packbag. A smartphone or tablet (Android and Apple) is required in order to tell the drone what it has to do.
Before the drone takes off, you have to choose the flying mode:
Pilot: This gives the most control over the drone. You can fly the drone manually by controlling it in the Breeze Cam app.
Selfie: Distance, altitude, and position sliders let you adjust the position of the drone in relation to yourself.
Orbit: The Orbit mode lets you instruct the Breeze to circle around you or another object.
Journey: The camera pitch determines the angle the drone will fly at, and you can adjust how far it goes.
Follow Me: First, you have to manually fly the drone to a position where you want it. Activate Follow Me, and the drone will keep its distance and position and follow you.
If the drone detects any problems with communication between itself and the device that is controlling it, it will return home (the place where it took off). And it is always possible to push return home button in the app.
The list price for the Yuneec Breeze is USD 499. The company lists retailers for the product on the web page here.
Le Monde tested the Breeze, and they were happy about:
– the image quality
– ease of use
– flight stability
– compact size.
Le Monde didn't like:
– weak light indicators.
– image quality in some video modes.
– short flight time (battery lasts 12 minutes).
Here you can view sample video clips captured by Terry Dunn:
Yuneec Breeze key features and specifications
Flying modes: selfie, pilot, follow-me, journey, orbit.
Dimensions: 196 x 196 x 65 mm
Weight: 385 g.
Battery: 1150 mAh LiPo.
Flight time: up to 12 minutes.
Max flying height: 80 meters.
Max horizontal speed: 5 m/s (restricted by software)
Max climbing speed: 1 m/s
Wifi.
Android and Apple iOS apps for controlling the drone.
Camera:
– 0°C – 40°C working temperature.
– 13 Megapixel CMOS sensor.
– 4K and 1080p video capture.
– 4160 x 3120 pixels (13 MP) still images.
– FOV 117°
– 1/30 – 1/8000s shutter speed
– White balance: auto, sunny, sunrise, sunset, cloudy, tungsten light, glowing, disabled
On this video Bo Lorentzen shows you the features of the Yuneec Breeze and how to fly it: