Finally, stuntman, stunt coordinator H-P Virkki can look back and reflect on those years when he was writing a book about his passion and work – movies. Stunts, Scenes and Safety – Introduction to Movie Stunts is one of the first books in the world that literally shows (it includes video segments) what is required to create action scenes for movies. Here is the author's interview where he also lists his favorite movies and books.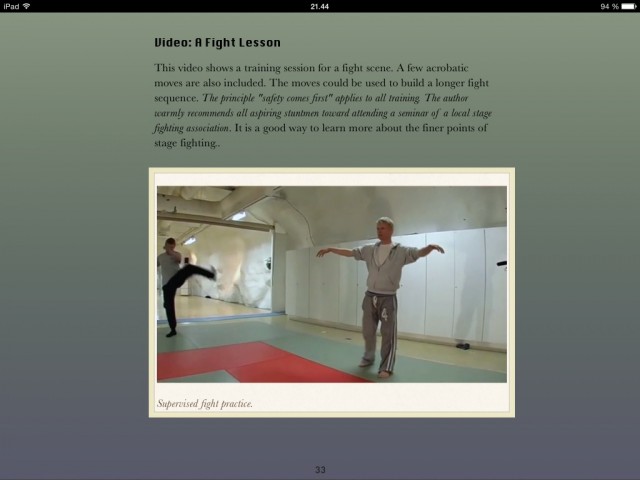 You have a convincing career in movies. How did you come up with the idea of writing a book about stunt work?
The primary reason was my passion for movies. It took years, but I brainstormed, wrote and rewrote the book in between my stunt work assignments. That's why the book reflects practical situations that stunts face on movie sets. Many topics discussed in the book are responses to this question: "What should my young colleagues – who may be starting out their careers – know about the professional code on a filming location?"
How did you find inspiration for working with the book when you were not filming yourself?
I was staying in Cologne (Köln), Germany when our editing and translation team was working on the book. A renowned production company Action Concept happens to be based in Cologne. I was lucky because they shot movie stunts near my neighborhood, and allowed me to follow their work. It's one of the best stunt groups I've ever seen.
Watching movies, primarily drama and documentaries, gave me distance from my own work and stunt scenes we had filmed for the book. Pekka Sipilä and I edited for months for the first cuts before we were happy with the result.
I also saw theatre plays that had stunt scenes. I saw some plays with fine stage combat work, but the most inspirational was the wirework in Spiderman – Turn off The Dark in New York.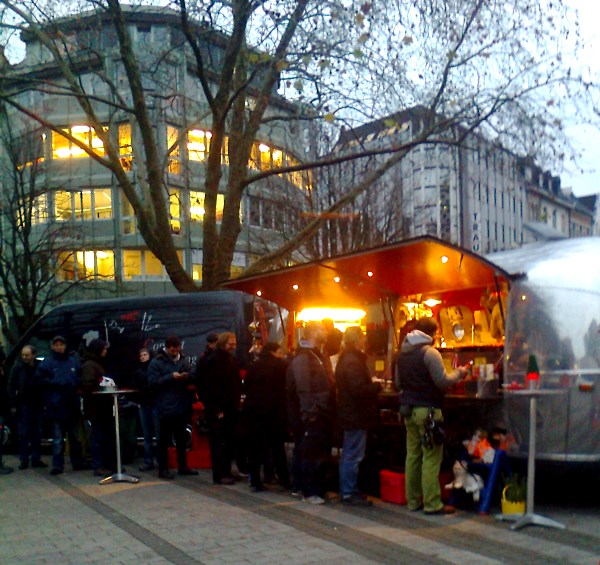 Film crew catering in Köln Friesenplatz, Germany in late autumn. Felt like home.
Do you give public stunt lessons to youngsters or other groups?
No, I don't. If I teach stunt work, it's either preparation for a movie scene or coaching actors. Yet, I encourage people to practice, create showreels, attend stage combat courses, and if they are really interested in stunt work, they can find a long list of stunt schools in my book.
What type of reader did you have in mind when you wrote the book?
My mission was to activate the computer generation. Stunts, Scenes and Safety is also a book for everyone who wants to understand how much work it really requires to get a couple seconds worth of useful action material for a movie.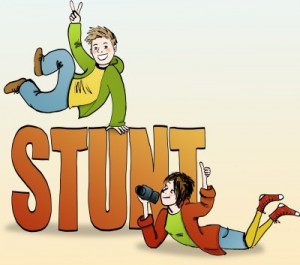 You have co-operated with artist Leena Jääskeläinen for a cartoon in the book. What's the story behind it?
I feel the cartoon and the characters in the story are the backbone of the book. When I began discussing about the cartoon story and the characters with animation artist Leena Jääskeläinen, it was the very first step for lifting the project off the ground.
Before Leena joined the project, I only had ideas and mind maps jotted down in my notebook. After she had written the manuscript for the comic, I was certain that one day, the book would be real. The main characters of the cartoon, Sarah and Kevyn, kept me on the right course whenever I felt I had lost my way during the long writing process. They were writing, editing and shooting with me throughout the project.
Some readers [ed. note: the book was published in Finnish a year ago] have told me that the cartoons were their favorite part of the book because they didn't particularly see themselves as athletes, but loved art. Through cartoon characters Sarah and Kevyn, they felt they became part of the stunt scene. That's the best feedback ever.
Can you name five best movies you have ever seen?
You can find references to a number of movies with great stunt work in my book, although it doesn't necessarily mean they are my personal favorites. Choosing only five favorites is impossible for me. As life goes on, new situations and new movies turn up, but films that have made an impact on me are, for instance, the following:
Buster Keaton's Steamboat Bill Jr.
An action-packed and funny movie with plenty of great stunts. The way Buster Keaton moves is simply amazing. This movie by the legend of an era is comedy at its best.
The Kid by Charles Chaplin
I saw this movie as a child, and it touched me already then. I can still remember the scene where the crying boy is taken away from the hobo. But then, the scene of dancing fork and bread is very funny. Chaplin is a one of the founding fathers of movies.
Point Break and Thelma & Louise
I have seen plenty of action movies, but I haven't seen so many good action drama movies. These two movies give inspiration when life feels stagnant.
Cinematographer Style
An excellent documentary where filmmakers tell about their work.
Concrete Circus
A documentary by BBC that shows street artists who are making films. The real beef of this film is to follow the long road the artists have to travel before their movies are ready.
Transcendence, Birdmen and 20 Seconds of Joy
These documentaries show us people who are into extreme sports. Base jump and wingsuit flying scenes are absolutely wonderful. The documentaries also show their attitudes towards fear and risks. I can easily relate to the feelings these guys have before and after their effort.
I could add 7 Samurais, Banlieue 13, Leon, L'argent (Bresson R), La Vie de Boheme, Dog Town and Z-boys, Matrix, The Place Beyond The Pines and many other movies to the list.
Five best nonfiction books?
A great book makes you think – it doesn't have to be easy to read and light to digest. I can list a few such books because I tend to return to them time after time. Anyone interested in books about movies should check out the list at the end of my book.
John Fiske: Introduction to Communication Studies
An essential book for understanding communications. I can learn new things every time I open it. Checking out the reference list alone is worth your time.
Coaching books by Heikki Kantola and Antti Mero
Essential reading for those who want to understand professional coaching.
A Street-Smart Song: Capoeira Philosophy and Inner Life, Nestor Capoeira
A marvelous book about the history and philosophy of the Brazilian discipline. I haven't exercised capoeira since the 1980s, but I still have warm memories about that time.
Zen Mind, Beginner's Mind: Informal Talks on Zen Meditation and Practice by Shinryu Suzuki
This is a classic compiled from the select lectures of the zen master.
Joseph Campbell: The Hero with a Thousand Faces
I discovered this book when I was performing in a theater (Robin Hood) with Pekka Saaristo in the 1990s. Myths, symbols and hidden meanings of old stories made me curious. Campbell got me interested in Jung as well. If I were to continue this list, you might guess which book would be next.